We have been following Constant Contact (NASDAQ:CTCT) since early 2011 because it's a rapidly growing online marketing software and services company and we have had a strong interest in marketing and branding related concepts. We were impressed that it became a profitable company in 2010 and because it released its deferred tax asset valuation allowance in 2011, which will save it $13.8M in future cash payments on its corporate income tax expense. We were tempted to enter into a position in the company last year and early this year, even though the company has a high PE, because we figured that the company's growth momentum would help keep pushing the shares higher and higher. It's a good thing that we had been able to stall our organization from taking a stake in CTCT because its $11.93 share price as of October 26th is off 67% from its April 2011 highs of $36.33 - and this includes the impact of a 30% sell-off on Friday October 26th. Because CTCT's share price has been slammed, we find it to be a more attractive potential opportunity now versus last year.
click to enlarge images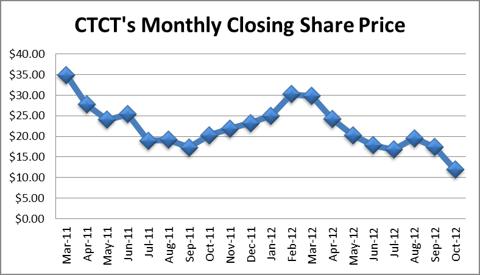 Source: Morningstar Direct
In the Q3 period, Constant Contact saw its revenues increase by 17.5% in Q3 2012 versus Q3 2011 and by 18.5% in the YTD 2012 versus the YTD 2011 period. While at first glance this is impressive (even for a small-cap company), we are mindful of the fact that Constant Contact has been spent $85M on acquisitions over the last 21 months and that is a significant amount relative to the company's market cap of $254M as of October 26th. We would be interested in seeing what the company's pro forma revenue and profit levels would be assuming the combination of CTCT and its acquisitions at the start of the prior fiscal year. That is probably the one thing that we miss about the pooling of interest accounting method because this way, we could see if a company was growing through organic operations growth or through acquisitions.
We were disappointed that the company did not generate any positive operating leverage with regards to any of its costs. All of its recurring operating expense categories generated year-over-year growth in Q3 2012 that exceeded the company's year-over-year Q3 2012 revenue growth. Constant Contact's Cost of Revenue has the mildest expense growth at 19.4% year-over-year. Sales and Marketing, General and Admin and Research and Development saw increases ranging from 28% to 33%. While Constant Contact's reported EPS grew by 22% year-over-year in Q3, which was due to a non-cash, non-recurring benefit of $6M related to contingent consideration associated with its acquisition of SinglePlatform in 2012.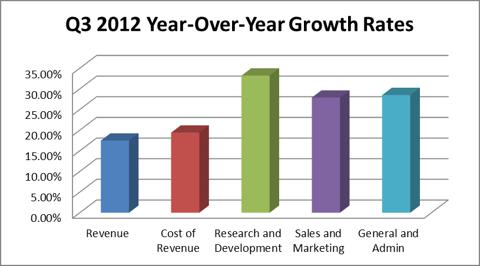 Source: Constant Contact's Q3 2012 Report
Constant Contact showed progress with its operating metrics, though investors were disappointed that the company's growth failed to meet investor expectations. The company had 35K gross new unique customers during the quarter and 5K net new unique customers during the quarter. The company ended the quarter with 540K customers, up from 485K customers in the prior year's comparable period. Average monthly revenue per user was up by 90bp on a sequential quarter basis and 6.35% on a year-over-year basis and ARPU reached $40.35 in the quarter. The company had a retention rate of 97.8% in the quarter, which was within its historical range.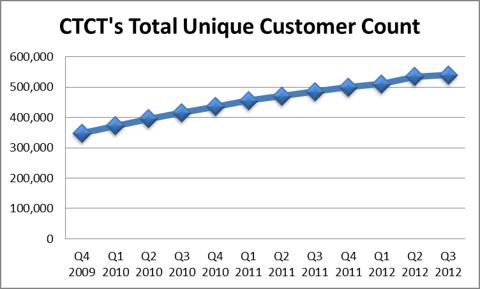 Source: Constant Contact's last 12 earnings reports
What caused Constant Contact's shares to drop 30% on Friday was its outlook failed to meet expectations. CTCT's management targeted revenue of $65.2M-$65.5M and Adjusted EPS of $.14-$.16 versus consensus estimates of $67.5M for revenue and $.18 for Adjusted EPS. CTCT's management also lamented challenges in converting trial users of its email-marketing software and it is making changes to deal with this. Q4 guidance represents a 13% increase in revenue for Q4 2012 versus Q4 2011 levels however Q4 2011 Adjusted EPS of $.27 was much higher than the $.14-$.16 projected by management, as well as the $.18 targeted by analysts. In 2013, the company is targeting 13-15% year-over-year revenue growth versus 2012 levels and it is targeting 100bp of annual Adjusted EBITDA margin improvement.
In conclusion, since the price of the stock as of October 26nd ($11.93/share) is 67% off its all-time highs, we will be doubling down on our research efforts on Constant Contact since we believe that it is a much better deal than when we first investigated it and we believe that it is searching for a bottom. We believe that right now, the company is going through some growing pains and that has cleared out a lot of speculators and momentum investors in the company. We believe that the 30% share price decline on October 26th should help the shares find a bottom and we believe investors should look to average in during market dips and company specific dips.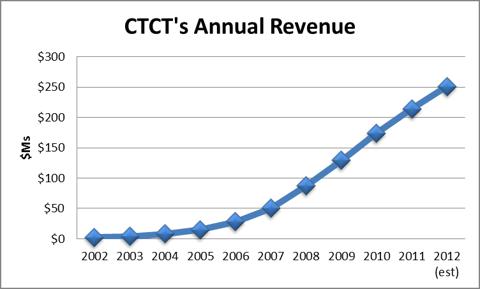 Sources: Morningstar Direct and Constant Contact's Q3 2012 Report
Disclosure: I have no positions in any stocks mentioned, and no plans to initiate any positions within the next 72 hours. I wrote this article myself, and it expresses my own opinions. I am not receiving compensation for it (other than from Seeking Alpha). I have no business relationship with any company whose stock is mentioned in this article.
Disclaimer: This article was written by an analyst at Saibus Research. Saibus Research has not received compensation directly or indirectly for expressing the recommendation in this article. We have no business relationship with any company whose stock is mentioned in this article. Under no circumstances must this report be considered an offer to buy, sell, subscribe for or trade securities or other instruments.