The market remains so obsessed with dividends that a company that continues buying stock at a 37% discount to net asset value (NAV) is often questioned for not paying dividends instead. In fact, American Capital, Ltd (NASDAQ:ACAS) had previously announced completing an 11.4M share buyback in Q3 that will undoubtedly be questioned on the Q3 earnings call on November 1st.
The company bought the stock at an average price of $10.99, for a total cost of $125M. Considering the substantial purchases below book value, the transaction added $0.23 to NAV. Combined with unrealized investment gains; this helped boost the NAV by 5% sequentially to $17.39.
American Capital is a private equity firm and global asset manager. American Capital, both directly and through its asset management business, originates, underwrites and manages investments in middle market private equity, leveraged finance, real estate and structured products. American Capital manages $17.2 billion of assets, including assets on its balance sheet and fee earning assets under management by affiliated managers, with $101 billion of total assets under management (including levered assets).
The company reported Q3 net operating income of $71M or $0.22 per diluted share. The number was slightly below the estimates of $0.23.
Buyback and Dividend Plan
American Capital has one of the most appealing plans for handling the distribution of cash to shareholders. When the company transitioned to the C-Corp back in 2011, the Board of Directors came up with a plan to only pay dividends when the stock traded above NAV. The flexibility to buy stock when it trades at a significant discount to NAV is a very lucrative one.
All companies should have flexible capital allocation plans established. Unfortunately, the nature of the dividend concept has forced companies into a structure of paying consistent dividends no matter the benefits to shareholders. Not to mention outside of REITs, MLPs, or RICs, companies tend to pay dividends substantially less than financially feasible as to not be forced into reducing payouts in the future.
Including the Q3 buyback mentioned above, the company has purchased 43.6M shares, or 13.7% of the outstanding shares. The average purchase price has been $9.00 and totaled $392M. Through September 2012, the purchases were $0.90 per share accretive to the NAV.
The amazing part is that Wall Street doesn't appreciate this plan no matter how logical. The below chart highlights how the book value for American Capital has dramatically increased since initiating the buyback plan in mid-2011, but the stock price has lagged significantly. In fact, the stock went from trading above NAV to now below NAV during the implementation of this plan.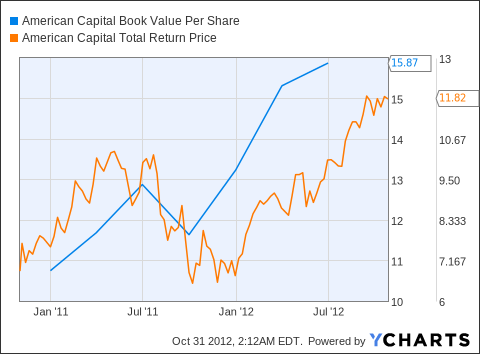 ACAS Book Value Per Share data by YCharts
Ironically a couple of leading mREITs have recently announced significant buybacks. First, Annaly Capital Management, Inc. (NYSE:NLY) announced a massive $1.5B buyback. Second, portfolio company American Capital Agency Corp. (NASDAQ:AGNC) just announced a $500M buyback to be implemented when the stock trades below NAV.
Clearly American Capital was on to something since these companies are now willing to buy stock at or above NAV.
Soaring Net Asset Value
The NAV continues to soar as the stock price trickles higher. The NAV at the end of 2011 was $13.87. As mentioned in the previous article, the expectation based on Q3 stock buybacks, earnings, and likely portfolio asset appreciation, the NAV was expected to top $17. In fact, the NAV hit $17.39. The stock though continues to languish significantly below NAV at $11.82. It would need to appreciate another 47% to equal NAV as of September 30th. This NAV doesn't even factor in any gains during October.
Another interesting point is that American Capital trades at a substantial discount to other Business Development Companies (BDCs) such as Ares Capital (NASDAQ:ARCC) and Main Street Capital (NYSE:MAIN) that both trade above NAV.
A major reason for the rebound in NAV is the strong rebound in unrealized gains from portfolio companies including publicly traded American Capital Agency and American Mortgage Corp. (NASDAQ:MTGE) and European Capital. The following list shows the $144M of unrealized appreciation gains in Q3:
$41 million net unrealized appreciation from American Capital's private finance portfolio, generally as a result of improved portfolio company performance and improved multiples;
$20 million net unrealized appreciation from American Capital's structured products investments, generally as a result of improved projected cash flows; and
$77 million net unrealized appreciation in American Capital's investment in European Capital, primarily due to a strengthening of the Euro and a decrease in the implied discount to European Capital's NAV.

The Company's equity investment in European Capital was valued at $651 million as of September 30, 2012, or 75% of NAV, compared to $574 million as of June 30, 2012, or 70% of NAV.
Note how European Capital is only valued at 75% of NAV allowing for substantial gains in the future quarters.
Stock Price
The stock has been more resilient during October as especially the mREITs have been hit by some major volatility lately.
The following chart compares the stock to the portfolio companies and the BDCs over the last month.
Ychart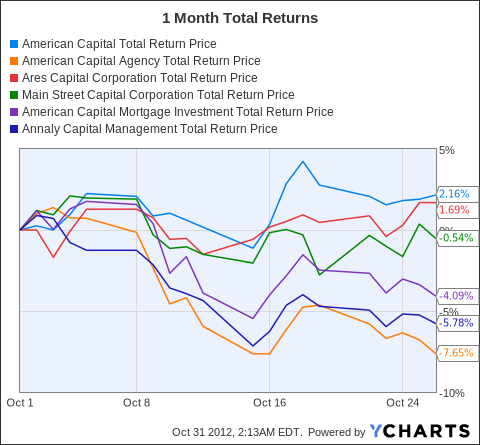 ACAS Total Return Price data by YCharts
Conclusion
American Capital continues to offer substantial value over investing directly in the portfolio stocks or competitors in the sector. While investors remain concerned about the ability of the company to execute or the lack of a dividend, it hasn't stopped the company from maintaining a similar gain for investors.
Whether due to the large stock buyback or not, the company has started outperforming the competition and portfolio companies. Going forward, American Capital as the ability to continue outperforming the sector due to the substantial valuation discount.
Disclosure: I am long NLY. I wrote this article myself, and it expresses my own opinions. I am not receiving compensation for it (other than from Seeking Alpha). I have no business relationship with any company whose stock is mentioned in this article.
Additional disclosure: Please consult your financial advisor before making any investment decisions.