OfficeMax (NYSE:OMX), like many businesses in retail, was lulled into overbuilding by the consumer and housing boom. Like many in the retail space, it is downsizing and leaving unprofitable locations. And, further, like many in the retail space, its downsizing effort has been limited by its operating leases.
While the company has recently been reporting better news, the shares still languish, and the extremely slim profit margin is making the company sell at a low price-to-sales ratio: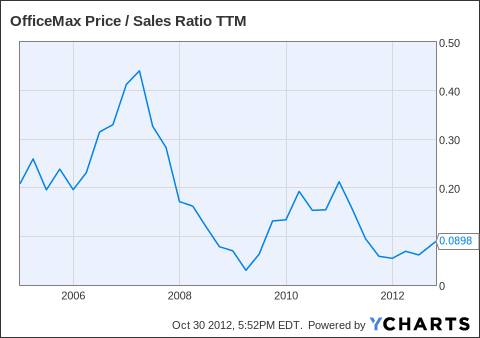 OMX Price / Sales Ratio TTM data by YCharts
OfficeMax is set up much like its rivals Staples (NASDAQ:SPLS) and Office Depot (NYSE:ODP), with a contract segment (54% of sales) and retail segment (45.1% of sales). (I've written about Staples here, and Office Depot here.)
Pricing Pressure And Gross Margins
When compared with its competition, OfficeMax sports the lowest gross profit margin. Perhaps its customer base responds better to lower prices than its competitors -- or rather that, if it did not offer cheaper products with lower margins, it might not see as much business. Note its gross profit margin when compared with its rivals: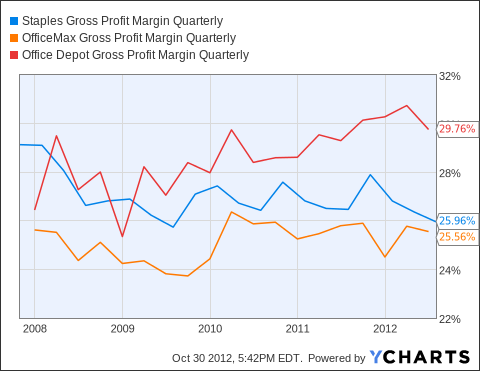 SPLS Gross Profit Margin Quarterly data by YCharts
One possible reason for the lower gross margin could be higher inventory costs due to OfficeMax's purchase agreement with Boise Cascade Holdings [1]. Regardless, OfficeMax has historically experienced a lower gross margin, which in turn demands that it keep its other expenses low.
Take, for instance, the "operating, selling and general administrative expenses" of OfficeMax, Office Depot and Staples for the 13 weeks ended. Below I've put the companies into a table and measured the expense as a percent of sales: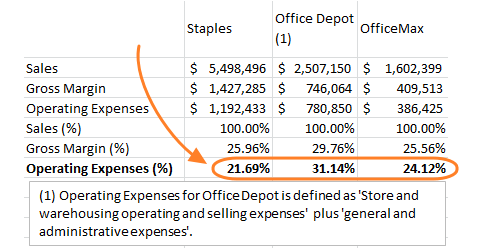 While OfficeMax has the lowest gross margin as a percent of revenue, its operating expenses as a percent of revenue is the second-largest and only a slim 1.4% away from its gross margin -- indicating that, before attending to how it is capitalized or to taxes, it is only able to eke out a small profit. And seeing how sales have declined over the past few years, its operating expenses need to (but have not until recently) decline commensurate with the fall in revenue -- at least if it is to maintain profitability.
Revaluations Related To Lehman Brothers
In a transaction which seems unnecessarily complex and circular, OfficeMax created for itself both an asset and liability out of its 2004 transaction to sell off its forest products and timberline assets. As a result of this transaction, they recorded an asset from Lehman brothers who would pay them a present value sum in installments totaling $817.5 million.
With the Lehman bankruptcy in 2008, OfficeMax's note was impaired and written down to $81.8 million. However, as of September 14, 2012, the bankruptcy proceedings have resolved the issue and OfficeMax will now revalue the notes upward some $671 million in the third quarter (quite large given the sum is more than OfficeMax's present market capitalization). See the press release here. The revision ought to effectively double the book value of OfficeMax to over $1.1 billion.
Most Recent Quarter
Certain data out of the most recent quarter allows one to hold out an optimistic hope about the momentum of sales. Comparable same-store-sales increased approximately 20 basis points in the first half of 2012 verse the same period in 2011. Such a slight increase could be a landmark on the way to stop the years running sales decline.
In the important contract business, sales grew 2.6% year-over-year. Indeed and according to management, customer retention hit a "record high" and management believes that OfficeMax gained market share [2].
The international segment has, like the other aspects of the business, been on a downward trend which appears to be slowing in its descent. The international segment, making up 32% of sales in 2011, represents OfficeMax interests in Canada, Australia, and New Zealand. The southern hemisphere businesses, according to management:
"…were the company's third largest business behind U.S. Retail and U.S. Contract in terms of both revenues and profits. We have the #2 market share in Australia in the Contract segments, and we have the #1 market share in New Zealand in the Contract segment and are now an authorized Apple reseller there."
Indeed, also, net new sales, or sales to new customers exceeding lost sales to former customers, increased within the contract business. The beginning of a new trend could be forming -- and either way, the share price increased subsequently to the earnings release: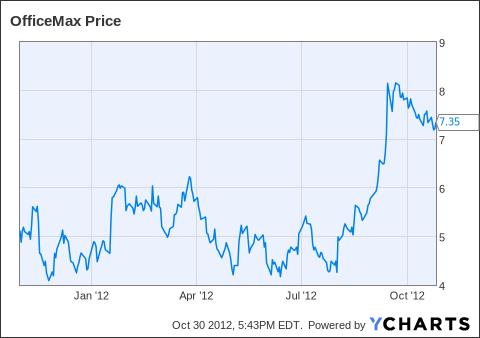 Management put the success of the last quarter in proper perspective:
"...for the first half [of the year], after 5 years of decline, we're actually comping [i.e., achieving same-store-sales growth], while it's very modest, the fact that it's up 0.2% versus prior year, on an organic basis...that's encouraging for us." [2]
Valuation
So what is OfficeMax worth? The current share price implies that the company is worth about $636 million [3]. On a price to sales ratio, it is about in line with Office Depot -- again, this allows us to entertain the theory that "if only OfficeMax or Office Depot can increase profit margins" the stocks would appreciate decently. Check out the price-to-sales ratio of OfficeMax and its peers: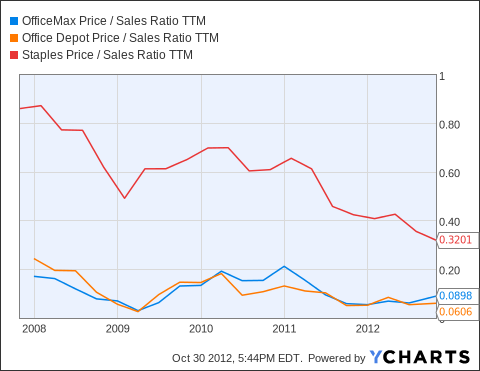 OMX Price / Sales Ratio TTM data by YCharts
To properly value OfficeMax we need to be cognizant of its future profit-margin potential -- and to do that, we need to look at its past and the past of its peers. Take a look at the profit margins for the office supply store space: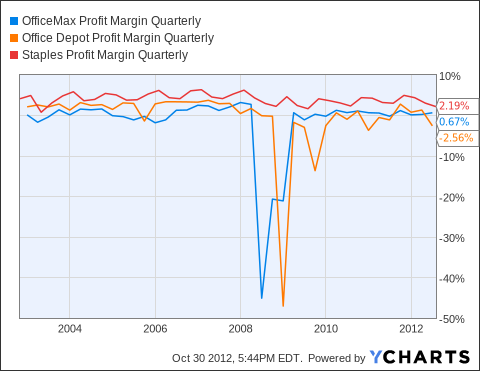 OMX Profit Margin Quarterly data by YCharts
The highest margin achieved by OfficeMax in the last 10-years was 3.2% -- which, if achieved today, would likely make OfficeMax a buy with a PE of 3. But, of course, its profit margin for 2011 was about 0.46% and its profit margin for the 6-month period ending 0.44% (although it was much improved over the same period in 2011 which had a profit margin of 0.23%).
The point is that, while the third quarter will have a huge gain due to the revaluation of the Lehman Brothers note, margins are not satisfactory yet. And further, while OfficeMax also reinstated its dividend, the dividend itself is an entirely manageable sum. It is possible that the board is simply trying to drum up market confidence.
While I don't think OfficeMax is going away, I am not sure whether today's valuation makes sense -- particularly when the company is not performing on a cash-flow basis. If we look at free-cash-flow [4], which takes into account cash from operations less money spent on new property and equipment, we see that OfficeMax is trending flat to negative, and the company, at least in terms of cash, has not turned the corner to recovery: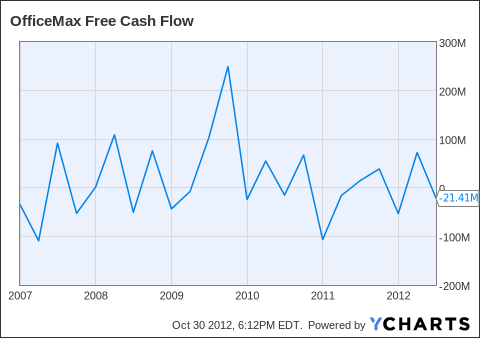 OMX Free Cash Flow data by YCharts
And if we were looking at testing the historical stability of OfficeMax's cash-flow, we need only to compare it to the market leader: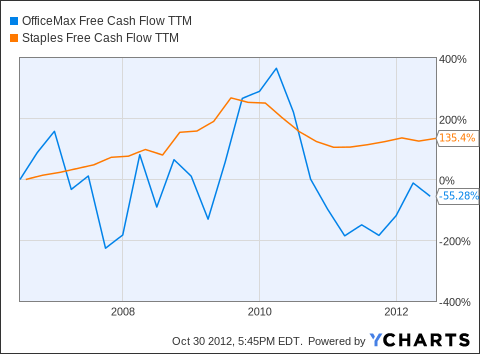 OMX Free Cash Flow TTM data by YCharts
Further, and unless the recent so-called "Pension Stabilization Act of 2012" changes the statements of OfficeMax's 10-K [5], OfficeMax will contribute a significant quantity of cash to its unfunded pension liability -- or an estimated $28.5 million in 2012, up from $3.3 million in 2011. That pension contribution, it should be noted, is about equal to 86% of 2011 earnings.
With OfficeMax, the future is still questionable and it is uncertain whether there will be excess cash for shareholders, given (1) the pension expenses and that (2) the company anticipates cash from operations to be about equal to capital expenditures [6].
The main sticking point for me, however, is that its rival Staples also sells at a discount. Why not consider the market leader rather than speculating on the future of OfficeMax?
Conclusion
OfficeMax appears as if it could experience a significant appreciation in price, if only it could improve its profit margins. I worry about the emphasis on the "if only."
OfficeMax may be getting close to turning the corner -- yet, while it will report a significantly increase in its GAAP profit for the third quarter due to the Lehman Brothers note, its excess cash flow available to shareholders is still suspect and uncertain.
Notes:
OfficeMax is required to "purchase substantially all our requirements of paper for resale from Boise Cascade… Under the new Paper Purchase Agreement which we entered into on June 25, 2011 and which has an initial term that expires at the end of 2017, this restriction continues to apply until the end of 2012, after which we will have greater flexibility to purchase paper from other paper suppliers… until the restriction period ends, our purchase obligation limits our ability to take advantage of spot purchase opportunities and exposes us to potential interruptions in supply, which could impact our ability to compete effectively with our competitors, who would not typically be restricted in this way" (2011 OfficeMax 10-K, p. 8).
Second Quarter 2012 Conference Call, dated August 2, 2012.
Market Capitalization = $636 million = $7.35 * 86,625,236 shares
Free-Cash-Flow = FCF = Operating Cash Flow - Capital Expenditures
Tucked in the transportation bill passed this summer is a rule allowing companies to use a higher discount rate when calculating its pension liability. As I understand it (from reading this), the new rule allows for the use of historic interest rates (over a 25 year period), rather than the unduly low rates which are current today. The lower the discount rate (i.e., average current interest rate, frequently based on a hypothetical basket of bonds) the greater the future pension liability -- the higher the discount rate, the smaller the future liability.
"We anticipate cash flow from operations in 2012 to be in line with or slightly higher than capital expenditures. We expect capital expenditures to be approximately $75 million to $100 million, primarily related to technology, ecommerce and infrastructure investments and upgrades as well as growth and profitability initiatives" (2011 OfficeMax 10-K, p. 20). In the second quarter Conference Call management restates guidance to "$75 million to $85 million of CapEx for the full year."
Disclosure: I have no positions in any stocks mentioned, and no plans to initiate any positions within the next 72 hours. I wrote this article myself, and it expresses my own opinions. I am not receiving compensation for it (other than from Seeking Alpha). I have no business relationship with any company whose stock is mentioned in this article.