It appears that Hurricane Sandy is going to do more than close down American markets for a few days, after all. Many businesses, including real estate and infrastructure, retail and insurance, transport and travel, will be hit hard. Of these, one of the hardest hit will be insurance, potentially facing thousands and maybe millions of claims ranging from houses, cars, businesses, to loss of life. However, I concur with those analysts who think that this actually presents a buying opportunity for risk-savvy investors. Here's why.
Although Hurricane Sandy is expected to result in massive damage, economists are of the opinion that the impact on the overall economy will be short-term - the reconstruction effort will offset the loss due to closure of businesses. An example is being drawn with Hurricane Katrina of 2005, which caused extreme destruction in New Orleans. Although termed as the most destructive and deadliest storm of the Atlantic hurricane season of 2005, it did not result in long-term damage to the US economy.
If you believe Charles Watson, research and development director at Kinetic Analysis Corp., a hazard-research company in Silver Spring, Maryland, the estimated damage is likely to be in the region of $20 billion. A cursory look at the figures provided by Mark Zandi, chief economist at Moody's Analytics, in a Fox News article, should explain the extent of the damage more clearly. The region between New York and Washington has a GDP of around $2.5 trillion, which according to Zandi means a loss of $10 billion worth of output for every day the region shuts down.
Besides the loss in output there will also be cost of infrastructure repair including subways and tunnels, the real extent of which will be known only after the flood recedes and workers get a chance to inspect the damage. Add to that the damage to homes and offices and we see the Frankenstorm leaving behind a pretty grim picture.
However, even if the long-term impact is neutralized, the sheer expanse of the area affected by Sandy - 10 states have already declared a state of emergency - is likely to have, at the least, a telling effect on this quarter's output and earnings.
This apparently tells us that the insurance companies will suffer some losses. They are the ones that will be taking a big hit when claims start pouring in. Eqecat, an ABS Group disaster-modeling company, estimates the total loss due to the "Super Storm" Sandy to be between $10-20 billion. The company expects that the insurance companies will probably have to settle claims amounting to anything between $5-10 billion.
Whether or not the impact will hit the bottom line of the property and casualty underwriters that have insured properties in the region is a matter that will be clear only when the extent of the damage is fully known and claims filed.
The three companies that will be the big losers are the ones that have done the most business in New York - Berkshire Hathaway (NYSE:BRK.B), Allstate (NYSE:ALL) and Travelers (NYSE:TRV). In the north-east, the top underwriters are American International Group, Inc (NYSE:AIG) and Chubb (NYSE:CB).
However, all these companies have strong balance sheets. The current year has also been benevolent up to now as there hasn't been any major catastrophe till Sandy.
A tabularized view of major parameters of these five companies is appended below:
| | | | | | | | |
| --- | --- | --- | --- | --- | --- | --- | --- |
| Company name | 52-wk low | 52-wk high | EPS | PE | Market cap | Current price | Discount to 52-week high |
| BRK.B | 72.60 | 90.93 | 4.95 | 17.50 | 94.15B | 86.66 | 4.69% |
| AIG | 19.96 | 37.67 | 11.91 | 2.90 | 56.6B | 34.72 | 7.83% |
| TRV | 52.51 | 74.7 | 6.97 | 10.3 | 27.3B | 71.56 | 4.20% |
| CB | 63.24 | 81.8 | 5.95 | 13.1 | 20.73B | 77.96 | 4.69% |
| ALL | 24.5 | 42.81 | 4.1 | 9.8 | 19.47B | 40.15 | 6.21% |
The insurance industry has become increasingly aware that a single storm has the ability to bankrupt the industry. Moreover, in light of warnings of global warming, they have been expecting tough times. Analysts are of the opinion that just as the insurance companies were able to easily bear the brunt of the $4.3 billion cost of last year's Hurricane Irene, they will also be able to easily absorb the loss of $5-10 billion expected loss due to Hurricane Sandy as well.
It would be interesting to note how the markets read the impending hit that these insurance biggies are expected to take especially in light of the fact that all of them are trading at less than an 8% discount to their 52-week highs. Let's take a look at Berkshire and Allstate charts below.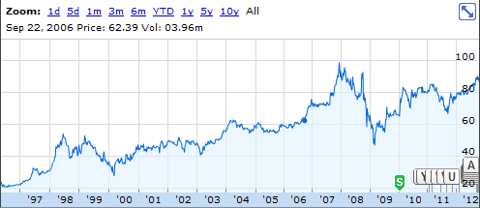 Berkshire All time trading activity chart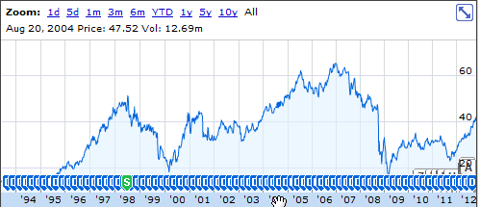 Allstate All time trading activity chart
When the markets open, there is a likelihood that the shares of insurance companies will trade lower than what they are at now. Personally, I would go by what Mike Murphy of Rosecliff Capital has to say and take any substantial fall as a buying opportunity. Historically, after such a natural catastrophe, the first drop in stock price is the sharpest. What happens afterwards is that insurance companies go for a premium hike and stock prices start going up again. However, the most important aspect in this game is to evaluate the loss due to the storm in light of the strength of the insurance companies' balance sheets.
As you can see in the two charts, ALL suffered some losses around September 2005, right after Katrina, but it recuperated quickly. Its fall in later years is not relevant to the discussion; however, of interest is the fact that investors buying into the stock right after Katrina and holding it until early next year made good profits. Berkshire, on the other hand, appears to have had a very slight setback, and wasn't really affected by the storm - which will be good news for investors holding it now.
Disclosure: I have no positions in any stocks mentioned, and no plans to initiate any positions within the next 72 hours. I wrote this article myself, and it expresses my own opinions. I am not receiving compensation for it (other than from Seeking Alpha). I have no business relationship with any company whose stock is mentioned in this article.