Questcor Pharmaceuticals, Inc. (QCOR) develops prescription medications primarily for central nervous system disorders, including epilepsy and multiple sclerosis. While QCOR had been trading steadily in the range of $40-58 for the past year, the recent wild swing from $50.52 to $17.25, the 52-week low, was due to the change of reimbursement policy on Acthar gel by Aetna (NYSE:AET) as reported by Citron Research on Sep. 19, 2012 and the subsequent news of a government probe. After hitting the 52-week low of $17.25, the share price had started to recover due to the following positive developments: 1) $0.20 dividend declared on Oct. 1 with ex-dividend date of Oct. 29 and increased share repurchase plan; 2) Better than expected Q3 earnings of $0.91 EPS, as compared to the analysts' consensus estimate of $0.74, where the revenue for the quarter was up 134.6% Y-o-Y; 3) Analysts' upgrades: $28 to $30 from Jefferies Group, neutral to buy from analysts at Ladenburg Thalmann, neutral rate reiterated with a price target of $43, and a perform rating reiterated by analysts at Oppenheimer, as reported by Jags Report.
A great summery timeline and the earning report analysis can be reviewed here, as contributed by Brian L. Wilson from Seeking Alpha.
Fundamentals Overview
While QCOR's stock had been suffering a wild swing due various news reports flying around, it is time to go back to the basics and look at the Company's fundamentals as compared to the averages in the biotechnology industry.
| | | |
| --- | --- | --- |
| Key Stats | Questcor Pharmaceuticals, Inc. | Industry Average |
| Price/Earning ttm | 10.1 | 41.7 |
| Price/Book | 12.5 | 6.2 |
| Price/Sales ttm | 4.0 | 6.0 |
| Revenue Growth (3 Yr Avg) | 31.8 | 13.5 |
| EPS Growth (3 Yr Avg) | 35.2 | 13.5 |
| Operating Margin % ttm | 57.6 | 28.6 |
| Net Margin % ttm | 39.5 | 14.7 |
| ROE ttm | 113.5 | 15.3 |
| Debt/Equity | 0.0 | 2.6 |
Source: MorningStar
QCOR's 3 year average revenue growth and EPS growth of 31.8 and 35.2 all strongly outpaced the industry averages of 13.5 and 13.5. The operating margin and net margin of 57.6% and 39.5% are remarkable as compared to the averages of 28.6% and 14.7%. QCOR's strong fundamental numbers are further strengthened by its 113.5 ROE and 0 debt-to-equity, comparing to the averages of 15.3 and 2.6. If QCOR can fight off the damages from the recent Acthar gel incident, QCOR is definitely well under-valued with its low P/E of 10.1, where the industry average is 41.7. Another great analysis report on QCOR is recommended here, written by Michael Fuller from Seeking Alpha.
Short-Term Technical Analysis
On Oct. 26, 2012, QCOR closed at $26.17 with 0.77% gain. The volume of 1.66M was 68.8% less than the 3 month average volume of 5.32M. From the trend viewpoint, QCOR had been showing a bullish sign since Oct. 10, 2012. From the momentum perspective, RSI (14) had come out of the over-sold territory (below 30) on Oct. 8 and the momentum is approaching the neutral-line at 50. In the past 8 trading days, QCOR had been trading near $26.00. If it can break above $27.5, we should see another ride up with a short-term resistance at 50-day MV at $32.82, followed by 200-day MV at $38.62. For the downside, we should see some support at $20.00 level.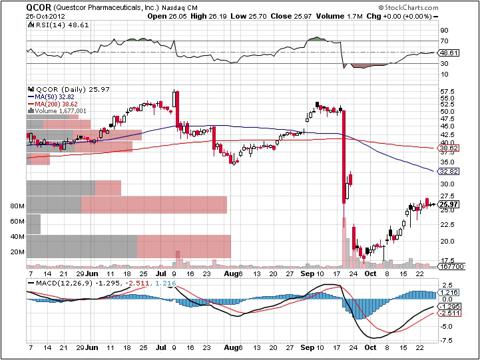 Source: StockCharts.com
Options Play
For investors and traders who had followed our last QCOR article, the reviewed call spread will be followed-up below.
On Oct. 12, 2012
Buy 1x Nov., 2012 Call at the strike price of $22 at the cost of $2.45
Sell 1x Nov., 2012 Call at the strike price of $26 for the credit of $1.12
As of Oct. 26, 2012
Nov. 17, 2012 Call at the strike price of $22 can be sold for $4.30
Nov. 17, 2012 Short Call at the strike price of $26 can be bought back at $1.6
While QCOR had been trading around $26.00 in the past few days, we are considering closing this call spread with the profit of $1.37, where the return is 103% at the cost of $1.33. While more potential profit can be gained if we wait until expiration, it's a good time to take some profit and establish a new bullish position with a longer time horizon. We will review a longer term credit put spread and a bull call spread to capture more upside potential with a plan to acquire QCOR shares if this options play fail to generate profit.
Short 1x Jan. 18, 2013 Put at the strike price of $19.00 for the credit of $1.35
Buy 1x Jan. 18, 2013 Put at the strike price of $16.00 for the cost of $0.65
The maximum credit received/profit is $0.70 and the maximum risk/margin required is $2.30, which translates into 30.43% return for the margin used, for the 3 month investing period. If QCOR falls below $19.00 upon option expiration, our acquisition cost will be $18.3, which gives us an edge of 30% comparing to the current price of $26.17.
To capture more upside potential, bullish traders can also review the following in addition to the above setup:
Buy 1x Nov. 17, 2012 Call at the strike price of $28.00 for the cost of $0.75
Short 1x Nov. 17, 2012 Call at the strike price of $30.00 for the credit of $0.30
The cost for the call spread is $0.45 and the maximum upside potential is $1.55, which gives 244% potential gain.
For conservative long-term investors, above credit put spread can be reviewed only if you have a plan to buy and hold QCOR for the long-term and have intention of buying the stock at the price of $18.30. The short-term Nov. call spread is further reviewed for more aggressive, bullish traders and its cost can be potentially offset by the premium received from the long-term credit put spread.
Note: All the prices are quoted from the closing of Oct. 26, 2012 and all calculations are before fees and expenses. Investors and traders are recommended to do their own due diligence and research before making any trading/investing decisions. The author of this article is only sharing and reviewing his own trading strategies and does not recommend any potential trade.
Disclosure: I am long QCOR. I wrote this article myself, and it expresses my own opinions. I am not receiving compensation for it (other than from Seeking Alpha). I have no business relationship with any company whose stock is mentioned in this article.