The mortgage REIT companies have been under pressure lately with the Fed start of QE3 on top of Operation Twist. This has pushed mortgage rates down even further (about -15 bps). For the primarily Agency RMBS investors such as Annaly Capital Management Inc. (NYSE:NLY) and American Capital Agency Corp. (NASDAQ:AGNC) the financial spread between the cost of funds and the mortgage yields has narrowed further. This has put pressure on their earnings, and most of these companies have been lowering their dividends.
Resource Capital Corp. (NYSE:RSO) is a mortgage REIT that specializes in commercial real estate investments and commercial finance. It has an external manager, Resource America Inc. (NASDAQ:REXI). It is a micro cap with a market capitalization of only $483.22 million. It has a total portfolio value of approximately $2.34B. It has been falling recently along with the rest of the mortgage REIT sector. However, it probably has not deserved this fall nearly as much as its peers. In fact if earnings are any indication it may not have deserved to fall at all.
Adjusted funds from operations (AFFO) were $0.26 for Q3 and $0.75 for the first 9 months of 2012. GAAP net income was $0.20 per share for Q3 2012 and $0.57 per share for the first 9 months of 2012. The dividend was $0.20 for Q3 and $0.60 for the first 9 months of 2012. RSO's book value increased from $5.44 per share at the end of Q2 to $5.51 at the end of Q3. By just about every measure RSO did as well or better in Q3 than it had done in other quarters this year. This is in stark contrast to most other mortgage REITs, which have seen their adjusted (or AFFO) earnings fall in the last nine months. Most of them have cut their dividends. RSO has not. It has kept its large 14.01% dividend ($0.20 per share per quarter) consistently throughout 2012. RSO's dividend is now higher than most (or all) other US mortgage REIT companies. This is an excellent reason to consider buying RSO now. Its stock price has retreated with the overall mortgage REIT sector retreat. Yet RSO's performance has not retreated, and it is showing no signs of doing so.
Has RSO continued its great performance by increasing its overall risk? It does not seem so. RSO's commercial real estate loan portfolio is now comprised of 87% senior whole loans as of September 30, 2012 as compared to 83% senior whole loans a year earlier. This is safer, not riskier. Most of RSO's assets are adjustable rate assets based on LIBOR. This provides protection against rising interest rates. Plus it has brought its leverage down from about 10.0x to 3.9x as of Mar. 31, 2012. Further it has put its money in good geographical markets such as California, Arizona, Texas, etc., and in good collateral types such as multifamily, hotel, etc.
Overall RSO has a diverse groups of investments. It even has a prop trading desk that produced a 50.7% return in 2011, and the prop trading desk is doing approximately as well in 2012. RSO's investment asset equity allocation is approximately 62% to commercial real estate, 31% to leveraged loans including corporate bank loans and ABS, and 7% to other credit opportunities such as equity stakes in leasing JV's or proprietary structured products. The following table from May 2012 describes the variety of investments in more detail.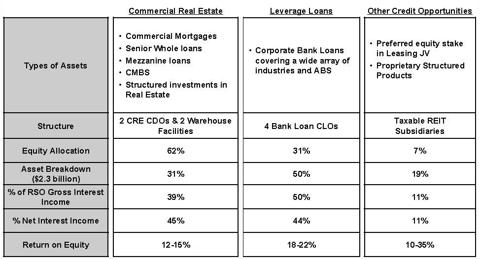 The yields are much higher in the commercial loan arena. Thus they require much less leverage to produce high returns; and they are much less susceptible to small changes in mortgages rates than such things as Agency RMBS. Further RSO believes the commercial mortgage market is much more stable now than in the recent past. In the first half of 2009 only $558.7 million in commercial loans were issued. In the first half of 2012 $18,249.1 million in commercial loans were issued. This substantial resurgence makes the commercial market much safer that just a few years ago. Still this is still a long way from the $134,757.8 million issued in the first half of 2007. If the US goes off the fiscal cliff, we could see a weakening of this nascent recovery; but we should not see the complete destruction of demand that we saw in 2008-2009, especially with the Fed backstopping the real estate market. The Fed is already buying about $85B in MBS per month ($40B/month from QE3). It may raise this amount to an even higher value after Operation Twist ends. If it does this, it will have plenty of room to make big purchases of CMBS. Such purchases would buoy the commercial loan market tremendously. In this light, RSO's investment strategy does not look risky at all. If anything this makes RSO look like a great asset to own going forward with its 14% yield. It looks even more like a buy in comparison to its peers, who are seeing already narrow Agency RMBS financial spreads shrink due to the new Fed QE3 policy. The extra leverage does not begin to compensate. By contrast, small mortgage rate changes have little effect on the wide rate spreads of the commercial mortgage world. RSO is a buy with the Fed's backing, even in an uncertain environment.
The two year chart of RSO provides some technical direction for this trade.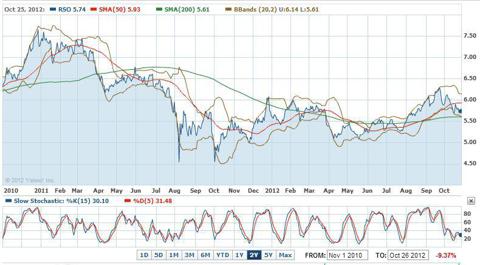 The slow stochastic sub chart shows that RSO is near oversold levels. The main chart shows that RSO is in a weak uptrend. With RSO's good Q3 2012 results, it is set up to continue this uptrend. With the stronger than expected Q3 GDP growth reading of 2.0, RSO's stock is further set up to move higher. It is a buy. However, you still want to be wary of the fiscal cliff, tax-maggedon, and the need for Congress to raise the US national debt once again. All of these are stumbling blocks in the way of RSO's success. This means you will likely want to average in around the fiscal cliff.
If you like RSO as an investment, you may also want to consider other mortgage REITs that invest significantly in the commercial mortgage market such as Getty Realty Corp. (NYSE:GTY), which has a much lower dividend of 2.70%, and First Potomac Realty Trust (NYSE:FPO), which has a dividend of about 6.70%. To me, RSO is the far better option with a 14% dividend and solid management. RSO trades at a quite reasonable PE of 9.88. It is a buy in these troubled times, if only for the fact that the Fed is fully supporting the real estate market, including the commercial real estate market. The Fed hopes such support will help bring about a faster and stronger recovery in the overall US economy.
Note: Some of the fundamental financial data above is from Yahoo Finance.
Good Luck Trading.
Disclosure: I have no positions in any stocks mentioned, but may initiate a long position in RSO over the next 72 hours. I wrote this article myself, and it expresses my own opinions. I am not receiving compensation for it (other than from Seeking Alpha). I have no business relationship with any company whose stock is mentioned in this article.