When OmniVision (NASDAQ:OVTI) last reported earnings, the company revealed that it was sacrificing profits margins to win a contract with Apple (NASDAQ:AAPL). In its last quarter, OmniVision reported higher inventory, lower margins, and write-downs from inventory. Apple also revealed that its profit margin dropped, which may make it difficult for suppliers like OmniVision to negotiate better terms: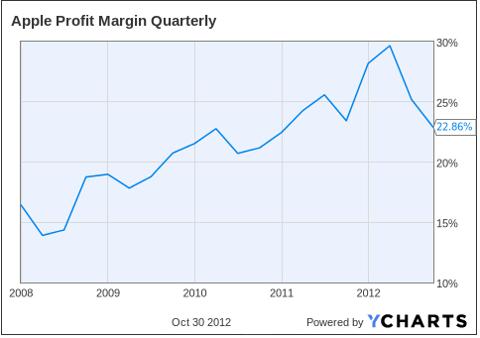 Investors searching for component makers that may grow its profits should look elsewhere. After a sharp decline in its share price, Synaptics (NASDAQ:SYNA) offers a compelling alternative. The company supplies the touch-interface for PC and mobile products, and designs the touch screen interaction for a number of LCD manufacturers. Synaptics, whose shares peaked at $39.89 earlier this year, closed recently at $24.40. Investors bid shares up by 7.4% after the company reported its quarterly earnings on October 25 2012.
Quarterly Earnings Summary
Synaptics earned $127 million in revenue, supported by revenue mobile phone touchscreen but weakened by the PC market.
Gross margins grew to 48%.
Non-GAAP net income was $12.7 million, or $0.37 per diluted share.
Revenue from PC was 49%, and declined 9% from the previous year.
Cash flow was $29.6 million.
Cash balance was $313 million.
Synaptics introduced ClearPad Series 3, which supports multi-touch on screens for gloves and fingernails. Both Nokia (NYSE:NOK) and Sony (NYSE:SNE) recognized the company with an award for innovation.
Synaptics provided the following forecast for its current quarter:
$0.42 to $0.50 per diluted share in its December quarter.
Non-GAAP gross margins of around 47%.
Revenue in the range of $134 million to $142 million, or up between 6% and 12% sequentially.
Analysis
Synaptics anticipates growing its design pipeline to support the launch of new products during the next few quarters. This would support the company guidance that Synaptics could double the number of units and gain 25% of the market by 2014.
Unlike other technology companies, Synaptics did not experience weakness from its market in China, due to its wide-range of customers in the region. Coolpad, Opo, ZTE, and Huawei are some of the Synaptics' customers.
The wide-range of products using Synaptics is appealing for investors looking for exposure to mobile device growth. Microsoft's (NASDAQ:MSFT) Windows 8 and Windows RT Surface use Synaptics' ForcePad solution. Adoption for this technology by other manufacturers will take time, but Synaptics anticipates ForcePad to be used by mid-2013, while ThinTouch will be used starting in 2014. In the PC market space, the Synaptics technology offers enhancements to the user experience not found on Apple devices. Although the PC sector is currently in a slowdown, there are still opportunities for Synaptics to grow. Ultrabooks and notebooks that employ ClickPad solutions stand to benefit. Dell (NASDAQ:DELL) is supporting Windows 8 gestures with a wireless trackpad. Hewlett-Packard (NYSE:HPQ) is incorporating the technology in its HP Spectre XT product.
In the tablet market, Synaptics will benefit from its inclusion in the Samsung Galaxy Tab 2, which runs Google's (NASDAQ:GOOG) Android operating system.
Negatives
Synaptics derives its revenue in the mobile and the PC space at roughly equal proportions. Uptake for Windows 8-based computers will take time to take hold, which will limit the short-term growth outlook for Synaptics in the PC sector. For now, the sector weakness in the PC sector is especially apparent in the Ultrabooks category. Synaptics anticipates opportunities will improve in the January - March 2013 quarter.
Conclusion
Investors seeking exposure to component suppliers for Google's Android and Microsoft mobile devices should consider Synaptics. ASP ("average selling price") erosion in the mobile space is offset by numerous product developments that will span over the next several quarters.
Computer demand in China hurt many PC makers in the last quarter, but mobile devices are expected to remain strong. Domestic smartphone makers are expected to grow, which will benefit Synaptics. Microsoft and Nokia will continue their aggressive marketing campaign touting the high-performance touch for Windows Phone 8. This will provide positive marketing for Synaptics.
Disclosure: I have no positions in any stocks mentioned, but may initiate a long position in SYNA over the next 72 hours. I wrote this article myself, and it expresses my own opinions. I am not receiving compensation for it (other than from Seeking Alpha). I have no business relationship with any company whose stock is mentioned in this article.