With Microsoft's Surface gathering momentum and Samsung's Galaxy S III selling more than 20 million devices in 100 days, Apple's "easy" high profit margins will soon be gone. Although Apple (NASDAQ:AAPL) will likely keep its leading position in the high-end smartphone market, intense competition will suppress prices and create a commodity-like environment for smartphone and tablet manufacturers.
It has been 5 years since the launch of the first iPhone and in this timespan Apple has grown its profits from $2 bln to $40 bln ttm and will probably continue to do so for many years ahead. That's natural, since more and more people buy its revolutionary products all around the globe. However, while revenue and profit expansion is almost inevitable, gross margin expansion is likely to top in a few quarters' time if it hasn't already.
This is not though, because of Apple. The source of the problem is inherently structural and external in nature. You see, the smart device business has no barriers to entry. That means that every company in the planet with the means or the money to create a smartphone or tablet can join the market and compete directly with Apple.
This was of no concern to Apple when it launched the iPhone product line. Apple has made such a huge technological leap ahead of its potential competitors, that for a long time, no one could effectively compete with the iPhone, except on price. That gave Apple a head start allowing for high margins of 40% to 45%, which led to more R&D and improvements, which led to more sales and the virtuous cycle went on and on. The same story goes also with Apple's iPad which was first-launched on April 2010.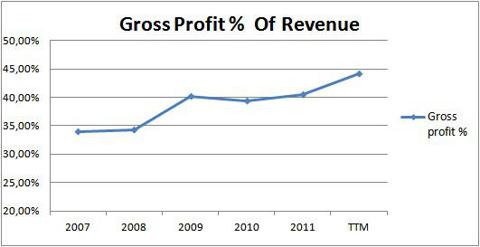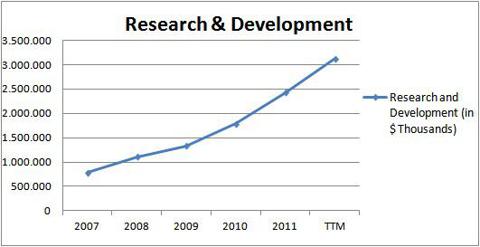 All these, along with the ecosystem that was created through iTunes store gave Apple's "business castle" a narrow economic moat to protect it against its competitors.
But all this time Apple's competitors didn't just "give up and quit". Companies like Google (NASDAQ:GOOG), Samsung (OTC:SSNLF), and Microsoft (NASDAQ:MSFT) picked up the challenge and went on to close the gap between them and Apple, in many different ways:
Android OS was revealed to the world, on November 5 2007, through the Open Handset Alliance. This is a consortium of Google, HTC (OTC:HTCKF), Samsung, Sprint Nextel (NYSE:S), T-Mobile, Qualcomm (NASDAQ:QCOM) and Texas Instruments (NYSE:TXN). The first Android phone made its debut October 22, 2008 and ever since Android has become the most widely used OS, with a 64% global market share as of Q2, 2012. After that, in August 2011, Google announced that it would buy Motorola Mobility, entering indirectly into the phone making business. One of the most important things gained with that acquisition, was a huge portfolio of mobile related patterns for further use. In addition, Google's Android is also used as the preferred OS for the majority of tablets and through them competes, although indirectly, with Apple's iPad series too.
Samsung began its Galaxy Series in June 2009 and after 35 different models it launched in May 2012 its heavy hitter, the Galaxy S III. With 20 million of the new phone sold as of September 6, 2012 Samsung became the largest cellphone manufacturer on Earth. You can read a full comparison of Galaxy S III to the iPhone 5 here. Samsung is also one of the Android tablet manufacturers. It's latest tablet is the Galaxy Tab 10.1.
Microsoft is a very different story than Google and Samsung. Since it's Windows Phone software didn't really gain any significant track, Microsoft decided to enter the tablet arena and compete with Apple's device, the iPad. Microsoft has just launched its Surface tablet with the new Windows RT. The other version with Windows 8 Pro is also coming in a few weeks. Microsoft's Surface is the only tablet computer, so far, that seems able to compete directly with Apple's iPad.
All of this doesn't mean that Apple is going to stop growing or making huge profits albeit in a declining pace. The smartphone and tablet revolution is structural in nature and thus it is far from over. What all of this means, is that Apple is starting to lose its lead and is in danger of becoming marginalized in the same way the Mac was and still is by the Windows desktop. Below you can see the current smartphone market distribution. In the following table the y-o-y changes in market share.
As you can see Android dominates and Apple is already losing market share, because it grows slower than the smartphone market as a whole.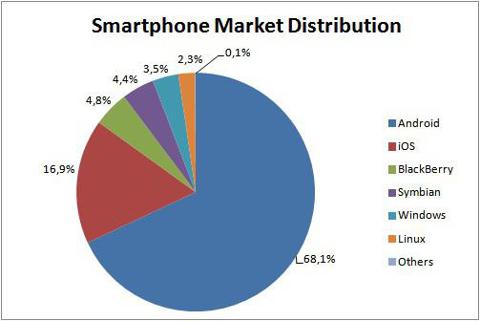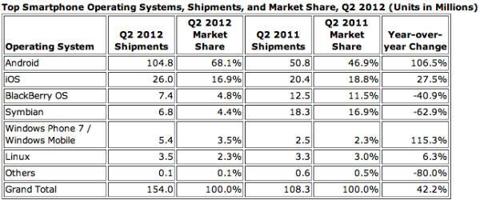 And finally, lets see how all these get translated into actionable advice. I don't believe cherry picking will work among these companies. If you want to ride the new technology wave, I believe the most sensible thing to do, is to invest the majority of your tech-related portfolio, may be a 50% to 60% to Google and Samsung. The rest should be divided with a 25% to 35% to Apple and the remaining 15% to Microsoft. Of course as the market direction becomes more clear, you should adjust accordingly.
Disclosure: I have no positions in any stocks mentioned, and no plans to initiate any positions within the next 72 hours. I wrote this article myself, and it expresses my own opinions. I am not receiving compensation for it (other than from Seeking Alpha). I have no business relationship with any company whose stock is mentioned in this article.