Income investors have to be creative to put together a portfolio that throws off good yield with a livable amount of risk in this era of low interest rates. Some of the best performers over the past few years have been in non-traditional plays like energy MLPs. I also believe REITs can be good places to pick up a reliable income stream as I believe real estate is in the midst of a sustainable recovery and hard assets like buildings and businesses that throw off cash flow should prosper in the coming wave of stagflation I think is a distinct possibility over the next few years. One REIT that looks good here and also should benefit from the aging demographic domestically is below.
Medical Properties Trust (NYSE:MPW) is a real estate investment trust based primarily in Texas, California and the northeast. It acquires, develops, and invests in healthcare facilities.
7 reasons MPW is still is a solid income play at $11 a share:
Its current yield is 7.2%. Distribution payments have been stagnant since 2009. However, if it hits analysts' earnings projections (see bullet point #3), they should begin rising again in the near future.
The company just provided a quarterly earnings report that showed substantial revenue growth (up 55% Y/Y) as well as normalized funds from operations that grew 71% Y/Y.
Earnings growth is slow and steady since the end of the financial crisis. The company made just 37 cents a share in FY2010 and then 71 cents a share in FY2011. MPW is on track for 86 cents of EPS this fiscal year and analysts expect over $1 a share of earnings in FY2013.
Operating cash flow (probably the best way to value REITs) is up some 40% over the last three years despite the fluidity of the medical care environment (AKA, Obamacare) and a challenging real estate market.
The company is growing impressively both organically and by doing strategic "bolt on" acquisitions. The company should come in with over 35% revenue growth this fiscal year and analysts have over 20% sales increases penciled in for FY2013.
MPW has a very solid five year projected PEG (1.24) for a 7% yielder and sells for less than 11 times forward earnings as well.
The stock has solid long term technical support at around $9. Since it recently bounced from that level, its momentum has been positive (higher highs, higher lows) and is solidly above its 200 day moving average (See Chart)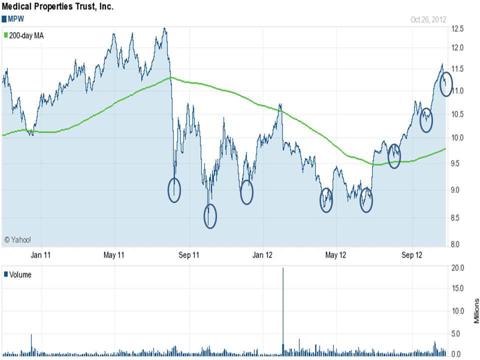 Click to enlarge
Disclosure: I have no positions in any stocks mentioned, but may initiate a long position in MPW over the next 72 hours. I wrote this article myself, and it expresses my own opinions. I am not receiving compensation for it (other than from Seeking Alpha). I have no business relationship with any company whose stock is mentioned in this article.