Just like Q2, Phillips 66 (NYSE:PSX) announced earnings this morning, and the results shattered Wall Street estimates. Third-quarter earnings were $1.6 billion and adjusted earnings were $1.9 billion. This compares with earnings of $1.0 billion and adjusted earnings of $1.5 billion in the third quarter of 2011.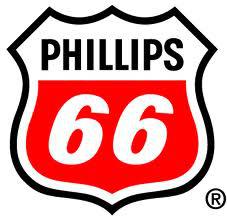 Per share earnings were $2.51/share and adjusted earnings were $2.97/share. S&P's Q3 estimate was $2.34/share and Reuters' estimate was pegged at $1.60/share.
Phillips continues to realize high refining margins as well as strong olefins chain margins at its Chevron Phillips' CPChem chemicals joint venture. Both businesses are benefiting from lower feedstock costs. In the case of the refining business, the company continues to take advantage of cheaper mid-continent and Canadian oil prices. In the chemicals unit, margins were higher because of lower ethane and propane feedstock prices.
Operating metrics were strong:
Achieved refining utilization rate of 96%
Generated operating cash flow of $1.9 billion
Reported YTD annualized ROCE of 18%
Rewarding The Shareholder
In Q3, PSX paid out $125 million in dividends to shareholders. The quarter included an announcement to raise the dividends to $0.25/quarter. The company also bought back $111 million in stock. PXS currently has a $1 billion share buyback plan in place.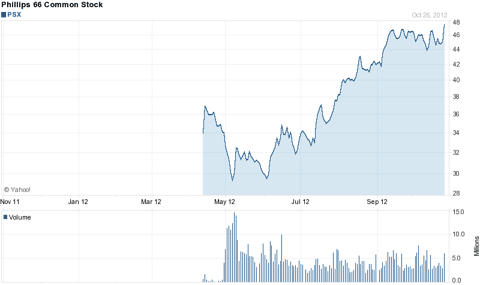 PSX = $47.50
Mkt Cap = $29.78 billion
P/E ((ttm)) = 6.11
EPS ((ttm)) = 7.8
Div (Yield) = $1.00 (2.10%)
With operating and earnings results like the last two quarters, and with management's focus on rewarding the shareholder, who can doubt more dividend increases are on the way? No wonder Warren Buffett likes Phillips 66.
Technically, the chart pattern is strong. After the split from Conoco Phillips (NYSE:COP) in May, there was a sell-off as non-believers exited the stock. Since putting in a bottom back in June around $30/share, the stock has steadily climbed making higher highs and lower lows.
S&P currently has a 12 month price target of $54 on the stock, but that was before this earnings announcement. Expect Wall Street earnings and price targets to increase following the earnings performance.
Currently, the shares are trading up $1 in pre-market trading to $48.50.
Disclosure: I am long PSX, COP. I wrote this article myself, and it expresses my own opinions. I am not receiving compensation for it (other than from Seeking Alpha). I have no business relationship with any company whose stock is mentioned in this article.