Dynavax Technologies Corporation (NASDAQ:DVAX) announced this morning it will advance its proprietary second-generation TLR-9 agonist for asthma into Phase 1 clinical studies. The work will be performed under the terms of a collaboration with AstraZeneca (NYSE:AZN) announced in 2006. All expenses will be fully funded by AstraZeneca. As a result of the agreement to move forward, Dynavax expects to receive an advance payment of $6 million in the fourth quarter of 2012. The Phase 1 studies are expected to begin 1Q13.
The agonist for asthma that is the subject of this study is known as AZD1419. It was developed as part of DVAX's collaboration with AZN to discover and develop products for asthma and obstructive pulmonary disorder (COPD). The agonist uses DVAX's proprietary second-generation immunostimulatory sequences (NYSE:ISS), which are short DNA sequences that enhance the ability of the immune system to fight disease and control chronic inflammation.
The previously announced research collaboration and license agreement with AZN has the potential to be quite lucrative for DVAX. According to today's press release, "…AstraZeneca will provide to Dynavax approximately $20 million in payments to cover the cost of clinical development activities through Phase 2a. If AstraZeneca chooses to advance the program following completion of Phase 2a, Dynavax will receive a $20 million milestone payment, and AstraZeneca will retain its rights to develop the candidate therapy and to commercialize the resulting asthma product. Additional remaining milestone payments to Dynavax amount to approximately $100 million. Dynavax will receive royalties on worldwide sales of approved products and will have the opportunity to co-promote the product in the United States."
According to the World Health Organization (WHO), 235 million people currently suffer from asthma. The disease occurs in all countries regardless of the level of development, though asthma-related deaths are more likely to occur in low- and lower-middle income countries. According to DVAX, analysts estimate the current worldwide market opportunity for asthma and COPD therapies to be over $15 billion annually.
Technical Analysis (as of the opening, Wednesday, October, 31, 2012)
The Daily chart, courtesy StockChart.com, shows the stock sitting just above the 200-day moving average as this is written. The Relative Strength has turned up, though the MACD is still negative.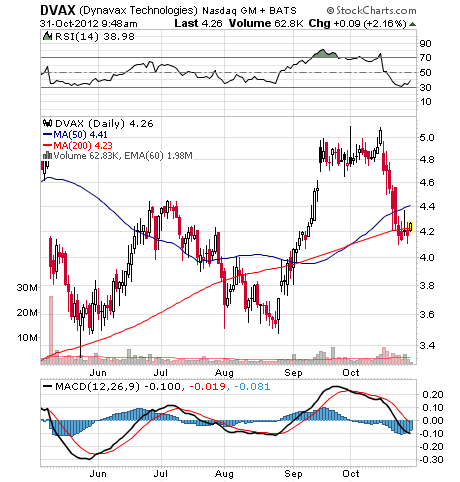 Turning to the Weekly technical data, the stock is just above the 50-week moving average, with the Relative Strength moving downward. The MACD appears to be turning negative.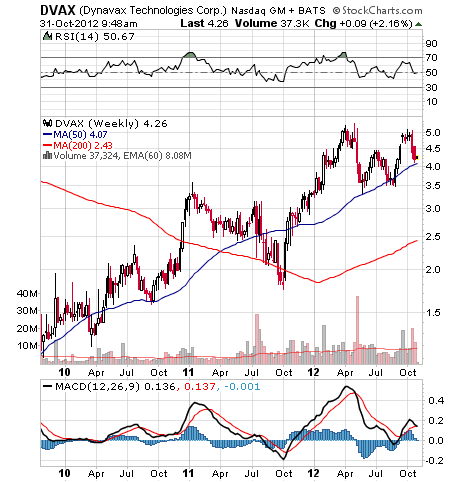 Disclosure: I am long DVAX. I wrote this article myself, and it expresses my own opinions. I am not receiving compensation for it (other than from Seeking Alpha). I have no business relationship with any company whose stock is mentioned in this article.
Additional disclosure: I am long DVAX and will not alter my position within 72 hours of the time of publication of this article. I am not a registered investment advisor and do not provide specific investment advice. The information contained herein is for informational purposes only. Nothing in this article should be taken as a solicitation to purchase or sell securities. Before buying or selling any stock you should do your own research and reach your own conclusion. It is up to investors to make the correct decision after necessary research. Investing includes risks, including loss of principal.