The Procter & Gamble Company (NYSE:PG) is the world's largest consumer product manufacturer, operating with a lineup of leading brands, such as Tide laundry detergent, Charmin toilet paper, Pantene shampoo, Cover girl cosmetics, and Iams pet food. While the company had been repositioning its product portfolio toward more value offerings, increasing spending to reclaim market share, and expanding in overseas markets, the efforts have not shown much impact as the company continued to struggle with sluggish growth compared with its peers, consequently resulting in the weakened competitive position. While PG's balance sheet and cash flow remain strong and its dividend continued to be secured, our near-term view toward PG is neutral and we believe PG is currently slightly over-valued.
Recent Development and Fundamentals Overview
For the latest Q1, 2013 earnings, released on Oct. 25, 2012, PG's core earnings of $1.06 per share exceeded its own estimate of 97 cents a share. The result was up five cents from $1.01 per share brought in a year ago. However, if foreign exchange rates were taken into account, PG's earnings would be down 6.9% from a year ago and revenue would decrease by 4%, with 3.7% slipped net sales for the quarter, as reported from Wyatt Investment Research. After this earnings release, the share price for PG gained 2.92%.
While the latest earnings had cheered the investors, we will take a quick look at PG's key stats compared with its peers in the industry of household & personal products.
| | | |
| --- | --- | --- |
| Key Stats | The Procter & Gamble Company | Industry Average |
| Price/Earning ttm | 22.3 | 18.9 |
| Price/Book | 3.1 | 4.2 |
| Price/Sales ttm | 2.4 | 2.0 |
| Revenue Growth (3 Yr Avg) | 3.0 | 1.4 |
| EPS Growth (3 Yr Avg) | -2.7 | 15.1 |
| Operating Margin % ttm | 15.7 | 13.3 |
| Net Margin % ttm | 12.7 | 10.3 |
| ROE ttm | 16.6 | 21.7 |
| Debt/Equity | 0.4 | 1.5 |
Source: MorningStar
While PG has a slightly better operating and net margin compared with the industry average, its negative EPS growth of -2.7, comparing to the average of 15.1, brings some realistic concerns about its growth outlook. From the valuation standpoint, PG is slightly over-valued, with P/E of 22.3 and P/S of 2.4, compared with the industry averages of 18.9 and 2.0. However, long-term investors should be comfortable with PG's strong balance sheet with 0.4 debt-to-equity, compared with the average of 1.5, and its consistent, solid free cash flow.
Short-term Technical Analysis
On Oct. 26, 2012, PG closed at $69.44 with 0.90% drop, with the volume of 11.94M, which was 27% more than the 3-month average of 9.4M. The MACD (12, 26, 9) started to show a bullish sign on Oct. 26, 2012, as seen from the chart below. The rally after the earnings helped PG to rebound from its 50-day MV of $67.96. From the momentum perspective, RSI (14) is current at 57.35 and the momentum seemed to be slowing down. In the short term, we should see some resistances at $69.98 (S1, pivot point) and $71.16 (S2, pivot point) and a major support at its 50-day MV of $67.96.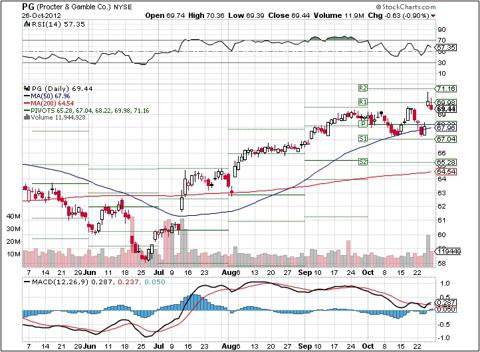 Click to enlarge
Source: StockCharts.com
Options Play
While we are concerned about PG's growth, we are very comfortable with PG's strong cash flow. In the short term, our view toward PG is neutral and we will review a long iron condor options play below for experienced options traders who share the same neutral view.
Short 1x Jan. 18, 2013 Call at $72.5 for the credit of $0.51
Buy 1x Jan. 18, 2013 Call at $75 for the cost of $0.18
Short 1x Jan. 18, 2013 Put at $65 for the credit of $0.63
Buy 1x Jan. 18, 2013 Put at $62.5 for the cost of $0.36
The resulting net credit and maximum profit is $0.60. The maximum risk and margin requirement is $1.9 ($2.5 maximum loss - $0.60 credit received). This would yield 31.58% for the margin used, provided PG traded within the range of $65-$72.5 upon the expiration of options. The break-even points will be at $64.4 and $73.1.
Note: All the prices are quoted from the closing of Oct. 26, 2012, and all calculations are before fees and expenses. Investors and traders are recommended to do their own due diligence and research before making any trading/investing decisions.
Disclosure: I have no positions in any stocks mentioned, and no plans to initiate any positions within the next 72 hours. I wrote this article myself, and it expresses my own opinions. I am not receiving compensation for it (other than from Seeking Alpha). I have no business relationship with any company whose stock is mentioned in this article.