Ford (NYSE:F) reported its earnings yesterday before the market opened. It managed to top earnings estimate but missed revenue expectations, largely due to the continuing problems in the European auto market. The market has developed a new interest in the recent European turnaround strategy announced by Ford's CEO Alan Mulally. Other highlights of the earnings release were a record profit margin of 12% in North America, improved sales in Asia, Africa and China, and the success story of the F-Series truck, which alone accounts for 90% of the total global auto profits made by Ford.
Press Release:

The company, despite a rise in tax rate from 10 percent to 30 percent, topped the EPS estimates. Most of the earnings came from North American operations, from which the company generates almost 70% of its revenues. The improvement in earnings came from higher prices and a $400 million improvement in commodity hedges.
US SAAR has been on the rise. The SAAR for September was 14.88 million, which was well above the expected number of 14.5 million.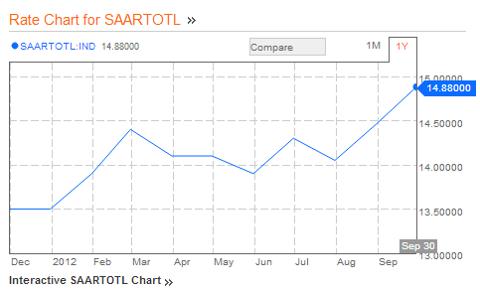 Ford has the second largest market share of 14.7%, behind General Motors's (NYSE:GM) 17.7%. According to the management, this is the third quarter in which the company has attained an operating margin of over 10 percent and earned over $2 billion from North American operations alone.
However, Bob Shanks also warned investors that structural and marketing expenses are expected to rise in future and, therefore, the results will not be as strong in the next quarter as they are in the current one.
F-Series is the main profit earner for Ford. According to Morgan Stanley's analyst, this truck range has earned the company almost 90 percent of its global auto profits.
Europe:
Ford's woes in its European operations do not seem to end anytime soon. The company lost $468 million this quarter, 53% more than the losses of $306 million for the same period last year. However, Mulally has taken some steps to restructure the operations in a way that can minimize losses.
Ford will be closing three of its facilities in Europe; its Southampton UK assembly plant, Dagenham UK stamping plant and Genk Belgium assembly plant. The company expects to lose $1.5billion in Europe this year (which is higher than the earlier guidance of $1.4 billion). It expects to lose a similar amount next year but become profitable by mid-decade. The closures are expected to bring $450-500million worth of savings.
The current European plan has been appreciated by the Street. Already, Ford has announced product re-acceleration and has been making an effort to reduce variable costs through a global platform. Ford is considered to have the most aggressive plan to deal with European market weakness among all OEMs.
The cash costs associated with restructuring are considered to be $850 million, which will be incurred over a period of 18 months. Given the current net cash position of $9.9 billion (most recent quarter), and the expected growth in FCF, its liquidity position will not be at risk after the restructuring costs have been incurred.
Others:
Asia and Africa posted a pre-tax profit of $45 million, compared to the $43 million loss for the same period last year. Ford benefited from the new Ranger pick-up and redesigned its Focus compact. South American operations posted a $9 million profit, compared to $276 million posted a year earlier. Ford blamed weak currency for this massive decline.
Conclusion:
Ford reported its 14th consecutive profitable quarter. The most attractive news for investors has been the European turnaround plan that is expected to bring significant improvement through variable cost reductions, reduction in structural costs and an aggressive pull-forward of European launches. The stock is trading at a cheap valuation of 7x. The stock also pays a dividend yield of 1.93%. The margins in North America are on a rise. Given that the European plan goes according to the company's expectations and it keeps growing in North American market, the stock is expected to go high.
Disclosure: I have no positions in any stocks mentioned, and no plans to initiate any positions within the next 72 hours.
Business relationship disclosure: The article has been written by Qineqt's Industrial Analyst. Qineqt is not receiving compensation for it (other than from Seeking Alpha). Qineqt has no business relationship with any company whose stock is mentioned in this article.