I recently authored an article about the possible explosive growth augmented reality technology could provide for Google (NASDAQ:GOOG) in the future. While AR can definitely be the next big thing in tech, giving Google great growth prospects for their dominant search engine, this is a long-term eventuality if it even occurs. What about Google's current state?
Google just released their Android 4.2 operating system, along with their new Nexus 4 smartphone and Nexus 10 tablet. Apparently the new OS now allows multi-user accounts, similar to a PC. Now Android users who use the same tablet can switch in and out of their own separate accounts. Different users will have their own home screens, apps, backgrounds, you name it. This new feature is unique and gives the Android tablets a differentiating edge. But what about the smartphones? Nokia (NYSE:NOK) owns that patent.
According to Cnet.com, Google may be avoiding this feature on their smartphones because Nokia's patent US 2005/0107114 A1, holds the innovation pass on the "multi-user mobile telephone." Another possible innovation casualty for the consumer resulting from the patent wars I guess. This hasn't been the confirmed reason as to why Google will only be offering the feature on tablets exclusively but probably has something to do with it.
Another similar feature that Google may be moving towards adopting that relates to Nokia is wireless charging. Rumor has it that Google will be utilizing wireless charging for the new LG Nexus 4, which will have the option of being charged wirelessly, just like Nokia's Lumia 920. Google apparently has developed something dubbed a "charging orb" which will open up wireless charging options up so that cords are no longer necessary.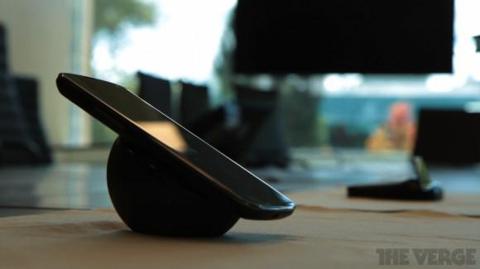 Click to enlarge
A picture of the Orb from Slashgear.com.
Google is definitely remaining innovative, working to push out good products for the consumer, but what does it all mean?
Conclusion:
Google's websites accounted for 67% of revenues for Q3. Their Android operating system seems to be essentially a vehicle to get people to continue to use their search engine services, thus cementing them in place as the dominate leader in search. Why do they do this through their Android OS?
Windows phones, like the Nokia Lumia 920, are obviously going to utilize Microsoft (NASDAQ:MSFT) Bing as the default search engine and map/location services provider. Apple (NASDAQ:AAPL) desperately wants to be Google free, going so far as to drop the native version of the Google owned YouTube app from the iPhone 5. This also backfired on Apple, as the mapping blunder caused some temporary dissatisfaction among ios users.
By Google owning and operating their own ecosystem and OS, the adoption of their services by other competitors doesn't matter as much. Many users of other operating systems will most likely still use Google anyways, such as when Apple had mapping problems. According to Androidauthority.com:
"[Android] mobile OS has more than half of the total market share in the US, UK and the entire Europe, while iOS is the very distant second in all three rankings. The biggest gap is on The Old Continent, where Android crushes Apple's mobile platform 67.1 to 16.5%.
That's also where Android grew the most over 2012's third fiscal quarter, from a market share of "just" 50.9% in Q3 2011. There's good news on the UK front too, where Android had a smaller, but still very healthy boost of 4.8%, from 53.4 to 58.2."
That is a good thing for Google, as their search engine, ecosystem, and other sites like YouTube will be the default, go-to items in their increasingly leading OS. Mobile and traffic overall should continue to grow and help Google continue to generate massive free cash flow. Another advantage Google holds from receiving a majority of revenues through websites like their search engine is that they can generate revenues from not only their own OS, but from competitors like Apple as well. Let's face it, sites like YouTube are not going to be avoided just because a consumer purchased a device that runs on an OS that isn't Android.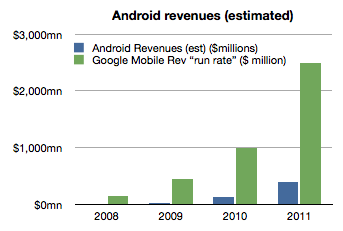 Shares of Google currently trade at a price of around $675.15, a significant discount from their 52 week high of $774.38. With a P/E ratio of about 21, the company seems reasonably valued by this metric, as well.
Disclosure: I am long MSFT, NOK. I wrote this article myself, and it expresses my own opinions. I am not receiving compensation for it (other than from Seeking Alpha). I have no business relationship with any company whose stock is mentioned in this article.