Titan Machinery (NASDAQ:TITN)
Titan owns and operates a network of roughly 94 full service agricultural and construction equipment stores in the United States and Europe. The company is the largest retail dealer of Case IH Agriculture equipment in the world, the largest retail dealer of Case Construction equipment in North America and a major retail dealer of New Holland Agriculture and New Holland Construction equipment in the U.S. The company operates their business through two reportable segments, Agriculture and Construction. Within each segment, they have four principal sources of revenue, new and used equipment sales, parts sales, service, and equipment rental and other activities. The company has retail outlets in several states in the upper Midwest. The states where their sales predominately come from include North Dakota, South Dakota, Nebraska, Iowa and Minnesota. The website for all their locations can be found here.
Some concerns include:
The company has no real record of generating meaningful cash flow from operations
Inventory has taken cash from operations and is at peak levels based on Days Inventory
Weak underlying industry and economic trends in most of their respective markets
The company makes a habit of acquiring operations instead of building their own stores and subsequently has built up goodwill on their balance sheet
They are basically buying a book of customers but relationships and trust are some keys in successful acquisitions of businesses based on those repeat customers
Recent convertible debt offering at 3.75%
Floorplan financing
Since coming public in 2009 the correlation between CNH and Titan Machinery has been roughly .83
Sales growth for the company has been in excess of 30% year over year for several quarters. We feel given the underlying fundamentals of the company and the economic picture of where the company is doing business that the growth rate will slow in future quarters (or at least the company should think about slowing growth).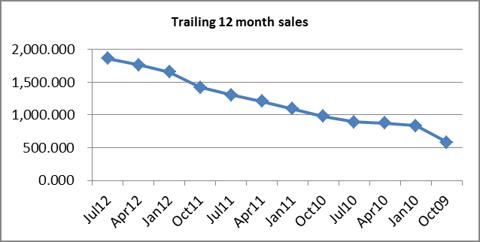 Disclosure from a recent 8-K suggests they are taking steps to improve inventory turns but only time will tell if they are taking the proper steps to generate cash from operations.
"Given the increased new equipment supply in the Agriculture industry, the Company has adjusted its strategy for new equipment inventory and expects this strategy will result in a decrease of new equipment inventory, excluding acquisitions, during the back half of fiscal 2013 after peaking in the third quarter of fiscal 2013. The Company will continue to manage used equipment levels and valuations regularly but due to seasonally higher new equipment demand in the back half of the year the used equipment inventory level is anticipated to increase by the end of fiscal 2013. The Company had available $162.0 million of its $800.0 million total discretionary floorplan lines of credit as of July 31, 2012."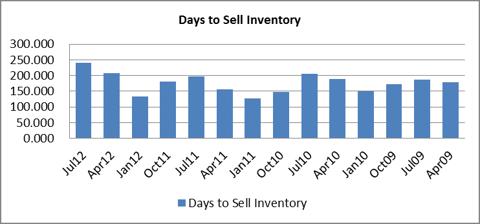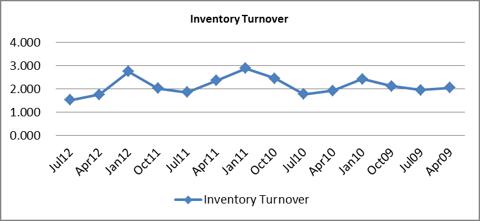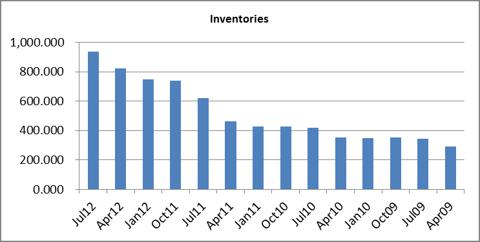 Inventories have typically represented roughly 80% of their current assets and have resulted in what we consider extremely weak cash flow. One can argue that a growth company like TITN may not generate cash from operations. We think that is hogwash and investors who don't like cash from operations being positive shouldn't be investing.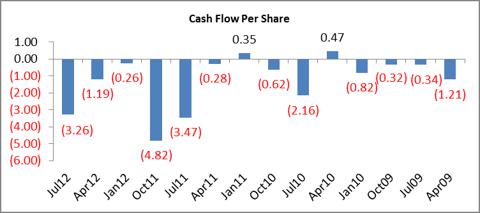 While we are not going to get wrapped up in the details of goodwill and the repercussions it may have on the balance sheet, it is worth noting the increase over the last several years. It doesn't represent much as total of their assets but any write-down of goodwill would be construed as a negative for the stock.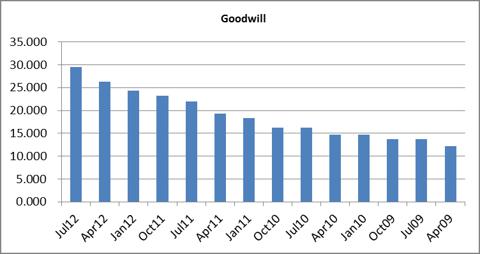 "Even though our agriculture customers experienced strengthening commodity prices midway through our second quarter, severe drought conditions in the Midwest negatively impacted customer sentiment and associated equipment margins. Construction equipment margins were also pressured by competitive conditions particularly in some of the larger metro areas of recent acquisitions. These factors generated a competitive retail equipment market where we were able to maintain sales activity but experienced a compression in our overall equipment margins and in particular our used equipment margins. As a result, we are reiterating our annual revenue guidance but lowering annual net income and earnings per share outlook."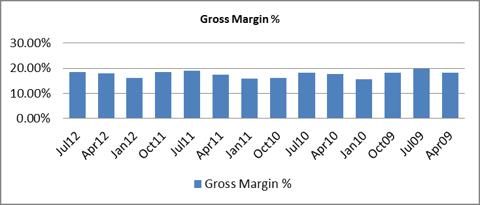 A gross margin of just over 18% is nothing to get excited about in the grand scheme of the business. It also appears the company is not able to gain any traction with their asset turnover which the largest component is inventory. The underlying fundamentals of the business are starting to deteriorate on an operating basis. They are stretching to meet growth goals that are not obtainable in the current environment. A company that admits they're going to meet their revenue goals but can't meet expectations of net income should look at the real underlying drivers of their business.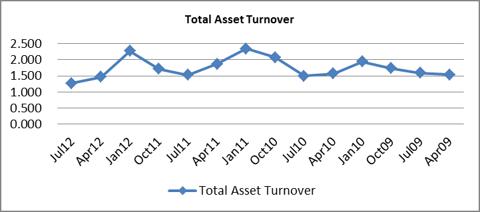 The aforementioned convertible debt has further increased the pressure on Interest Coverage and again asking, why debt? The increase debt as a percentage of total capital continues to rise to levels that may be uncomfortable in a downturn of their business.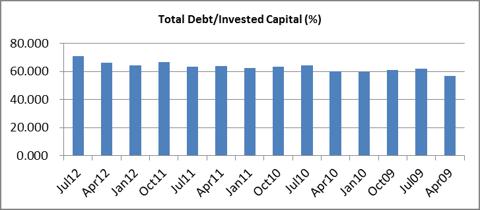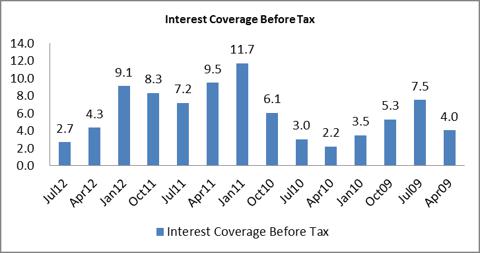 It appears that factors of increased debt capital, decreasing margins, and weak cash flow have led to a lower Return on Investment than any other period going back to the quarter of April 2010.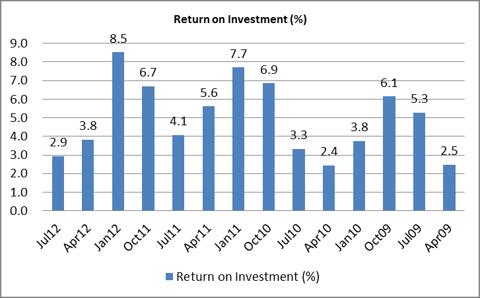 The company to a large extent has seen the benefits of increasing business in North Dakota due to oil and gas companies looking for deposits of oil and gas in shale formations. It's necessary to have a substantial growth portion of business but again realistic expectations have to come to the forefront. There has been a substantial increase in the number of Private Housing Starts in the last two years. The years prior to the oil and gas boom had been mediocre at best.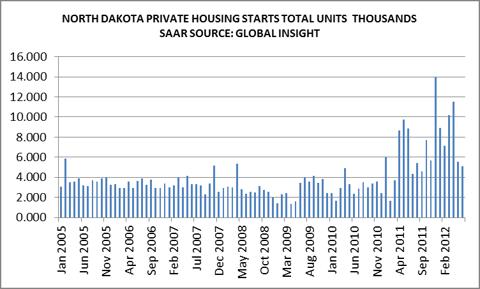 Private Housing Starts in Nebraska don't portray a picture of real growth. With the company operating in different segment of the construction industry it is also important to look the underlying fundamentals of the economy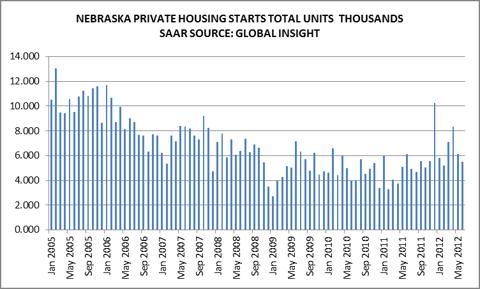 Looking at specifics in North Dakota reveal the Median price paid for a home has started to come back to reasonable levels after spiking to $250,00 during Q1 of 2010. This was at the height of the shale boom which is continuing and can be sustainable for several years but doesn't paint a picture of a ripping economy.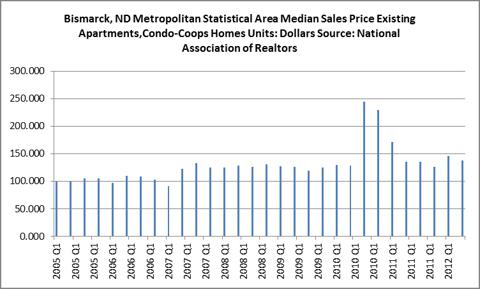 Housing starts are not as robust in their respective markets as one would assume given the valuation of the stock. The underlying economics of the region are going to be a headwind for the company as they try to generate future growth. We think a great deal of caution should be warranted and in fact would consider shorting the stock at these levels.
Disclosure: I have no positions in any stocks mentioned, and no plans to initiate any positions within the next 72 hours. I wrote this article myself, and it expresses my own opinions. I am not receiving compensation for it. I have no business relationship with any company whose stock is mentioned in this article.