On July 12th, Bill Ackman of Pershing Square Capital disclosed a new position in Procter & Gamble (NYSE:PG), which has been a catalyst for the 3 month rise in its stock price. On August 3, Procter & Gamble reported its Q4 2012 results and we saw good news and bad news. The good news for shareholders is that P&G finally completed the sale of its global snacks business consisting of Pringles potato chips. P&G originally planned to sell Pringles to Diamond Foods (NASDAQ:DMND) for $2.35B worth of cash and stock before Diamond was forced to restate its earnings and financial results. P&G did not have to despair though because Kellogg (NYSE:K) came in and offered a better deal than Diamond. Kellogg offered $2.695B and offered it all in cash. The bad news was that P&G reported flat revenues and profits versus the prior year. While Ackman's July stake in P&G was the most notable because it was so recent and because it was so large, it's not the only large stake by a well-known and well-respected active manager. Berkshire Hathaway (NYSE:BRK.B) (NYSE:BRK.A) owns 2.17% of P&G, Yacktman Asset Management owns 1% and P&G's employees own 3.09% through the P&G Company Profit Sharing Trust and Employee Stock Ownership Plan.
Pershing took a stake in P&G because Ackman believes that he can influence management. We were glad that Ackman did not rattle off how P&G's EPS has been steadily declining since its former CEO A.G. Lafley retired in 2009. We were also glad that Ackman did not feel compelled to discuss how P&G's cumulative revenue growth under Lafley's successor Bob McDonald has only been a pitiful 11% over McDonald's 3 years as CEO of the company. In McDonald's defense When McDonald succeeded A.G. Lafley in 2009 as P&G's CEO. It was obvious that he had some big shoes to fill even though he was Lafley's COO and had 29 years of experience with the company.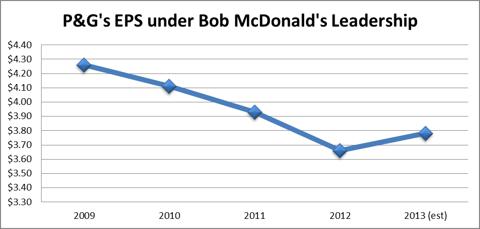 Click to enlarge
Source: Procter & Gamble's Management Guidance and 2012 Annual Report
While P&G is still able to generate strong levels of free cash flows and has a history of returning cash to shareholders through dividends and share repurchases, it is apparent that the company has lost its way when Lafley handed power over to McDonald. Due to the severity of the economic downturn, P&G is seeing stronger competitive headwinds from private label products. Like other multinational companies, P&G is seeing headwinds to its revenue and profits from negative effects of converting revenues denominated in foreign currencies back into US Dollars. In this quarter, P&G saw a 4% revenue decline due to a 6% negative impact from currency translation. On a constant currency basis, the company's revenue increased by 2% year-over-year. P&G forecasted a constant currency organic revenue growth rate of 2-4% for FY 2012 and that currency would basically absorb all of this revenue growth.
With regards to P&G's business segments, only the Baby Care and Family Care Segment saw its unit sales volume generate positive growth in the Q1 2013 period (2%). P&G's Fabric Care and Home Care Segment had flat unit sales volume performance, the Health Care Segment and Grooming Segment checked in with 1% unit sales volume declines and the Beauty Segment had an ugly 3% unit volume decline. P&G's reported EPS from continuing operations declined by 5% in Q1 2013 due to $.10 in "non-recurring charges." Excluding these charges, P&G's adjusted EPS increased by 5%. P&G expects December quarter core EPS in the range of $1.07 to $1.13, down two percent to up four percent compared to prior year core EPS of $1.09.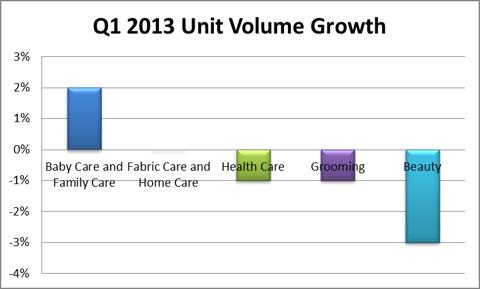 Click to enlarge
Source: Procter & Gamble's Q1 2013 Report
We have a mixed opinion about management walking back its comments about suspending its share repurchase program earlier in the year in order to maintain its AA credit rating. On the one hand, we like share repurchases because it returns cash to shareholders. On the other hand, we believe that P&G's share price is fairly valued because activist investor Bill Ackman's investment in the company has resulted in a 10% boost to the stock price in the month that he has held it. Considering that P&G is trading at 17X and is expecting EPS growth of 2% in 2013, we would rather the company use excess cash flows for dividends or to reduce leverage. In Q1 2013, P&G spent $1.633B to repurchase shares net of employee stock compensation program issuance.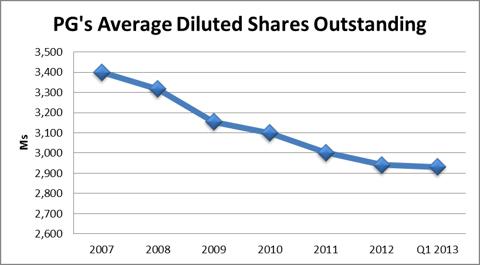 Click to enlarge
Source: Morningstar Direct
In conclusion we follow P&G primarily because it acquired the blue chip Boston area consumer products company Gillette. Gillette was not only a local area consumer products titan, it was also a core holding of Berkshire Hathaway's portfolio. Now that Bill Ackman has over 1% of P&G's stock, we have another reason to follow it. We remember Gillette as an industry leading global blue-chip consumer products company and that its pre-merger headquarters was located in our hometown of Boston. Pershing's position in P&G represents about 25% of its $7.6B portfolio as of June 30th and since Ackman disclosed Pershing's stake on July 12th, P&G's shares have outperformed the market. Ackman had liquidated or reduced a number of Pershing's positions in order to fund the new investment in P&G. We think that investors should wait until a market or company specific pull-back before entering into a long position in P&G since P&G is trading at 17X expected FY 2013 EPS and we believe that it is pretty fairly valued already. We also believe that it is fairly valued at 17.6X expected 2013 Adjusted EPS because it is expected to generate a pedestrian EPS growth of 8.4% in FY 2014 and a middling long-term growth rate of 7.9%.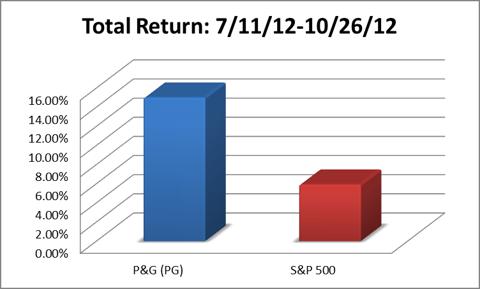 Click to enlarge
Source: Morningstar Direct
Disclosure: I am long BRK.B. I wrote this article myself, and it expresses my own opinions. I am not receiving compensation for it (other than from Seeking Alpha). I have no business relationship with any company whose stock is mentioned in this article.
Additional disclosure: his article was written by an analyst at Saibus Research. Saibus Research has not received compensation directly or indirectly for expressing the recommendation in this article. We have no business relationship with any company whose stock is mentioned in this article. Under no circumstances must this report be considered an offer to buy, sell, subscribe for or trade securities or other instruments.