J.C. Penney's stock has been on a wild ride this year, rising early in the year, only to fall in recent months and lag behind other retailers. What is behind this rally? What should investors do?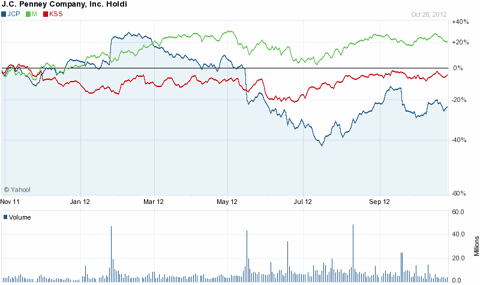 Click to enlarge
To answer these questions, we must first understand Ron Johnson's strategy to re-organize J.C. Penney stores after Apple stores.
J.C. Penney (NYSE:JCP) and Apple (NASDAQ:AAPL) stores have one thing in common: Their appearance is meticulous, and Ron Johnson has designed them. But they are different in one respect: Apple's stores are always crowded and sales are soaring, adding to the company's top and bottom lines. J.C. Penney stores, on the other hand, are striving to attract customers, and sales are souring, hurting both the top and bottom lines of the company. What makes this difference?
Hype! Apple's marketing machine and unique products already hype customers heading for its stores. They know what they want; they don't need conventional sales promotions to be lured to the stores. But J.C. Penney doesn't have a similar marketing machine, and its products aren't unique either; they are carried by Macy's (NYSE:M), Kohl's (NYSE:KSS), Wal-Mart (NYSE:WMT), and Target (NYSE:TGT)-to mention a few. This means that J.C. Penney's customers have yet to be hyped by traditional sales promotions, something Ron Johnson did away once he assumed the helm of the company by introducing everyday low price and eliminating store coupons.
For beginners, consumers are both rational and emotional beings. As rational beings, consumers decide by reason, by balancing goals and constraints, surfing the Internet for the best price and clipping store coupons. As emotional beings, consumers decide by emotions like hype, rushing and racing to copy and imitate other consumers, and to take advantage of limited time offers that fear they may lose out. This is especially the case for discretionary items like clothes and accessories. That's why sales promotions work so well for department stores, and taking them away was a strategic mistake for J.C. Penney that undermined its refurbishing initiative.
So far, J. C. Penny's strategy has not worked. Last quarter, the company reported a larger-than-expected decline in quarterly sales at stores open at least a year-the second straight quarter of severe sales losses since changing its pricing strategy last winter.
Obviously, the price change that eliminated sales through coupons for everyday low price was a strategic mistake that, in our opinion, comes from a misunderstanding of its leadership of the difference between J.C. Penney and Apple stores. What does it mean for investors?
They should stay away from the stock until there is a better visibility as to whether this strategy works.
The Bottom-Line: Hype is part of shopping experience, and J. C. Penney must keep it alive to keep customers and shareholders happy.
Disclosure: I am long AAPL. I wrote this article myself, and it expresses my own opinions. I am not receiving compensation for it (other than from Seeking Alpha). I have no business relationship with any company whose stock is mentioned in this article.
Additional disclosure: Long and short on AAPL with options