If you asked me to list the top qualities I look for when investing in companies, I would tell you the following (in no particular order): strong operating cash flow/free cash flow, minimal debt, robust share repurchase program, increasing dividend, growth strategy in China, and a product with high margins. Luxury handbag maker Coach (NYSE:COH) exhibits all of these qualities and then some. While I don't think Coach is the perfect company, I do believe their business model is one worthy of recognition.
My last article on Coach came after a very poor earnings announcement and further uncertainty headed into the first fiscal quarter (which ended September 29th). CEO Lew Frankfort told investors "Therefore, when you're modeling out the quarters, I would like you to remember that the first quarter will be the most challenging in terms of both top line as we're up against very strong North American comp and a larger currency benefit…" By sitting on your hands you missed a few percentage point run up in the stock, but with more clarity coming after the most recent earnings announcement, alongside a stronger quarter than anticipated, current price levels appear attractive for entering new positions in Coach. Many analysts have been raising 12 month price targets following the earnings release.
Additionally, the fear of competitor Michael Kors (NYSE:KORS) taking market share, although still relevant, may not be quite the risk it appears. I anticipate Coach having a very strong fiscal second quarter (holiday season) and reducing some of these fears. Over the long term I still feel that Coach will win out the consumer by offering a quality product that is different from competitors. Michael Kors appears to be the "hot item", but as history tells us, fashion trends change and what is hot today is not necessarily hot tomorrow.
China
In the most recent quarter sales in China were up almost 40%, with same-store sales growth in the double digit range. If you listen to the general tone of management over the past few quarters, you cannot help but get excited about the opportunities that lie ahead. Fiscal year 2013 sales in China are expected to be $400 million, FY14 sales are expected to grow to $500 million and eventually top $700 million soon thereafter.
At the end of the quarter Coach operated 104 locations in China and intends on opening 30 new locations this fiscal year. The rapidly growing middle class in China has strong demand for luxury items and Coach is successfully embarking upon an aggressive approach to build a strong presence in this market. Management delivered a very compelling statistic on the recent conference call, Chinese consumers who made a past purchase of a Coach product are more than 90% likely to make another purchase within 12 months.
Cash Flow and Uses of Cash
Coach has done a tremendous job at generating cash. Last fiscal year the company generated $1.2 billion in cash flow from operations. As of the most recent quarter cash on the balance sheet stood at $760 million. Below is a table of operating cash flows and operating cash flow per share over the past five years.
| | | | | | | |
| --- | --- | --- | --- | --- | --- | --- |
|   | 2007 | 2008 | 2009 | 2010 | 2011 | 2012 |
| Op. CF | $ 781,169,000 | $ 923,361,000 | $ 809,152,000 | $ 990,877,000 | $ 1,033,271,000 | $ 1,200,000,000 |
| OCFPS | $ 2.07 | $ 2.56 | $ 2.48 | $ 3.14 | $ 3.43 | $ 4.08 |
| OCF Growth Rate |   | 18.20% | -12.37% | 22.46% | 4.28% | 16.14% |
| OCFPS Growth Rate |   | 23.79% | -3.03% | 26.25% | 9.22% | 19.07% |
Source: Coach SEC filings
Management's use of cash is always worthy of recognition. While some companies hoard cash and never make acquisitions to expand their business, Coach takes a more proactive approach and uses cash for three specific things: dividends, share repurchases, and expansion.
The company paid its first quarterly dividend of $0.075 In June of 2009 and has been increasing the quarterly dividend payment ever since. Current shareholders receive quarterly dividends of $0.30. This payout rate during the first fiscal quarter was 41% of earnings, right in line with that of the S&P 500. While the company does not guarantee a dividend increase, I anticipate the a higher payout during the third fiscal quarter.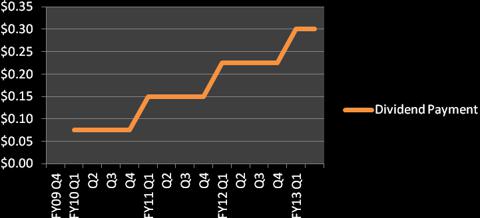 Source: Coach SEC Filings
Another way Coach continually returns capital to shareholders is through share repurchases. Many companies will implement a share repurchase program to offset stock options, however Coach takes this a step further. The chart below shows the share count over the past few years. As you can see, share repurchases are nothing new for this company. Management has been able to grow the business, and return capital to shareholders successfully for the past few years. The company recently announced a new stock buyback program which authorizes up to $1.5 billion worth of shares to be repurchased before the end of FY15.
| | | | | |
| --- | --- | --- | --- | --- |
|   | Basic Shares | % Change | Diluted Shares | % Change |
| Recent Quarter | 284,569,000 | -1.29% | 288,497,000 | -1.91% |
| 30-Jun-12 | 288,284,000 | -2.24% | 294,129,000 | -2.46% |
| 2-Jul-11 | 294,877,000 | -5.31% | 301,558,000 | -4.52% |
| 3-Jul-10 | 311,413,000 | -3.80% | 315,848,000 | -3.00% |
| 27-Jun-09 | 323,714,000 | -9.00% | 325,620,000 | -9.63% |
| 28-Jun-08 | 355,731,000 | -3.77% | 360,332,000 | -4.51% |
| 30-Jun-07 | 369,661,000 |   | 377,356,000 |   |
Source: Coach SEC Filings
The operating cash flow generated by Coach has allowed it to expand geographically without incurring heavy borrowing. The company currently has $23 million of debt, debt to equity stands at just over 1%. While debt is not necessarily a bad things, especially considering the extremely low rates corporations have available to access capital, but being able to grow your business, pay dividends, and repurchase shares without requiring additional borrowing is commendable. It is worth noting that the company has just over $1 billion in non-cancellable operating leases, some analyst will factor this into their debt calculation. Coach also has access to lines of credit domestically, in Japan, and in Shanghai. There were no borrowings under any credit facility as of the end of fiscal year 2012.
Margins
Operating in a luxury goods business allows companies like Coach to achieve higher margins than other industries. Gross Profit Margins (blue line, right hand scale) have been above 71% for the past few years. Operating Profit Margins (red line, left hand scale) have been above 30% for the past few years. You may see a slight dip using the trailing twelve month data, but remember the CEO's remarks from last quarter regarding Q1 performance. Net Profit Margin (green line, left hand scale) has also moved in the right direction over the past few years.

Source: Coach SEC Filings
As many investors grow concerned about rising commodity prices, having high profit margins can be beneficial when cost of goods sold rises. Companies that operate in low cost environments have to either absorb increased commodity costs, or pass them on to consumers, both of which can be harmful to profitability. Coach operates in a business where slight increases in price don't drastically alter consumers behavior. A $5 increase on your $300 purse doesn't hurt as badly as a $5 increase on your $30 pair of jeans.
Conclusion
As great of a company as Coach is, they are still subject to numerous risks. I mentioned competitor Michael Kors who is quickly taking market share away from Coach, especially in the department store channel. Coach will need to continually find ways to keep the customer coming back for more. The company still must combat the counterfeit marketplace, however countries like China are beginning to assist in cracking down on this illegal practice. Additionally, if the worldwide consumer slows down discretionary spending, Coach will likely see a decrease in sales.
Evaluate your investment goals and objectives before investing in Coach. If you are a long term investor, acquiring shares at today's price levels has the potential to offer substantial returns. The company has many avenues for growth, above and beyond what is mentioned above. I believe the market is not rewarding Coach with higher price multiples given this growth potential. With the stock trading at 15.5x trailing twelve month earnings, towards the low end of its historic average, and a current dividend yield over 2%, shares offer a very attractive risk/reward scenario.
*Note: All data reported and graphed is pulled directly from Coach SEC filings (10K's and 10Q's) and press releases then ran through proprietary valuation models. The stock price used was from 10/26/12.
Disclosure: I have no positions in any stocks mentioned, and no plans to initiate any positions within the next 72 hours. I wrote this article myself, and it expresses my own opinions. I am not receiving compensation for it (other than from Seeking Alpha). I have no business relationship with any company whose stock is mentioned in this article.