Given the ongoing sovereign debt crisis in Europe, most investors think European stocks should be completely avoided. However, European stocks have performed positively in 2012, with the pan-European Dow Jones Eurostoxx 50 Index up 8% year-to-date. Even more impressive is the performance of the German Dax Index (NYSEARCA:EWG), which rose by more than 20% this year.
Also, you may have never heard about Industria de Diseno Textil (OTCPK:IDEXY), usually referred as Inditex, but its performance year-to-date should at least be a good reason to do some research on it. The company operates in the apparel fashion market with 8 different concepts, of which Zara is the best-known brand. It's a global retailer present in 85 countries spread around the world, with more than 5,500 stores.
Since the beginning of this year, Inditex's stock price rose by almost 57%. To put this into perspective, it beats Apple's (NASDAQ:AAPL) performance in 2012 which, as of today, rose "only" by 46%. If you think that this performance is because the company is small, it isn't. Inditex is a blue-chip company in Europe, with a market capitalization above €40 billion ($52 billion).
Even more impressive, the company is from Spain. As all of us know, Spain is in a mess and its stock market in pain. Since the beginning of 2012, the Spanish (NYSEARCA:EWP) stock market has underperformed other developed markets with an 8% decline. Continuing with impressive things, Inditex is the third-largest member in the Spanish index with a 12% weight.
Moreover, Inditex's performance isn't sector-related, given that its closest peer H&M (OTCPK:HNNMY) has hugely underperformed Inditex year-to-date.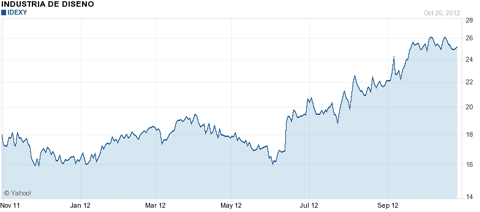 Source: YahooFinance
Crisis? What Crisis?
Inditex has reported excellent results in 2012, beating the markets' expectations and setting new record levels. In the first six months of 2012, Inditex's sales grew by 16%, EBITDA rose 28%, and it set an all-time high gross margin at close to 60%, bypassing the global economic crisis.
How can this be possible given the current weak macroeconomic environment, especially in Europe? Basically, Inditex has proven that its unique business model is very resilient and the company can rapidly adapt to changing circumstances.
Is this performance sustainable? Yes, because the company continues to invest massively. The group has maintained its expansive commercial policy, which targets an annual 8-10% growth in store space. Around 95% of this new space is in international markets and most of them in emerging markets, where its market share is still low.
Additionally, Inditex's balance sheet is very robust. It doesn't have long-term debt and its massive cash position is almost 10% of its market capitalization. Its dividend yield is not impressive at 1.8% but given the huge amount of cash available, it suggests a likelihood of further increases in the dividend over the next few years.
On the other hand, investors should be aware that Spain's weight in the group's sales is still above 20% and Europe (ex-Spain) represents around half of sales. The risk of a deep recession in Europe, and particularly in Spain, isn't yet completely off the table. Nevertheless, the company has proven throughout its history that it can manage downturns very well.
Conclusion
Inditex is a long-term growth company and, in my opinion, should be under all investors' radar screen. The stock isn't cheap trading at 25x forward earnings, but it could be a good buy on times of weakness. Additionally, for long-term investors who don't care about market timing, it's clearly a good buy-and-hold opportunity. For those interested in doing further research on Inditex, I would suggest my previous article "Inditex: Bullet-proof company for good and bad times" as a starting point.
Disclosure: I have no positions in any stocks mentioned, and no plans to initiate any positions within the next 72 hours. I wrote this article myself, and it expresses my own opinions. I am not receiving compensation for it (other than from Seeking Alpha). I have no business relationship with any company whose stock is mentioned in this article.