Most investors should have some exposure to small-cap companies as part of a well balanced portfolio. While utilizing majority exposure to large and mid caps, as well as dividend stocks for safety, having some in the small-cap arena opens doors to huge growth prospects, which therefore offers enhanced opportunity for extended portfolio performance. Let's take a look at two companies with under $500 M capitalizations that have above-average growth prospects.
ZAGG Inc. (NASDAQ:ZAGG), which is exposed to the portable device industry, primarily sells protective cases for phones, laptops, GPS devices, iPods, and other devices. With the portable/mobile device market growing at a double-digit pace, this small yet developing company could hold promise for investors, especially considering management's focus on releasing cases in tandem with new product launches such as Apple's new iPad Mini.
This market is prone to growth not only because of all the new products being developed, but because people actually buy them more often than other electronics. Think about how often consumers buy new TVs? Maybe every 3-5 years? Now how often do they buy new smartphones? Maybe every 1-2 years? This fast product refresh cycle is what gives ZAGG so much promise for growth. When consumers rush to buy the newest mobile gadget like the iPad Mini for example, ZAGG penetrates this market when these hungry consumers buy covers and cases to protect these expensive new gadgets as well.
ZAGG has a market cap of $224 M and is trading at 10.4x ttm earnings, while projecting 25% and 16% growth rates for each of the next two years. With companies racing to deploy new smartphones and other mobile devices, investors can be fairly confident the desire for ZAGG's products is secure. The risk to this company is the fairly low barrier to entry.
Technical Analysis: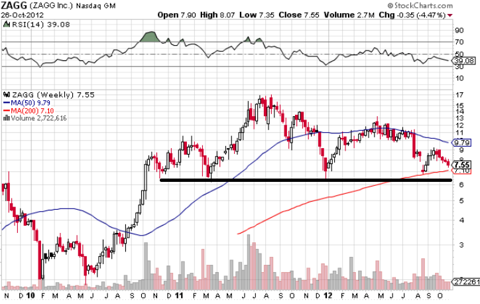 Click to enlarge
Zagg currently is trading right at the 200-Day moving average. Zagg has support at this level and at a secondary level of about $6.25/share. Below this level there is little support, so if investors get long ZAGG setting a stop or buying put options in the $5.00-5.75 range could prudent protection from any catastrophic loss.
Carbonite Inc. (NASDAQ:CARB) provides online backup solutions for consumers and businesses, known as the Carbonite Personal Cloud. CARB's automated backup program uploads encrypted copies of its customers'' files to a cloud based data bank. CARB also provides backup and restore facilities for external hard drives; and online backup services for video files, as well as recovery-by-mail service. It allows its customers to browse and share their photos, videos, and documents using a web browser, or using its iPad, iPhone, BlackBerry and Android apps.
The growing utilization of the internet for everyday activities is mind boggling. With businesses and consumers growing their dependency on the internet and computers, it only makes sense for them to backup their important and sometimes priceless data. CARB's automated backup software makes ease and quickness of use appealing to consumers. From basic documents, to videos, to irreplaceable pictures, CARB has harnessed the automated cloud data backup space into an opportunity for growth.
CARB has a market cap of $187 M, and is not yet profitable. However, recent earnings results on 10/25/2012 showed revenue of $21.57 million, a 35% YOY increase from the $15.93 million in 2011. Also, gross margin for the third quarter was 66.6%, compared with 61.6% in the third quarter of 2011, a solid 8% increase. These improvements are impressive and are signs the company is growing and has some momentum. In my view this growth should continue as we press on further into the digital age, and the company continues to execute. The company also reported cash reserves of $65 M, which amounts to a nice portion of the company's market cap.
Technical Analysis: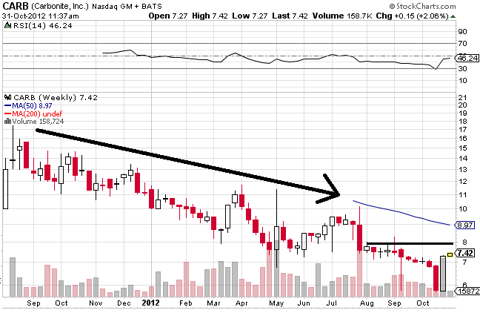 Click to enlarge
The past year has been a difficult one for investors in CARB stock. Since CARB's IPO in August of 2011, the stock has lost nearly 40% of its value. However, for investors looking for a good moment to buy the stock, this last earnings announcement may have been the signal.
Although somewhat speculative in nature, small companies offer enhanced opportunity for growth and therefore big returns if investors buy at he right moment. I feel these two fledgling companies, which do a great job of piggy backing the current tech revolution, offer compelling attributes to investors that can afford some exposure to small-cap tech stocks. With continued growth in the tech sector going forward, these companies offer exposure to this high risk/reward arena and therefore should be considered by investors.
Disclosure: I have no positions in any stocks mentioned, but may initiate a long position in ZAGG, CARB over the next 72 hours. I wrote this article myself, and it expresses my own opinions. I am not receiving compensation for it (other than from Seeking Alpha). I have no business relationship with any company whose stock is mentioned in this article.