This past week, important Nasdaq component Cisco (NASDAQ:CSCO) lost over 4%, adding to a month of losses now approaching 7%. While many have seen this as a generally attractive entry point, as the stock dipped below $18.17 on Oct. 19, it re-entered a specific oversold region of its historical trading range that, over the last 10 years, signaled a buy opportunity with a significant return.
Historically, Cisco is a near-term buy at $18.17 or less.
Click to enlarge images.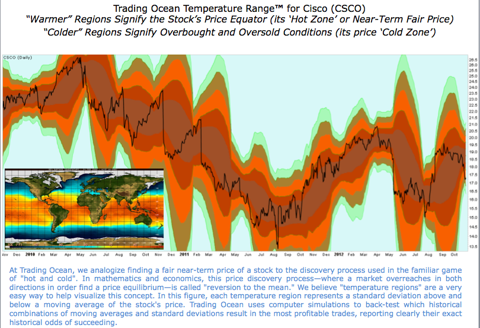 If, over the past decade, investors had purchased Cisco on every occasion when it entered the current price region (red temperature region) of its near-term trading range (see chart above) and subsequently sold whenever Cisco's price returned to the middle of the "warmest" price region (brown temperature region) around its near-term "price equator," investors would have pocketed a cumulative return of 125% across 99 such trades over that period. This trade would have been profitable 76 out of 100 times. By comparison, simply buying Cisco and holding it for the long run would have resulted in a 47% return over that same period.

In recent years, Cisco's current oversold condition proved to be an even better buying opportunity relative to a holding strategy: Over the past five years, simply buying and holding the stock would have resulted in a loss of roughly 46%, whereas the Trading Ocean trade pair discussed above would have returned a positive 45% across 49 such trades -- a more than 90% improvement vs. a buy-and-hold strategy for Cisco. Across one-, two-, five-, and 10-year time frames, the Trading Ocean trade pair significantly outperformed a buy-and-hold strategy by an average of 49%, and would have prevented Cisco investors from taking between 8% and 48% in losses over the previous one-, two-, and five-year periods.
Methodology of Trading Ocean Historical Market Simulations
Trading Ocean Historical Market Simulations are a proprietary technology developed by Daniel Nadler (PhD Harvard 2013, United States Federal Reserve 2012) and Pete Kruskall (MS/SB MIT 2008, Google employee). Trading Ocean uses algorithms and powerful computing to historically simulate and backtest the performance of thousands of market signals, trade strategies, and trades that financial analysts and commentators offer as important. Then for each stock it selects the best-performing trade strategy for any given investing time frame, reporting clearly their exact historical odds of succeeding.
Looking Forward: Exiting the Trade
Historically Cisco is a near-term sell at $19.00. A rebound to the $18.70-$19.00 region would place Cisco squarely back around its warmest "price equator" (its near-term fair price "hot zone"), and would be considered the sell signal of this Trading Ocean trade pair.
Fundamentals Confirm
From a long-term value perspective as well, Cisco fundamentals are confirming the near-term Trading Ocean oversold signal. Cisco can be best compared to Hewlett-Packard (NYSE:HP), Juniper (NYSE:JNPR), and Alcatel-Lucent (ALU), and now has a price to earning ratio of 12.66, lower than Juniper, as well as the industry average. Cisco recently reported fourth-quarter results that showed a net income increase of 56% to $9 billion year over year, resulting in an increase of 64% on earnings per share, at $0.36. This was associated with revenue growth of 7%, as well as a record year in revenue and earnings per share.
Challenges
Cisco, like several other firms in the sector, faces technological challenges, and is encountering stiff international competition. The advent of software-defined networking, which lets customers perform more tasks with fewer switches and routers, is a sharp concern for several Cisco product lines. Oracle (NASDAQ:ORCL) was quicker to understand the threat of such systems, responding by purchasing Xsigo Systems. Cisco has yet to answer with their own direct acquisition in this area, which poses a significant challenge for it in the near future.
Responses
However, the company recently announced several initiatives that should address widespread investor concerns regarding the firm's long-term strategic positioning, especially relative to Chinese competitors such as Huawei. These enhancements to Cisco's portfolio include telepresence, unified telecommunications, contact center solutions, and web conferencing. These initiatives suggest Cisco is undergoing a significant reorganization and has shifted management focus on forward-looking competitiveness relative to international challenges.
Disclosure: I have no positions in any stocks mentioned, and no plans to initiate any positions within the next 72 hours. I wrote this article myself, and it expresses my own opinions. I am not receiving compensation for it. I have no business relationship with any company whose stock is mentioned in this article.