Unless you have been living under a rock for the last month or longer, you have undoubtedly heard about the meltdown in the financial sector. The effects of this meltdown are numerous and broad, ranging from the deterioration of historic investment houses to the government's intervention to save the world's largest insurer, American International Group (NYSE:AIG). These are momentous events that have shaken the confidence of many in the investing community. However, what you are not hearing is that within the financial sector there are still some bright spots. We have recently added a very helpful tool on our website that allows users to easily observe Ockham Research's stance on the sector, industry, and segment levels. The scatter plot places a particular sector, industry or segment's weighted average rating on the x-axis and plots the weighted average 13-week return on the y-axis. This allows users of our website to compare the stock's plot relative to its peers, which can be very helpful when looking for investment opportunities.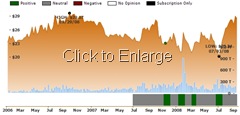 So when investigating the financial sector, you will notice that—in stark contrast to the Financial Services industry which has lost more than 13% in value—the Banking industry is actually up over 4% in the last 13 weeks. That will be a surprise to many, as it was to me. Digging a little deeper, it is the Regional Banks segment that has really taken the cake over the last quarter with many segments returning more than 25% over the last 13 weeks. Now, the astute reader may be thinking that these results are not telling the whole story because these stocks were pulverized coming into the last few months. Well, there is no denying that these stocks started from a lower base but that does not negate the fact that this segment of the market has been booming as many larger financials have swooned.
To illustrate the point take S.Y. Bancorp, Inc. (NASDAQ:SYBT) for example; investors who bought these shares 3 months ago have achieved a return of 43%. SYBT was a Buy in our system at that time because compared to where it had traded in the past and given its current levels of sales and cash flow, it was just too cheap. Also, consider that earnings have increased every year for the past 9 years and during that time management has consistently raised dividends (current yield 2%). Clearly, SYBT is a well run company that was unjustly brought down in an unfavorable market climate. These are precisely the kind of stocks that we like to recommend. Now that SYBT has come back to more historically normal valuations, we have placed a Hold rating on the shares as we believe the stock should trade between $24 and $28.
In conclusion, even as the world around seems to be collapsing in on itself, never let the emotions of the day overrule your adherence to an investment philosophy. There are undervalued stocks in this market, and financials like Regional Banks - that are not heavily implicated in the mortgage and credit meltdowns - would be an obvious place to begin to look. Keeping a clear head while others panic will pay dividends in the future.