This is a simple question that many Sanofi (SNY) investors and Zalicus (ZLCS) investors are wondering. Sanofi researches, develops, manufactures, and markets healthcare products worldwide. In its last financial report, it announced that one project in Phase II (FOV2304 -a bradykinin B1 antagonist evaluated in diabetic macular edema) has been discontinued. In spite of this fact, Sanofi notified that it had made the decision to continue the development of FOV1101 under a sublicense agreement to be entered into with an outside party still to be identified. Its decision was based on the review of Phase IIb results for FOV-1101 (Prednisporin), which led to a reassessment of the commercial perspectives for this compound.
Before explaining the reasons why Sanofi has taken this decision, I would like to remind readers what Prednisporin is.
FOV-1101 (Prednisporin) is an eye drop, fixed-dose combination of prednisolone and cyclosporine, currently in Phase IIb for persistent allergic conjunctivitis. Zalicus entered into a research and license agreement with Fovea Pharmaceuticals, now a division of Sanofi Aventis, in which Fovea will fund and develop the selected Zalicus product candidate for ophthalmic diseases up to the start of Phase III trials. This agreement was reached on January, 2006.
Zalicus received payments totaling $1.5MM for Prednisporin by Sanofi, and was eligible to receive up to $39MM in development and regulatory milestone payments. Zalicus was also qualified to receive royalties on net sales of Prednisporin by Sanofi.
During 2009, Fovea investigated Prednisporin (FOV1101) in Phase IIa. The company reported that on the primary endpoint of ocular itching, the Prednisporin (FOV1101) combination with the higher dose of cyclosporine A was superior to placebo (p=0.048) and non-inferior to the higher dose of prednisolone acetate alone. The Prednisporin (FOV1101) combinations were generally well tolerated and with Fovea no serious adverse effects were reported for this drug.
Currently, Prednisporin (FOV1101) is waiting for phase III start.
Why Sanofi wants to sublicense Prednisporin?
As readers must have noticed above, Sanofi seems to want to move its ophthalmologic business away. If Sanofi had believed in Prednisporin, Sanofi would have not have attempted to sublicense to another company. These doubts disappeared in Sanofi's last conference call for third quarter financial results.
Christopher A. Viehbacher, Chief executive officer, director and member of the strategy committee was asked about this situation in the earnings call.
Analyst of Crédit Suisse AG, Luisa Hector said:
Okay. So specifically on Fovea, there's still some technology behind that, so you're not exiting here despite the 2 changes from the Phase II results that were in the press release today?
This question is important to know the reasons for the sublicense Prednisporin. The analyst asked about the developments of Fovea. Senior Vice President of Sanofi Pasteur, Olivier Charmeil, replied as follows:
And maybe to clarify on the status of the Fovea 1,101 project, we basically decided to look for a sub-licensee that will potentially develop the compound further.
These changes in the pipeline portfolio imply that Sanofi assumes that it will only continue with a development that has fovea in phase IIb with a sublicense. I think that Sanofi wants to focus on its more advanced studies to combat cancer and dengue fever and the company wants to get away for the moment of the ophthalmic market.
In the following image, the developments of Sanofi after these changes can be checked.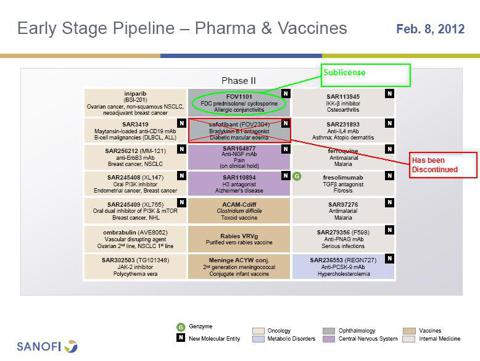 Source: Sanofi
Conclusion
I think that Prednisporin's phase IIb clinical results were very good and surprising for Sanofi. Although it seems that Sanofi does not want to continue with its ophthalmologic developments, it is going to carry on with Prednisporin. In my opinion, Sanofi has seen a future potential on Prednisporin. This information can be really interesting for Zalicus since it will have a new phase III development in the coming months.
For further information, please read my previous article on this issue.
*Data sourced from yahoo.com as well as the web of the previously mentioned companies.
Disclosure: I am long ZLCS. I wrote this article myself, and it expresses my own opinions. I am not receiving compensation for it (other than from Seeking Alpha). I have no business relationship with any company whose stock is mentioned in this article.