The negative economic news isn't letting up. Fresh off a two day closure for severe weather, Wall Street was greeted with an early leak of the Chicago PMI number Wednesday morning. The official print was 49.9 on expectations of 51, the third miss in as many months and the second straight month of contraction.
A look at the report reveals several disturbing data points. First, the employment index hit a 33 month low and has fallen 10 points in just the last four months:

Source: ISM
Second, inventories "slipped into contraction" territory for the first time since May. Finally, capital equipment buying policy fell to its lowest level in 26 months: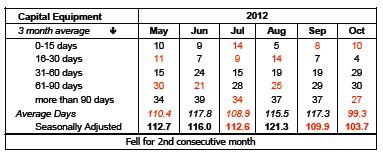 Source: ISM
There is certainly nothing in the report that screams "recovery." Here are some choice quotes from the respondents to the survey:
"Wow, things are getting interesting. It seems we are either heading for another crash or that we may be turning the corner."

"Foreclosure activity is increasing but so are investor purchases of these units."
As negative as this was, the most disturbing piece of news came (predictably) out of Europe Wednesday as Eurostat reported eurozone unemployment hit a new record high of 11.6% in October. In Spain, the rate is 26.8%.
Today's data are more of the same -- bad news. It isn't a matter of gloom and doom or unwarranted pessimism. It is a matter of extraordinarily weak business investment, falling revenues, a festering debt crisis across the Atlantic, and a fractious political environment going into a critical debate about fiscal policy. Investors should remain short the broad market (NYSEARCA:SPY) (NASDAQ:QQQ) until the storm passes (no pun intended).
Disclosure: I have no positions in any stocks mentioned, and no plans to initiate any positions within the next 72 hours. I wrote this article myself, and it expresses my own opinions. I am not receiving compensation for it (other than from Seeking Alpha). I have no business relationship with any company whose stock is mentioned in this article.