On July 21 2008, I posted my write-up on A.H. Belo (NYSE:AHC), stating why I thought A.H. Belo was mispriced. The share was trading at $5.83 at that time. Now, two months later, the price has reached $7.07, which is an increase of 21.3%, or an annualized rate of 127.6%.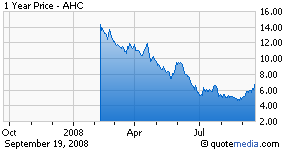 Although I still believe that A.H. Belo is mispriced and has more upside than downside, I have sold off my stake in A.H. Belo. My primary reason is because A.H. Belo is in a very difficult business and the situation might get worse over time. With the current market volatility, several significantly better companies, with a strong cash flow have become very attractively priced. It would be prudent for me to "upgrade" to better quality companies.
To quote Mr. Buffett,
Both our operating and investment experience cause us to conclude that "turnarounds" seldom turn, and that the same energies and talent are much better employed in a good business purchased at a fair price than in a poor business purchased at a bargain price. [Extracted from Berkshire Annual Report: 1979]
Therefore, I have decided that I will no longer cover A.H. Belo.
Disclosure: No position in A.H. Belo.