Thank you, ChipMOS (NASDAQ:IMOS) insiders. Siliconware (NASDAQ:SPIL) and Thailin, we appreciate you taking one for the team ,- we never thought we'd have the opportunity to buy ChipMOS this cheap again. Typically when insiders sell, especially a seemingly cheap stock -- in this case one with a 40% free cash flow yield -- it raises eyebrows, if not concern. However on Friday, when insiders sold 2.5 million shares of ChipMOS at $10.10 -- a 15% discount to Thursday's close -- we were buyers, and significantly increased our position. What the prospectus failed to mention was that Siliconware and Thailin were selling a portion of their holdings because regulators required it for ChipMOS to list shares in Taiwan -- a move that we believe, and we think Siliconware and Thailin agree, will create tremendous shareholder value and help ChipMOS hit $30 over the next 12 months.
We have written several positive articles regarding ChipMOS. This is a high quality company with a long operating history, excellent customers, and a clean balance sheet. We expect the company to generate approximately $4 per share of free cash flow this year (~40% FCF yield), similar to last year's $4 per share FCF, and next year's $4 FCF. According to recent comments from management, the company will be net debt free by year-end versus almost $500 million of net debt in early 2009. Prior to 2012, the company's EPS has been muted and negligible due to above-trend depreciation from legacy cap-ex, but with depreciation decreasing to $160 million in 2012 from $195 million in 2011, EPS will exceed $1 this year. Depreciation falls to $125 million in 2013 and $105 million 2014, so EPS will grow dramatically if all else stays equal.
But all else should not stay equal -- it should improve. ChipMOS assembles and tests LCD driver-ICs, flash memory and commodity/mobile DRAM, and is highly levered to the smartphone and tablet markets. So if you believe, as we do, that the growth of smartphones/tablets is a sustainable megatrend, but don't want to pick a winner between Apple (NASDAQ:AAPL), Amazon (NASDAQ:AMZN), Google (NASDAQ:GOOG), Microsoft (NASDAQ:MSFT) or others, ChipMOS is a great, cheap way to get exposure, especially since it faces few competitors in the assembly and test space.
Insiders Sold To Create Massive Shareholder Value
Given ChipMOS' tremendous free cash flow yield and excellent prospects, insider sales would appear surprising at best and worrisome at worst -- and could explain why shares only traded up a meager $0.12 post-deal. The optics of this deal are terrible. In a market that sells first and asks questions later, a small cap, under-followed company with supposedly terrific free cash flow should not be selling shares near multi-month lows unless something is wrong. However, sometimes there's more to the story than meets the eye.
In this case, ChipMOS needed Siliconware and Thailin to sell a portion of their ChipMOS holdings to be allowed to list its shares on the Taiwan Stock exchange -- a move that should dramatically increase the value of its shares. Of course, this is not mentioned in the prospectus, however, the strategy of pursuing a Taiwan listing has been well-articulated by management since last spring.
Siliconware and Thailin sold a portion of their shares in order to create far greater value for the remainder of their holdings. Siliconware, with an almost $3 billion market-cap, a 3.5% dividend, and a buyback, is in no need of cash. Nor is Thailin, which is controlled by ChipMOS.
Interestingly, in the sale, Siliconware did not offer its shares for the underwriters' overallotment -- all 300,000 shares come from Thailin -- suggesting to us that they wanted to sell as little stock as possible. Siliconware Chairman Bough Lin is extremely well-respected in his industry, and is known as both intelligent and shrewd. We have little doubt that he did the math and calculated that the positive impact on the remaining 74% of the shares SPIL owns far outweighed the pain of selling 26% of his shares at a bargain basement price. Notably, SPIL owns 15% of ChipMOS Taiwan in addition to its holding in ChipMOS Bermuda, so a successful Taiwan listing would be meaningful to SPIL, and worth selling 800,000 shares cheaply.
(click image to enlarge)

Source: ChipMOS final prospectus page S-34
ChipMOS management has indicated for some time that it wishes to simplify its corporate structure and list shares on the Taiwan Stock Exchange. The company has said regulators required Siliconware and Thailin to reduce their ownership stakes for this to move forward -- and albeit at a low price, they got it done.
Listing In Taiwan Should Unlock Significant Value
We believe a listing of ChipMOS shares in Taiwan will unlock significant value, and we'd anticipate management discussing its roadmap for a listing when the company reports earnings on November 20.
Specifically, we believe there are three major reasons a Taiwan listing will create value:
1) Simplification of corporate structure. Currently, ChipMOS is a Bermuda domiciled company with operations in Taiwan and China. By listing in Taiwan, there will be an elimination of Bermuda, and a simplified corporate structure.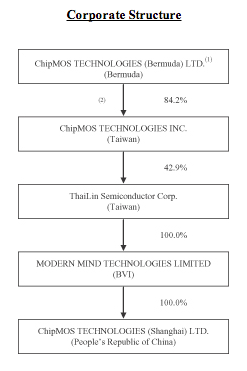 Source: ChipMOS final prospectus page S-3
2) Significant tax savings. Tax code in Taiwan requires companies to pay 10% taxes on undistributed net income. For ChipMOS, this has not been a problem over the last few years, since it has not been profitable on a GAAP basis, although it has been massively cash flow positive. In 2012, it will have substantial GAAP net income, and should become increasingly profitable, if for no other reason than the decline in depreciation (if 2014 is the exact same as 2012, net income will be ~$50 million higher due to lower depreciation).
Currently, any distributions ChipMOS makes to its Bermuda holding company is taxed at 20% prior to the holding company using the cash for dividends or buybacks. By switching to a Taiwan entity, there will be no need for this intermediate step, and thus a savings of this 20% tax. We expect ChipMOS to adopt a generous buyback/dividend policy upon listing in Taiwan, and believe that to date, it has been limited in returning cash to shareholders by the challenge of moving cash to its Bermuda domicile.
3) Improved valuation. We believe ChipMOS management is still considering the appropriate route to a listing, but think an IPO where current shares are rolled in is a possibility. In such a scenario, we would expect ChipMOS to be valued in-line with its peers. Based on comparable valuations, we think shares would list between $20-$44.
Specifically, assuming a 2Q IPO, and using 2013 metrics, we arrive at our valuation based on shares trading at 8x-10x 2013 EPS of $2.50-$3.00 ($20-$30), 6x-8x 2013 Free Cash Flow of $120 million ($24-$32), or 4x-6x EBITDA of $220 million ($29-$44). These are conservative estimates that are essentially the same numbers as 2012, except EPS, which increases because of a $35 million decline in depreciation.
We note that similarly sized companies have multiple analysts and healthy trading volumes, which we would expect to be true for ChipMOS, as they are a well-known, established company in Taiwan.
In our view, last week's share sale, while confusing on its surface, is a huge step towards lasting value creation. Stocks that trade at $10 with no net debt and $4 of free cash flow per share don't come along every day. ChipMOS, with a solid growth story and top customers like Micron (NASDAQ:MU) and Spansion (CODE) and numerous top Taiwan players (Novatek, Ili Technology, Macronix, Winbond), is unlikely to remain at $10 for long, in our view. With a Taiwan listing, our conviction is even greater. Should Mr. Market not bid shares higher, the company will be in a position to aggressively buy back shares, and with a simplified corporate structure, the potential for a buyout will also be there.
Disclosure: I am long IMOS. I wrote this article myself, and it expresses my own opinions. I am not receiving compensation for it (other than from Seeking Alpha). I have no business relationship with any company whose stock is mentioned in this article.
Additional disclosure: We conduct thorough research on our ideas, but our views are our own. Please do your own research.