By virtually any measure, last week was extraordinary. Here's a day-by-day calendar of the week to document what may well prove to be the most dramatic, and financially significant week of the 21 century, a week that "privatized financial profits and socialized financial losses" (Paul Krugman, NY Times columnist).
The week began with Lehman Brothers (LEH) filing for bankruptcy in Federal Bankruptcy Court at 1:45 am on Monday.
The next day, the oldest money market mutual fund, founded in 1970, the Reserve Primary Fund, lost $785 million from short-term investments in Lehman. This temporarily dropped the mutual fund redemption rate below the $1.00 per share mark.
As an indication of how swiftly news travels, while the Lehman holding was only 1% of the fund's total assets, by 3 pm on Tuesday, redemptions of a stunning $40 billion reduced the fund's assets to $23 billion from $63 billion.
FOOTNOTE: THAT FUND HAS NOW FROZEN REDEMPTIONS. Here's a link to the article.
On Wednesday, both China and Russia dropped the first "market support" shoe…investing substantial funds to prop up its respective stock markets. This affected all precious metal investors. Here's why:
It was widely expected both countries would sell some gold reserves to raise the cash destined to prop up their respective stock markets. That was Wednesday.
That same day, the U.S. Treasury announced it would lend up to $100 billion to Fannie Mae (FNM) and Freddie Mac (FRE). Fannie and Freddie almost sounds like a vaudeville team, but there is nothing funny about this. Together, these two organizations hold over $5.3 trillion in U.S. residential mortgages. One would have thought such awesome duties in the global economy would have required managements with a greater sense of responsibility. Both managements had $1,000,000 salaries.
AMERICAN INTERNATIONAL GROUP (NYSE:AIG), was also headed to Federal Bankruptcy Court, until the U.S. Treasury announced it will invest up to $85 billion in AIG (in exchange for acquiring an 80% ownership stake, in effect, taking control).
On Thursday, gold rose in price by more than $100 an ounce, a 17 year record one-day rise, before pulling back a bit on Friday.
The following link highlights the interconnectivity of the global economy and the individual investor.
For all the daily volatility last week, the Dow Jones Average ended the week down a mere 34 points, closing at 11388. This does not accurately reflect the day-to-day grind…reinforcing to all individual investors reading this the utmost importance of maintaining longer term investment horizons to achieve satisfaction in your personal financial objectives. (email info@firstnationalbullion.com to request information on Setting and Achieving Personal Financial Objectives; write Investment Goals in the subject line. It's free).
On Monday and Wednesday, the Dow dropped 953 points. After the U.S. Treasury announced its rescue measures for Fannie, Freddie and AIG, it also announced a BAN ON SELLING SHORT THE COMMON STOCKS OF 799 FINANCIAL COMPANIES. This is actually pretty dense thinking.
The current capital market crisis is based upon a shortage of financial liquidity. Short selling actually increases market liquidity. Therefore, what the regulatory wizards have achieved is to inadvertently cut off a private sector source of financial liquidity, in exchange for removing some cronies from the executive endangered species list.
Last week, Gold opened at $768 an ounce and shot up as high as $920 on Thursday before closing at $864, up $100 for the week. The Kruggerand, Maple Leaf and Spot Bullion all advanced about 12% for the week (see table below).
Silver, which had been in a terrible funk, opened at a dismal $10.64 an ounce on Monday, but rose to almost $13 an ounce on Thursday, the day after China and Russia concluded government-sponsored precious metals sales.Silver closed Friday at $12.48, up $1.68 for the week…a gain of a whopping 16%.
Based on recent trends, this could be an excellent time for individual investors to get a toe-hold in Precious Metals. Start with an IRA (here's the link to get started). Another popular entry is the Leveraged Precious Metals Investment Program (click here).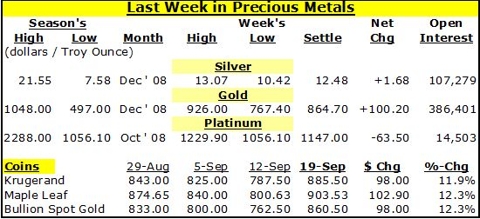 Click to enlarge
On September 17, veteran market analyst Richard Russell, editor of Dow Theory Letters, wrote the following on his website:
The national debt of the US is now compounding negatively. No currency can hold up in the face of our over-spending and rapidly compounding national debt.  Speaking of money, the Fed over a two day period injected over $120 billion into the US banking system.Just this morning it was announced that the Fed would quadruple the amount of dollars central banks around the world can auction to close to $250 billion 'to address the continued elevated pressures in US dollar short-term funding markets.Central banks around the globe are flooding their banking systems with much-needed liquidity, and of course, gold is taking note of this trend as the net total of fiat currencies around the world surges.
This is global inflation.
In the end, gold conquers all. Back in July 1999, the Dow would buy 44 ounces of gold. Things change -- as of yesterday . . . the Dow would only buy 12.62 ounces of gold.Since 1999, the Dow has lost 71% of its value in terms of gold.I expect this ratio to decline to 5 or below, before the next few years are over.