Shares of Oracle Corporation (NASDAQ:ORCL) have declined 5.16% over the past 12 months. However, the stock has recovered by almost 25% from its recent low at about $25 touched in May. Despite the recent upward price action, I believe ORCL still represents a quality value play and warrants investors' long-term commitment. My bullish view is based on the following six reasons:
1. ORCL is priced at a large discount based on the company's financial performance relative to its peers (see table below). Comparing to a peer group consisting of ORCL's primary competitors such as SAP AG (NYSE:SAP) and Microsoft (NASDAQ:MSFT), a slower growth potential appears to be the company's primary weakness. Analysts in average predict ORCL's revenue, EBITDA, and EPS to rise by 2-year CAGRs of 4.9%, 10.9%, and 11.4% over the current and next fiscal years. The estimates are below the peer averages at 14.5%, 26.7%, and 15.1%, respectively. In addition, ORCL's EBITDA margin is forecasted to expand by 5.4%, compared to the peer average of 6.6%.
On the profit side, however, ORCL's robust profitability dominates the peer group as all of the company's margin and capital return measures are above the par. It should be noted that ORCL has the highest EBITDA, EBIT, and net income margins in the group. ORCL assumes a slightly higher level of debt as reflected by the firm's above-average debt to capitalization and debt to EBITDA ratios. In terms of liquidity, ORCL's free cash flow margin at 32.3% is above the par. Due to the higher leverage, the company's interest coverage is below the peer average, but still within the healthy zone. Both ORCL's current and quick ratios are substantially above the peer averages, and the company's net cash position at $16.8B represents approximately 11.2% of the current market capitalization, reflecting a highly liquid balance sheet.
click to enlarge images

To summarize the financial comparisons, ORCL's slower growth prospects should be the primary drag in the stock's valuation. However, given the company's larger size, solid share in the system software market, and ample profitability and liquidity, I believe the stock should command at least an in-line valuation relative to the peer average level. Nevertheless, ORCL's current valuations at 6.8x forward EV/EBITDA, 11.5x forward P/E, and 0.94x PEG actually represent an average valuation discount of 43.4% to the peer-average trading multiples (see table above), suggesting a undervaluation.
2. Comparing ORCL's valuation to the value of SAP, the nearest comparable company to ORCL, the stock's trading multiples are still at an average discount of 30.9% to SAP's valuation multiples, despite the fact that ORCL has a much larger size, somewhat better growth prospects, as well as a significantly higher profitability and liquidity (see table below).

3. Moreover, ORCL's forward P/E multiple has been underperforming the same multiple of the S&P 500 index since a year ago, and it is currently trading at a 15.2% discount (see chart below). I believe ORCL should command at least a market-average valuation given that the company's estimated long-term earnings growth rate of 12.2% is considerably above the average estimate of 7.9% for the S&P 500 companies (according to Capital IQ data).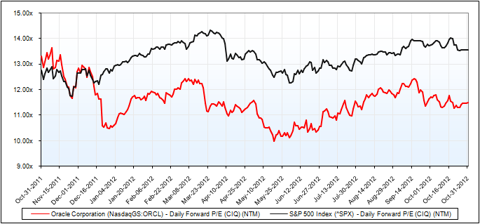 4. ORCL's trailing P/E and EV/EBITDA multiples are currently trading at 19.8% and 16.9% below their 3-year averages (see charts below). However, considering that 1) the revenue and EPS growth rates are forecasted to be similar to their level in about 3 years ago; 2) the EBITDA margin is expected to improve gradually over the next few years (see chart below); and 3) the company has beaten its annual revenue and EPS consensus estimates every year since 2008, the current discounted valuations appear to be exaggerated.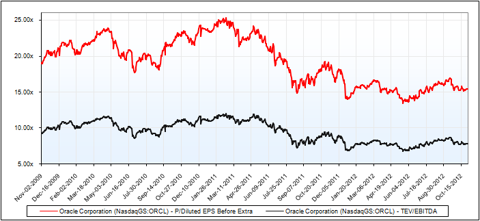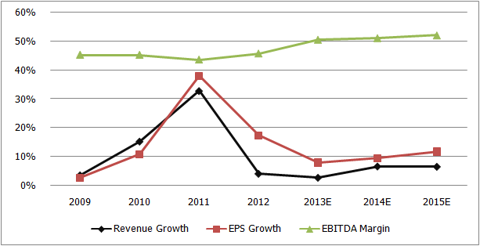 5. Qualitatively, I believe ORCL is well positioned to ride on the current cloud computing trend. Morningstar's research analyst, Rick Summer, wrote in his recent research note:
In spite of the constant thunder provided by cloud computing vendors, we like Oracle's position in the software industry. First of all, legacy customers have high switching costs, both explicit and implicit, as evidenced by Oracle's industry-leading operating margins. Secondly, as these customers switch to cloud computing, we expect many to proceed cautiously, moving from on-premise solutions to hybrid private/public cloud solutions. Because pure cloud computing providers don't typically offer hybrid solutions, and we expect risk-averse customers will patiently wait for Oracle's cloud offerings to mature…
6. I believe ORCL should see its valuation multiples expand in the near to medium term due to the following catalysts:
Bottom line, in the light of the discounted valuation, the robust profitability and liquidity, as well as the expected solid market position, ORCL's attractive risk/reward profile should warrant your buy decision. Assuming the forward P/E multiple would expand to 13.5x, which is in line with the current valuation level of the S&P 500 index but still below that of SAP, and supposing that the EPS would grow to the Analysts' estimated level at $2.91 by FY2014, this base-case scenario would imply a stock value of $39, representing a 26% upside.
Comparable analysis tables are created by author, all other charts are sourced from Capital IQ, and all financial data is sourced from Morningstar, Capital IQ, and Thomson One.
Disclosure: I am long MSFT. I wrote this article myself, and it expresses my own opinions. I am not receiving compensation for it (other than from Seeking Alpha). I have no business relationship with any company whose stock is mentioned in this article.