This article was written back in April to evaluate the dividend growth potential of Pepsi (NYSE:PEP). It has been more than six months since and Pepsi has once again increased its dividend. So, let us revisit the story. Since Coca-Cola (NYSE:KO) is an obvious alternative (and perhaps superior) stock to Pepsi, Coke's data is used as a comparison in some places.
New Dividend & Current Yield: Pepsi's new dividend of about 54 cents a share gives it a

current yield

of 3.12% as shown in the table below. Pepsi has had a slightly higher yield than Coke for most of the recent years and it is still intact.
Payout Ratio: With the increased dividend and slowing earnings, Pepsi's payout ratio has now gone up to 57%, while it was at 50% at the time of the last writing. Coke's payout is slightly lower at 53%.
Dividend Growth Rate: Pepsi's 5 year dividend growth rate has now fallen to 7% from the 11% it was at the time of the original article. Pepsi obviously falls way behind Coke here.
Dividend Extrapolation: As in the previous exercises, the table below shows the dividend growth returns for an investor who can set aside his/her money with Pepsi for 10 years. Since the dividend growth rate has slowed down as mentioned above, the table below assumes a 5% dividend growth rate.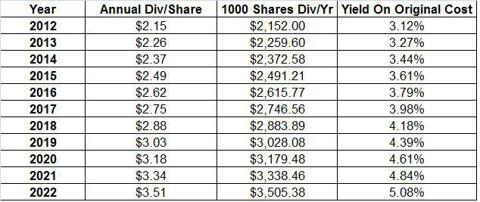 Click to enlarge
Cash on Hand: Pepsi's cash on hand has generally been on an uptrend over the past 5 years and is reaching the $6 billion mark. But it is still way short of Coke's $18 billion.

Click to enlarge
(Source: YCharts.com)
Conclusion: One of the biggest questions faced by Pepsi investors is "Why own this when Coke is around?". Though we still love and suggest buying the biggest player in a sector first, some times it's best for investors to let the companies fight it out and own both the stocks in question. This is one such instance.
While Pepsi is going through a turnaround of sorts and is very likely to lag behind Coke in terms of stock returns, it would not hurt investors to establish a position in both the stocks mainly for the safety of dividends and the dividend growth potential of both. As confirmed by the exercise above, Pepsi does have the strength of its cash hoard and a reasonable payout ratio to comfort investors about a growing dividend stream, albeit a slightly slower one compared to Coke.
Disclosure: I am long KO. I wrote this article myself, and it expresses my own opinions. I am not receiving compensation for it (other than from Seeking Alpha). I have no business relationship with any company whose stock is mentioned in this article.