Baidu (NASDAQ:BIDU), the Google (NASDAQ:GOOG) of China, reported its 2012 Q3 results Monday night. But U.S. investors had to wait till Wednesday to see the price action as the U.S. market was closed due to Super Sandy for two days. The way things went for Baidu on Wednesday, investors could be forgiven for thinking Super Sandy was still in full force as the stock closed down more than 6% on Wednesday. With things looking increasingly gloomy for Baidu, this article highlights a few positives out of the earnings and the aftermath.
Earnings: So, the company had to miss the estimates to go down 6%, right? The earnings estimate for Q3 was for $1.28 per share, while Baidu reported $1.37 per share. This marks the 14th consecutive quarter the company has beaten the estimates.

Click to enlarge(Source: Finance.yahoo.com)
Forward Estimates: So, if the stock went down so much in spite of higher EPS, was the forward outlook so bad ? Not really. Below is Baidu CFO Jennifer Li's quote from Seeking Alpha's earnings call transcript. An expected growth of close to 40% YoY.

(Source)
Downgrade: Baidu was hit hard by a couple of downgrades on Wednesday. The reasoning used by an analyst from Citi was that Baidu's valuation [PE] will eventually come to Google's level. Well, Baidu now trades at 24 times earnings already and Google is at 22 times earnings. So, how much ground is there to lose to catch up with Google? Most of our readers here know PE is not the be all end all, so that leads us to the next point.
Growth At Reasonable Price: One cannot deny that Google will most certainly grow slower than Baidu. Google is expected to grow at 14%/yr over the next 5 years, while Baidu is expected to be growing at a much higher rate. This means the PEG ratio of Baidu is half that of Google's and investors seeking growth stocks at fair value know what that means.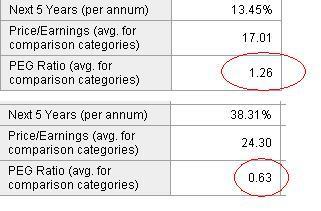 (Source: Finance.yahoo.com)
Overblown Qihoo (NYSE:QIHU): Baidu's stock started having a hard time mainly after reports of Qihoo eating into Baidu's search market share. However, Baidu still managed a 30% YoY increase in customer base. Baidu obviously is the bigger and stronger player holding close to $3.5 billion in cash, while Qihoo's cash reserves are just about $300 million. Baidu has the muscle power to take all the necessary steps to ward off this threat.
Valuation and Extrapolation: At the time of this article, Baidu was trading just above its lowest valuation level since the market crash in 2008/09 and now that level has been breached as shown below. Even if Baidu reports the expected $1.30 per share for Q4 2012, the PE would reach the 22 level that the Citi analyst talked about.

Click to enlarge
(Source: YCharts.com)
Conclusion: So, while it still remains to be seen whether Baidu can be as dominant in the mobile space as it has become in the PC space, investors and analysts are likely having a knee jerk reaction right now. Robin Li and team are undoubtedly one of the best you can find not just in China but around the world as well. They deserve time that the company is asking for at this point to make a dent in the mobile space. And also the benefit of doubt as to whether Baidu can crack the next big thing after the search business.
Disclosure: I have no positions in any stocks mentioned, but may initiate a long position in BIDU over the next 72 hours. I wrote this article myself, and it expresses my own opinions. I am not receiving compensation for it (other than from Seeking Alpha). I have no business relationship with any company whose stock is mentioned in this article.