Last week reminded me of July 2002, Sept 2001, and even October 1987.  The volatility was sky high as evidenced by the $VIX index and we had quite a bit of market moving news that generated multi-percentage moves.  So now that its all said and done with, what can we expect going forward?
First off, I believe the low that we saw last week was extremely important.  The markets appeared to be on the brink of disaster and found support very close to where I wanted them to do so.  As we have seen in the past; government intervention, even in a bear market, has a more sustained effect rather than a 2 or 3 day rally.  I believe that this time will be no different.  Was this the end of the bear market or the beginning of a bear market rally?  No one can give an answer to that yet, but the odds are that the market is going to run much further than most of the crowd expects.  In fact, I believe this rally will annihilate the perma-bears who have been shorting this market.  Disbelief in this rally is going to ignite this rally as shorts continue to cover. 
Secondly, the context of this bottom is far more important to me than other bottoms established over the past year.  I say this because of the convergence of many different pieces of evidence.  Let's review:
NYSE, Dow Jones Industrials, and S&P 500 slightly penetrated the 50% retracement level from the 2003 bottom to 2007 top.
Banking Sector successfully completed a higher double bottom with a massive reversal which negated the trend of setting lower lows and lower highs off the top in 2007.
The Dow Jones successfully supported a fibonacci 1 to 1 extension from the top as I will show you in a chart below.
The markets reversed on record volume at a critical area of support.
Government Intervention of Epic Proportion.
Nine Month Cycle Lows Due in this time period.
With all this being said, let's take a look at a few charts to see where we should be going on the short term.  Starting with the Dow, notice the precision of the fibonacci extension target and how it was heavily supported.  Also, take note of the bullish falling wedge.  The Dow is bumping up against the downtrend line and should find some sort of resistance here.  I think it will be broken to the upside but some backfilling in this market is due before it can run higher.  The market may spend the early part of this coming week digesting the gains from the last two days.  I believe that the Dow should find support near 11000, give or take 50 points if it decides to retrace.
click to enlarge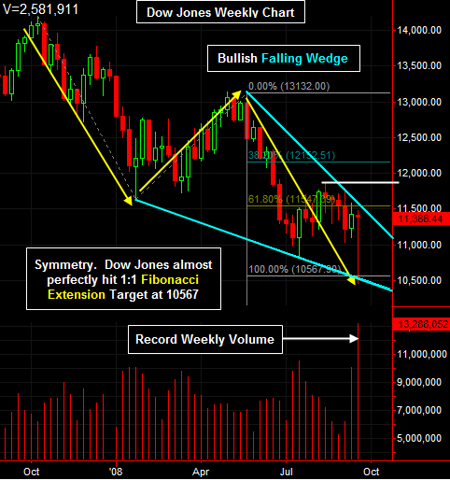 Notice the channel on the S&P 500 weekly chart.  I believe this chart is easier to read than the Dow Jones and suggests that the S&P should move into the 1300 to 1350 region before major resistance shows its face.  I may lighten my portfolio up if the S&P gets there very fast.  I can't argue with 10% gains on my account in a matter of 2 or 3 weeks.  I'll update more when we get closer.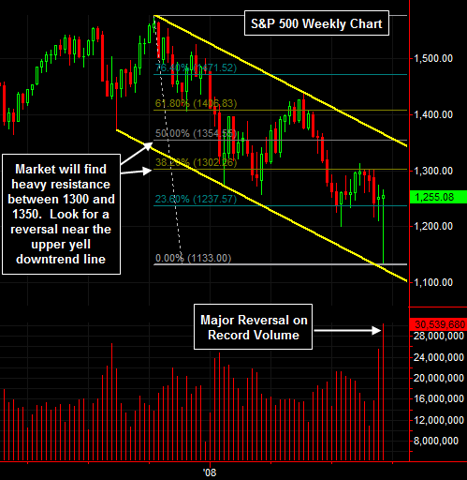 To sum it up, look for a retracement of last weeks move in the early part of this week and then I expect this market to move higher and take out last weeks highs.
Disclosure: Long UYG