AmTrust Financial Services (NASDAQ:AFSI) is a niche insurance company.
Insurance is a competitive business, and like most competitive businesses, prices are bid downwards. Buffett made that point when talking about auto insurance. He stated that people generally think that the service that they will receive from the company will be about the same, therefore the auto-insurers have to compete on price. GEICO's advantage was its direct-to-customer sales model which saved the company from a sales commission expense.
AmTrust's business is fundamentally different on two accounts. First, as a niche insurer, competition is not as fierce. Secondly, as a niche insurer, there is not as large a body of actuarial research and frequency statistics from which they may draw their conclusions regarding premiums. Therefore, to compensate for the lack of sample size, AmTrust emphasizes that it differentiates itself through its use of data -- meaning that it markets itself as technologically innovative. "Our technology infrastructure remains a core competency at AmTrust," said CEO Barry Zyskind in the most recent annual report (pdf).
Further, AmTrust continues to enter new niches. Barry Zyskind continues:
"In London, for example, we adapted out mobile phone program in response to concerns about the rising cell phone thefts. For a number of luxury car dealers, we created a unique product we call SMART that bolsters traditional extended warranty/breakdown insurance. By packaging new perils with existing products, and by relying on our propriety data to develop profitable, appropriate pricing, we gained new business and greater returns."
By operating in niches, the company has been able to achieve a more than satisfactory combined ratio of 89% -- meaning the company actually achieves an underwriting profit as opposed to much of the property and casualty industry. For instance, in 2011, the property and casualty industry had an average combined ratio of nearly 108%. And, according to Fitch, the workers' compensation insurers -- which happens to be AmTrust's largest segment (see product mix below) -- had a combined ratio of 117%.
If AmTrust is experiencing the same thing in workers' compensation as its peers, one cannot see it because its combined ratio for the most recent six-month period was about 88.9%. See AmTrust's product and geographic mix below: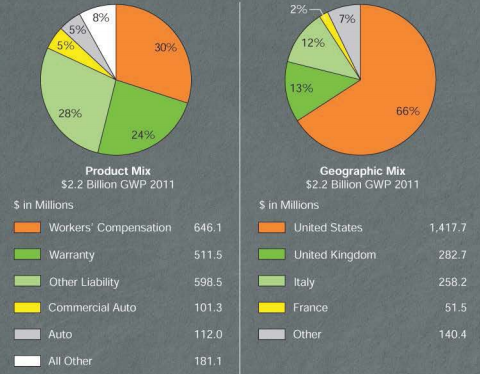 (Source: AmTrust 2011 Annual Report, inside cover)
Book
The book value concept is in disrepute when applied to industrial firms with depreciable (and inflationable) property. But, as we know, book value is an important concept in insurance because it reflects the value of the investment assets and it increases with investment gains and underwriting profit.
Mark-to-market may pose accounting revaluation problems when interest rates increase but for our purposes such a concern can be ignored. For one thing, AmTrust makes the majority of its profit through earned premiums. Of 2011 net income, for instance, 32% was made up of investment income with the remainder earned through earned premium, fees and ceding commissions.
When looking at AmTrust, we see that its book value per share has been increasing significantly over the last few years: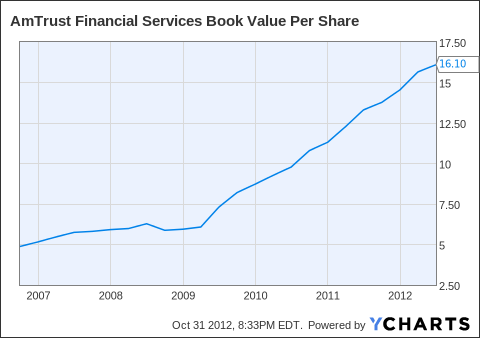 AFSI Book Value Per Share data by YCharts
This upward trajectory has allowed the shares to sell at approximately $24.20 at yesterday's close. With TTM earnings of $2.27, the current PE stands at 10.6. Frequently, however, insurance companies are valued according to their book value -- and in the case of AmTrust, it is one of the most expensive in terms of book value when compared with other property and casualty insurers: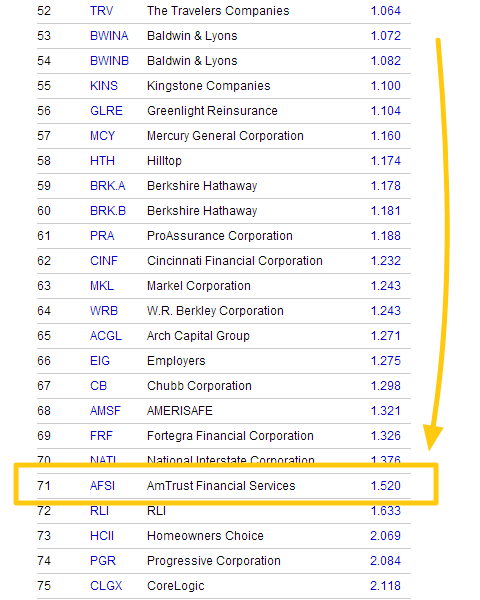 (Source: YCharts Property And Casualty Price-To-Book Rankings, see here--accessed 10/31/2012)
Valuation
Obviously, there are some perks in AmTrust's niche strategy. With such premium growth one might ask, "are they over-issuing insurance? Will there be a day of reckoning?" To help address this question and decipher the future strength of the combined ratio, we can, for one thing, ask: how does the insurance rating agency A.M. Best see things? According to AmTrust's most recent 10-Q, its operations are top notch: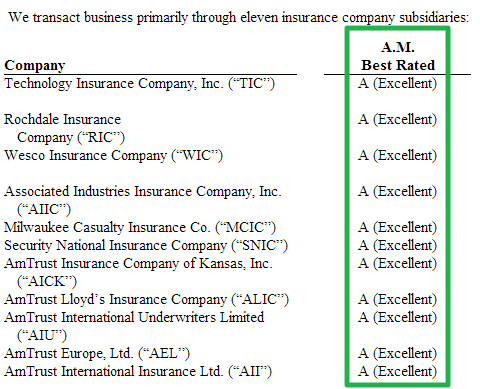 (Source: AmTrust second quarter 10-Q, dated June 30th, 2012; p. 33)
Further, according to a September 5th presentation by management, the majority of the workers' compensation insurance it underwrites is to restaurants who typically have medical claims but rarely 'lost-wages,' thereby making them safer than other types of workers' compensation.
Historically speaking, AmTrust has been increasing its revenue and earnings: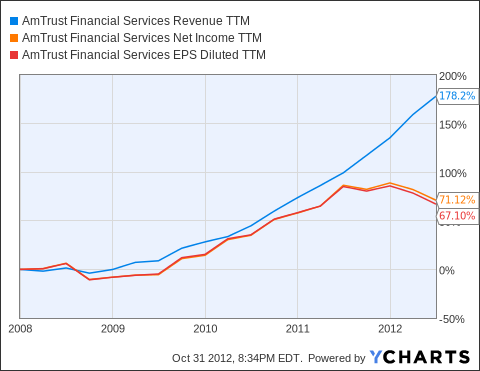 AFSI Revenue TTM data by YCharts
If the company is able to continue to grow its earnings at a historic 5-year rate of 10% annually, the company is clearly undervalued. However, most recently the company reported an increase in the "Acquisition costs and other underwriting expenses," which drew down net income in the most recent quarter to below that of the same quarter in 2011. For this author, however, the fact that the "loss and loss adjustment expense" has increased at a slower pace than earned premiums allows me to reasonably ignore this increase in expenses.
Conclusion
AmTrust is a most interesting insurer. It is a growth story which appears to be sufficiently conservative. The sticking point, however, is do we value according to its book value -- which indicates that it is overvalued relative to the industry -- or according to earnings which suggests that if the company can achieve even a small fraction of its historic growth rate it is undervalued?
While I can wish that it was selling under book simply for the conservative notion that its assets are worth more than its price, I believe the earning power and future earning power appear sufficient to make a purchase at today's prices investment worthy. However, given that much of the industry is selling at a price lower than below book, crowd thinking could drive the stock downward to be more in line with its peers.
Therefore, if the investor has a sufficiently long-time horizon, AmTrust is quite interesting and a little below the radar. If one is worried about short-term movements in the price, the fact that the company is selling at 1.52 P/B might be justification enough to dissuade you.
Disclosure: I have no positions in any stocks mentioned, and no plans to initiate any positions within the next 72 hours. I wrote this article myself, and it expresses my own opinions. I am not receiving compensation for it (other than from Seeking Alpha). I have no business relationship with any company whose stock is mentioned in this article.