Recently, shares of Facebook (NASDAQ:FB) rallied strongly after an impressive third quarter. Facebook beat on both the top and bottom lines, sending shares up 19% on the news. Facebook shares have come back down a bit since the spike, despite a number of analysts raising their revenue and earnings estimates. Part of the decline had to do with a lock-up period expiring for Facebook employees, allowing about 234 million shares to be sold. Another huge expiration comes in November. So the question remains. With Facebook shares coming back down despite a more positive future expected, is now the time to jump on the Facebook train?
Analyst Expectations Rising:
Going into Facebook's Q3 report, analysts were expecting Facebook's 2012 revenues to increase by 32.3% to $4.91 billion. While that seems like a strong growth number, 2012 estimates had been cut over the last few months, especially after a poor Q2 report. However, thanks to a good Q3 report, analysts now expect 2012 revenues to increase by 34.1% to $4.98 billion. On the earnings per share front, analysts were expecting a profit of 48 cents per share this year going into the Q3 report, after 43 cents per share in 2011. Likewise, earnings estimates have been rising, and expectations for this year now stand at 52 cents.
But since 2012 is nearly over, and Facebook only has one more quarter in the year, I really am looking at the 2013 estimates for the company. The following table shows where 2013 analyst estimates have stood during certain times of this year.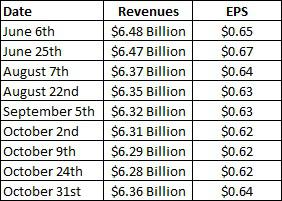 Between early June and the Q3 report, Facebook's revenue forecast was cut by $200 million. The average estimate has regained about 40% of that drop since Q3 was reported. Earnings estimates have come up two cents, putting them back where they were in early August.
Head to head comparison:
Everyone likes to compare Facebook versus LinkedIn (NYSE:LNKD), so that's what I'm going to do. The following table shows a growth comparison for the two names in terms of revenue and earnings growth for 2012 and 2013. The table also shows the current price to sales and price to earnings valuations for each, based on those current expectations. For comparative purposes, I'm showing the results of this comparison as of Wednesday's close, and my last update, earlier in October.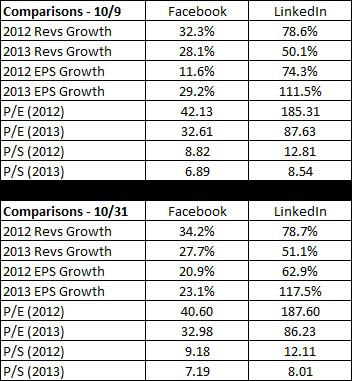 As you can see, Facebook has seen most of its growth numbers increase since my last update. LinkedIn has seen its revenue growth forecast increase, while earnings growth has been shifted a bit from 2012 to 2013. In terms of valuation, LinkedIn still trades at a premium, but that is because you are getting a lot more growth.
LinkedIn has been the best performing name in the social media space over the past year or so. Investors seem to favor the company, although Facebook has gained some love after its Q3 report. One important note here, LinkedIn will report its quarterly results on Thursday afternoon, so that will change the discussion even more. If LinkedIn delivers strong results, it will cement the company's place as the leader in this space.
The November expiration:
The big test will come in November, when another roughly three quarters of a billion shares will become available for sale by insiders. So far, lockup expirations have not been good for Facebook shares, with Wednesday's 3.8% decline being evidence of that. CEO Mark Zuckerberg has promised not to sell his shares for a year (after the IPO), but other insiders might not be so patient. They might just decide to bail, although the Q3 results should have eased some fears.
Conclusion - invest at your own risk:
Facebook does look like a more attractive investment after the company's Q3 results, but it is still a bit overvalued in my opinion. The company is 1 for 2 in terms of earnings reports, and I believe that the upcoming lockup expiration will be a true test for shares. Thanks to Facebook's Q3 result, I have boosted my "fair valuation" range on the name to 26 to 32 times next year's earnings. With the current expectation for $0.64 in earnings, that gives a range of $16.64 to $20.48, with a midpoint of $18.56. I'm a bit more positive on the name than I used to be, but I still think shares will go lower before they make a substantial move to the upside.
Disclosure: I have no positions in any stocks mentioned, and no plans to initiate any positions within the next 72 hours. I wrote this article myself, and it expresses my own opinions. I am not receiving compensation for it (other than from Seeking Alpha). I have no business relationship with any company whose stock is mentioned in this article.
Additional disclosure: Investors are always reminded that before making any investment, you should do your own proper due diligence on any name directly or indirectly mentioned in this article. Investors should also consider seeking advice from a broker or financial adviser before making any investment decisions. Any material in this article should be considered general information, and not relied on as a formal investment recommendation.