Microsoft (NASDAQ:MSFT) has pinned hope Windows 8 will regain operating system market share lost to Apple's (NASDAQ:AAPL) homegrown iOS and Google's (NASDAQ:GOOG) Android.
In recognition of Nokia's (NYSE:NOK) inability to advance Metro, Microsoft launched Surface - its first tablet.
The move allows Microsoft to control both the hardware and software, much like Apple has done for decades and Microsoft has done in gaming.
Microsoft hopes the Surface will be as successful as the XBox 360.
Since its launch in 2005, Microsoft has sold 70 million Xbox 360 consoles. The device has been the top selling gaming console in the U.S. for the past 21 months, owning 49% market share exiting Q3.
No one outside Microsoft is projecting that kind of dominance for the Surface, but if the device carves out similar success to Amazon's (NASDAQ:AMZN) Kindle, Samsung's (OTC:SSNLF) Galaxy or Google's Nexus 7, suppliers should benefit as volume helps offset pricing pressures.
The Surface supply chain is full of familiar faces.
Powering the Surface is Nvidia's (NASDAQ:NVDA) 1.4ghz Tegra 3, which also powers Google's Nexus 7. Nvidia competitor Qualcomm (NASDAQ:QCOM) failed to win any slots, according to iFixit. However, few will likely cry tears for Qualcomm given wins at Apple and Samsung.
Nvidia's victory also means a loss for Texas Instruments (NYSE:TXN). But, since TI is opting out of future mobile development, why rub it in?
Instead, let's look on the bright side and focus on TI landing the power management IC slot in the Surface, supplying the TPS659110.
While the Kindle Fire HD teams up with Broadcom (BRCM) for WiFi, Bluetooth, FM and GPS, Microsoft has chosen Marvell's (NASDAQ:MRVL) 88W8797-BMP2 wireless MIMO chip. The two antenna design combo system on a chip ("SoC") comes with its own power management.
As is the case in just about any device, the flash memory goes to whoever has the lowest unit price on the build date. In iFixit's unit, Samsung supplied the 32 GB and Micron (NASDAQ:MU) the 2GB of RAM.
Samsung's dance between vendor and competitor is evident in its supplying the Surface's 7.4V, 31.5 watt battery and the LCD display too.
Cirrus (NASDAQ:CRUS) will have to continue to rely primarily on Apple . Surface's audio codec and microphone are from Wolfson instead, with the 8962E, the same audio codec found in the Fire HD.
Also similar to the Fire HD, Atmel (NASDAQ:ATML) won the slot in the Surface for the touchscreen controller, supplying the MXT1386. This works with Cypress Semi's (NASDAQ:CY) CY8C20466A controller.
These suppliers should have tailwinds heading into next year as the semiconductor book-to-bill ratio, which measures the value of chips ordered against those delivered, is typically weak in Fall before rebounding in the New Year. Given this tendency, investors interested in buying these suppliers should keep an eye on the monthly update, which can be found here.
For those more interested in playing Microsoft itself, the recent slide may offer an opportunity.
According to the seasonal investor, shares have finished Q4 higher than they begin in 8 of the past 10 years, producing a median 8.61% return, versus 7.51% for the S&P 500 ETF (NYSEARCA:SPY).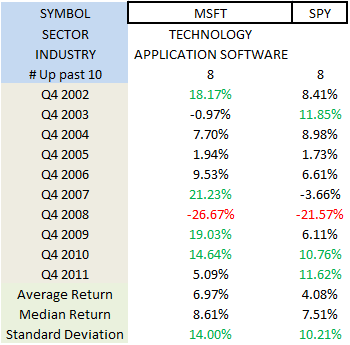 Disclosure: I am long AAPL, QCOM. I wrote this article myself, and it expresses my own opinions. I am not receiving compensation for it (other than from Seeking Alpha). I have no business relationship with any company whose stock is mentioned in this article.