This article discusses the fundamentals and valuation for Seadrill (NYSE:SDRL), which, in my opinion, is a good long-term buy. Before talking more about Seadrill, I would like to mention at the onset that the stock has an attractive dividend yield of 8.4% and looks good in a largely sideways market. I consider equity market movement to be sideways as it is at the same levels as it was five years before amidst huge quantitative easing. It is also important to mention here that the stock might correct in the near-term in line with a correction in equity markets. Therefore, the outlook is long-term and a correction can be used as an opportunity to accumulate the stock.
The Company
Seadrill is an offshore drilling contractor providing offshore drilling services to the oil and gas industry. Seadrill's primary business is the ownership and operation of jack-up rigs, tender rigs, semisubmersible rigs and drillships for operations in shallow, mid and deepwater areas, and in benign and harsh environments. As of September 2012, Seadrill had a diverse asset base of 66 drilling units (including 18 newbuilds). The drilling units consist of 24 drillships and semi-submersibles, 21 jack-up rigs and 21 tender rigs. In terms of regional spread, Seadrill is a global player with presence in Europe, Gulf of Mexico, Brazil, Middle-East, Asia Pacific and West Africa. In terms of size, Seadrill is the second largest ultra-deepwater player, the largest operator of premium jack-ups and has the largest tender rig fleet. Clearly, the company is well positioned to benefit from growth in the oil and gas industry.
Newbuilds Will Translate Into Revenue Growth
Seadrill currently has 18 units under construction. The newbuild program includes six ultradeepwater drillships, two ultra-deepwater semi-submersible rigs, one harsh-environment jack-up rig, four premium benign environment jack-up rigs, one semi-tender rig, and four tender rigs. The delivery schedule for the newbuilds under construction is from the fourth quarter 2012 to the first quarter 2015, with the majority of deliveries in 2013 and 2014.
With newbuilds coming into operation over the next 2-3 years, revenue will see an upside with eight of the eighteen newbuilds already chartered out on long-term contracts. The eight newbuilds contracts have a revenue potential of USD4.7 billion. Further, as the global economy stabilizes and improves over the next few years, drilling activity will also witness more demand.
Order Backlog Gives Revenue Visibility
Seadrill had an order backlog of USD19.7 billion as of August 2012. This gives the company 4.8 years revenue visibility based on FY11 revenues. Seadrill's contract backlog and additions to contract backlog has seen robust growth in the last few years. I expect the trend to continue and revenue visibility to remain high in the foreseeable future.
click to enlarge images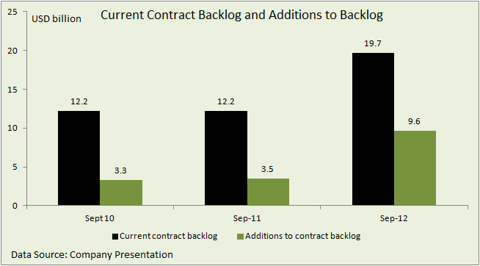 Click to enlarge
It is also important to mention here that the order backlog comes from quality clients with attractive average dayrates. High profile clients ensure that the revenue inflow would be relatively stable and minimizes the risk of order cancellations or payment delays.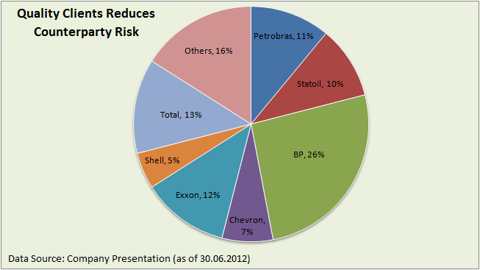 Click to enlarge
Attractive and Improving Dayrates to Boost EBITDA Margin
Dayrates for deepwater, premium jack-up and semi-tender rigs have been improving over the past few years in line with increased drilling services cost and price increases due to the demand factor. The same is indicated in the chart below, which gives the last three years dayrate development for drilling units.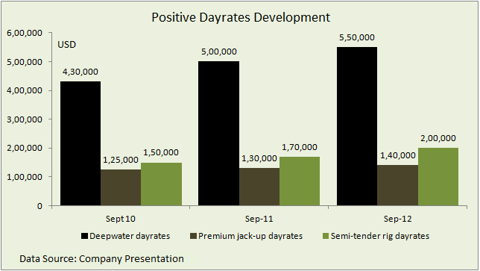 Click to enlarge
Going forward, dayrates should remain stable and improve along with an improvement in global economic activity and further demand for offshore drilling services. The per capita oil consumption in China and India is still very low compared to the developed world. As we witness a sustained revival in the global economy, demand for oil will surge meaningfully.
The benefit of higher dayrates is reflected in the EBITDA margin, which has improved from 52% in 2009 to 56.6% as of second quarter of 2012. EBITDA margin should remain stable or improve further in the foreseeable future as demand for offshore drilling picks up further.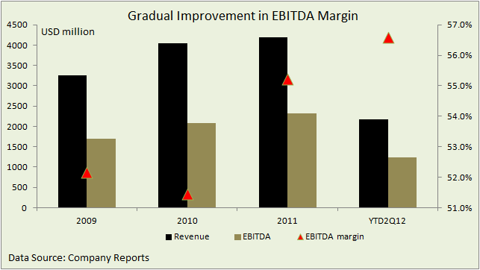 Click to enlarge
High Debt Not a Cause of Concern
Seadrill's expansion has largely been debt funded and investors might be wary of the debt servicing scenario and capability of the company. I am of the opinion that the debt to capitalization is still at relatively comfortable levels and it should not be a matter of concern with strong revenue visibility for the company. Further, the debt to EBITDA metric for Seadrill has improved from 4.3x in 2011 to 4.0x as of second quarter of 2012. At the same time, the EBITDA interest coverage ratio as of 2Q12 was 8.4x indicating a relatively strong position to service debt.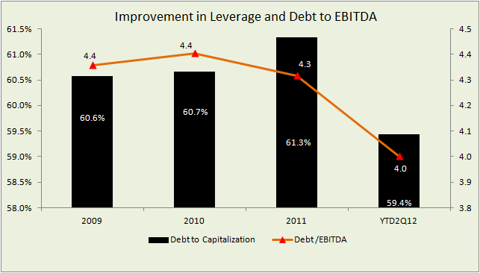 Click to enlarge
Another minor concern for investors might be significant debt maturity in 2013 as shown in the chart below. Going by past records, it might not be a difficult task for Seadrill to refinance the debt at the same cost. This will help push the debt maturity to a later date and ease near-term repayment concerns.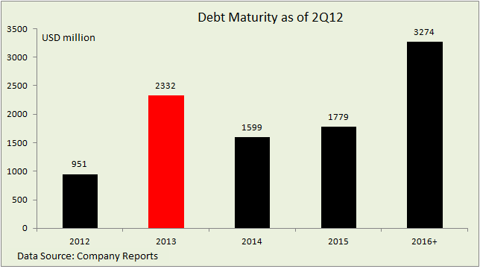 Click to enlarge
Conclusion
All the factors discussed above make Seadrill an excellent buy for long-term. A high dividend policy also ensures regular returns for investors. Seadrill is currently trading at a TTM PE of 22.4 and a five year forward PEG of 0.43. Therefore, the stock is not expensive considering the growth potential it holds in the future. With a beta of 1.93, the stock might be volatile. However, this should not concern long-term investors as strong fundamentals will drive stock price appreciation over the next few years. In all, a good company to have in one's portfolio.
Disclosure: I have no positions in any stocks mentioned, and no plans to initiate any positions within the next 72 hours. I wrote this article myself, and it expresses my own opinions. I am not receiving compensation for it (other than from Seeking Alpha). I have no business relationship with any company whose stock is mentioned in this article.