On Monday, Morgan Stanley analyst Katie Huberty lowered her price target on Apple from $192 to $179 citing general weakness in the "global macro-economic environment."
She also lowered price targets on other computer hardware makers including: Dell (NASDAQ:DELL), EMC (EMC), Hewlett-Packard (NYSE:HPQ), IBM (NYSE:IBM), Adtran (NASDAQ:ADTN), Airvana (AIRV), Alcatel-Lucent (ALU), Cisco Systems (NASDAQ:CSCO) and several others.
If this isn't a case of the pot calling the kettle black, then I don't know what is. Not because of the recent financial turmoil facing Morgan Stanley per se, but because of the fact that Katie Huberty has been the worst analyst on Wall Street when it comes to forecasting Apple's financial situation. For example, in calendar Q1 (Apple's Fiscal Q2), Katie Huberty provided the worst estimates on Wall Street almost across the board citing nothing but general weakness in the economy as she did today. She missed the mark so badly that a fifth grader could have probably done a better job predicting Apple's fiscal second quarter using nothing more than sheer guessing.
As indicated in the table below, Huberty estimated that Apple would only sell 8.5 million iPods despite the fact that NPD data suggested that Apple would sell closer to 10.5 million units. Why and on what basis she would make such a foolish estimate is anyone's guess. Almost every analyst on Wall Street was looking for Apple to sell between 10 and 10.5 million iPods using data to support their estimates instead of pure baseless conjecture that Huberty seems to employ. Needless to say, Apple reported 10.644 million iPods in fiscal Q2; a full 2.1 million units or 25.2% ahead of Huberty's estimates. Better analysts such as Gene Munster or Mike Abramsky hit the mark as they always seem to do.
Even worse than her iPod estimates was her forecast for iPhone sales. This was a huge head scratcher then and continues to perplex me today. Huberty estimated that Apple would sell only 1 million iPhones in fiscal Q2 citing no reason for her forecast. What makes this estimate so perplexing is that Steve Jobs noted that Apple had already sold 300,000 iPhones as of the first two weeks of the quarter which suggested a run rate of 1.8 million iPhones. Apple reported 1.7 million iPhones which was either right in line or slightly ahead of the vast majority of analyst estimates. The chart below gives an idea of what the "real" Wall Street analysts were expecting here.
Her Mac sales estimates were also the worst on Wall Street as she forecasted sales of only 2.020 million units. Despite the fact that NPD, IDC and Gartner all pointed to sales of 2.250 to 2.350 million Macs, Huberty chose to base her estimates on pure conjecture (or at least she didn't state a reason for her bearish estimates). Most analysts gave conservative estimates of about 2.1 million Macs in order to leave room for upside surprise. Yet, Katie chose to stick to her outright bearish estimates.
Finally, in probably one of the worst calls I've witnessed on Wall Street, Huberty estimated that Apple would report a meager $6.634 billion in revenue for fiscal Q2. Her estimate fell way below any other estimate on Wall Street and fell significantly below the consensus estimates. The next lowest estimate was from a relatively bearish analyst Scott Craig of BofA who at least estimated $6.9 billion in revenue which was closer to the street's $7.1 billion consensus. Apple destroyed Huberty's revenue estimates by almost a cool billion dollars when it reported $7.512 billion in revenue. Investors should question whether Huberty is really a credible analyst when her revenue estimates get beat by $878 million and when she states no basis besides general weakness in the economy for her forecasts. All of the hard data released by NPD, IDC and Gartner highly suggested that Huberty was way off the mark. Yet, she still gave her bearish estimates despite evidence to the contrary.
Compare Huberty's comments in fiscal Q2 to today, and what we have is almost a mirror image of the irrationality that was exhibited in February. Gene Munster of Piper Jaffray came out today and raised his estimates for Apple's fiscal Q4 based on NPD data! At the same time, Katie Huberty lowered her price target on Apple based on her personal feelings of the "global macro-economic environment" citing no evidence whatsoever. Notice, Munster cited his interpretation of NPD data, Huberty made a baseless conjecture. Munster has had a significantly better track record in predicting Apple's financial situation than Katie Huberty has; yet the markets and the media (CNBC and Barrons) choose to focus on Huberty's comments rather than on Munster's. Why? I leave that to my readers to decide.
Click to enlarge: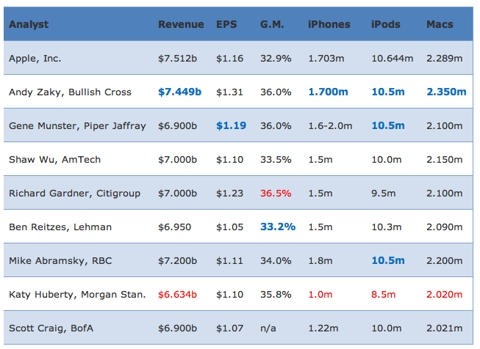 Disclosure: Long Apple