GDF Suez (GDFZY.PK) is the world's largest independent power producer. It operates liquefied natural gas facilities, energy efficiency services and environmental services. Present in over 60 countries, it employs roughly 219,000 people around the world, and had revenue of 90.7 billion euros ($120.2B) in 2011.
Recent news
In Brazil, GDF Suez announced the acquisition of a 9.9% equity holding from Camargo Correa in the Jirau project (3,750MW). Besides, the French utility also inaugurated the Estreito hydro power plant (1,087MW capacity).
GDF Suez announced that its subsidiary Senoko Energy in Singapore has started commercial operation of two combined cycle natural gas units, each representing a capacity of 430 MW. Senoko Energy is the largest power generation company in Singapore, operating a 3,300MW portfolio and providing around 25% of the country's electricity needs.
On October 25, the French utility paid part of its interim dividend in new shares in connection with the financing of the purchase of minority interests of International Power (OTC:IPRPY). The option to receive payment in shares for the 2012 interim dividend was chosen by 78% of the shareholders including the French State, which increased its stake in GDF Suez to 36.74% up from a previous 36.32%. With the share-based payment already made the final dividend 2011, this new step completes the financing structure balanced complete acquisition of International Power. This subscription resulted in a capital increase of €1.5 billion ($1.95 billion), through the issuance of 86 580 000 new shares.
GDF Suez reaffirmed its support for the strategy of Suez Environnement, after the merger speculation of the company with Veolia.
Strong performance over the first nine months of the year
Revenues increased by +8.4% to €70.9 billion ($91.9 billion) in the first nine months of 2012 (+8.4%)
EBITDA grew by +5.8% and reached €12.8 billion ($16.6 billion). Excluding impact related to weather and gas tariffs in France, EBITDA would increase by 1% to €12.57 billion ($16.3 billion).
Net Debt stood at €45.9 billion ($59.6 billion) at the end of September, €8.3 billion ($10.8 billion) higher than at the end of 2011. Consequently, the Net Debt/Ebitda ratio moved to 2.67 at the end of September. The management aims a Net Debt/Ebitda ratio of 2.5 by the end of the year and expects to achieve it thanks to additional major asset disposals.
This growth stems from the continued development of the group on high-growth markets, the sharp increase in exploration-production and LNG sales. Besides, activities in France also contributed to the strongest growth. Thanks to the retroactive increase in gas prices in France in the 4th quarter of 2011 decided this summer by the Council of State, GDF Suez recouped €212 million ($276 million) from customers. However, the price cap imposed by the government represents a shortfall of €34 million ($44 million) at the end of September.
GDF Suez confirmed target for 2012 with a net recurring profit group between €3.7 billion and €4.2 billion ($4.8-$5.5 billion), an EBITDA of approximately €17 billion ($22 billion) and an ordinary dividend at least stable compared to 2011. However, the 2012 net profit will be negatively impacted by approximately €100 million ($130 million) due to taxation in France and the shutdown of Doel 3 and Tihange 2 nuclear reactors in Belgium until the end of the year.
Due to the environment in Europe, GDF Suez expects some difficulties in 2013 especially some pressure on margins in electricity production. Furthermore, the Group is struggling in its other home market of Belgium, where sales have slipped 5.9% over last year. Consequently, the management could revise downward its objectives for 2013.
Cost reduction strategy for the next years
As a result, the French company will reduce its operating and its financing costs. First of all, by renegotiating its gas supply agreements with Gazprom (OTCQX:GZPFY), Statoil (NYSE:STO), Eni (NYSE:E) and Sonatrach. In Europe, there are two reference price on the natural gas market: those long-term contracts, backed by crude oil prices and prices on the market or OTC spot, much lower. The discrepancy between the contract price of natural gas supply in the long term and on the OTC market is not sustainable in the long term, have led GDF Suez to renegotiate with its suppliers. Besides, the company plans annual cost savings in Europe approaching €750 million ($965 million) in three years. The Group will probably cut its labor force in Belgium all the more so as it is loosing market share in this country. The group will give more details on its savings plan and its prospects during an Investor Day scheduled on Dec.6
Furthermore, GDF Suez is looking for diversifying and optimizing its funding sources. That is why the French Group accessed the US bond market by launching a dual-tranche bond issue with maturities of 5 and 10 years and coupons of 1.625% and 2.875%. This financing has been swapped into Euros at an average spot level of 1.39%. It is the lowest coupons ever achieved by a non-domestic sector utilities in the U.S. market.
Brazil, a lucrative unregulated power market
During the Q3 earning presentation, Gerard Mestrallet, GDF Suez Chief Executive, emphasized the importance of Brazil in the future growth and said "Brazil is at the heart of the group's strategy in Latin America". GDF Suez could take advantage of rising prices in the country's unregulated power market. Present in Brazil for more than 50 years in the electricity, water treatment and natural gas sectors, it has revenues of more than $2 billion and employs nearly 2,300 people. GDF Suez is the largest private electricity producer in Brazil with a 7% market share, has a 40% stake in the Estreito dam, along with Brazilian mining giant Vale (NYSE:VALE) with 30%, US aluminum giant Alcoa (NYSE:AA) with 25.44% and Brazilian construction firm Camargo Correa Energia with 4.4%. Hydroelectricity represents 71% of Brazil's total capacity, compared with 15 % for natural gas and 6% for oil. Besides, GDF Suez is also investing in eight solar pilot projects across Brazil.
New Target Price of $26.5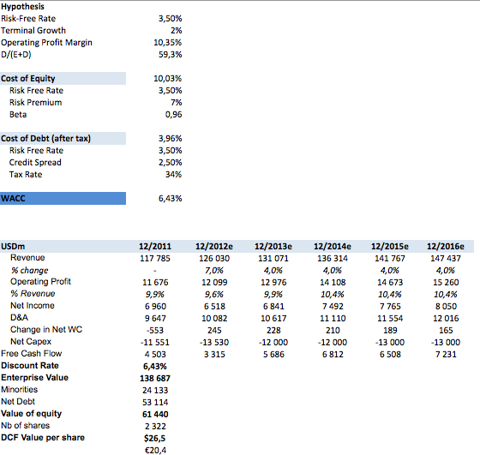 From my previous forecasts and valuation, I revised downward the revenue growth from 2013 to reflect the deteriorating economic conditions in Europe. The cost reduction strategy should enable the company to offset the pressure on margins and the Operating Profit margin should improved by 2014. Net income takes into account a higher level of taxation implemented by the new French government.
For 2013 and 2014, the Capex level should be between €9 billion-€11 billion per year ($11.5-14 million) according to the management of the firm. I decided to maintain the lowest range of Capex for this period because in order to maintain cash dividends, GDF Suez will have to cut its Capex level.
My target price of $26.5 is the result of a DCF Valuation (terminal growth of 2%, long-term EBIT margin of 10.4% and a WACC of 6.43%). This target price offers a 16% premium considering the current price of $22.9.
As a result, I reiterate a long position on GDF Suez with a target price of $26.5.
Disclosure: I have no positions in any stocks mentioned, and no plans to initiate any positions within the next 72 hours. I wrote this article myself, and it expresses my own opinions. I am not receiving compensation for it (other than from Seeking Alpha). I have no business relationship with any company whose stock is mentioned in this article.