Since Apple Inc. (NASDAQ:AAPL) shares peaked about 6 weeks ago, the stock has plummeted over 15% and it has now dipped below the psychological $600 level. Is this a buying opportunity for investors or is there more downside to come?
Buying a stock on a dip is quite a dilemma for most investors. Everyone likes a sale but no one wants to catch the proverbial falling knife. This is why it is important to establish a plan for your purchases.
First and foremost, you need to decide whether or not the company is fundamentally sound. Then you need to pick a target "Buy Zone" for the stock. There is an old adage that states that "there are no bad stocks, just bad prices." While we think there is some merit to that theory, we generally just try to steer clear of stocks with bad fundamentals. That said, there are definitely bad prices for good stocks. We cautioned investors not to chase Apple a few months ago as the stock soared through the $700 level. Even good stocks experience healthy corrections from time-to-time, and those are the low-risk entry points that we look for when investing.
Is Apple Fundamentally Sound?
We created a rating system that ranks over 700 U.S. dividend stocks on a monthly basis. Our composite ratings are derived by ranking each stock based on 28 key fundamental and technical data points in five sub-rating categories: Risk-Reward Profile, Financial Stability, Dividend Track Record, Dividend Sustainability, and Relative Strength.
Most online brokers offer their clients stock screening software for free. Investors can utilize this software to determine which stocks are the most fundamentally sound. Our overall rating and each sub-category rating range from 1 (lowest) to 99 (highest). When choosing investments for our "model" DIY Dividend Portfolio, we tend to target stocks with an overall rating of at least 80.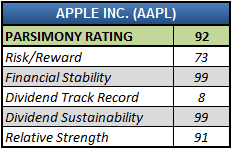 As shown in the table to the right, Apple currently has an overall rating of 92 and it carries our highest rating (99) in two key fundamental categories: Financial Stability and Dividend Sustainability. To say that Apple is fundamentally sound is an understatement. Over the past 5 years, Apple has grown revenue and earnings at a compound annual rate of 46% and 64%, respectively. While this level of growth is probably unsustainable, the company is still expected to grow earnings over 20% per year for the next five years. In addition, Apple has ZERO debt. Not many companies have this type of fundamental profile.
Is Apple in the "Buy Zone"?
While we have always felt that Apple was strong fundamentally, we had previously cautioned that the stock had gotten ahead of itself technically. In addition, analyst expectations for future earnings growth had been set way too high and we felt that there was some downside risk if the company failed to meet those lofty expectations.
Needless to say, we feel that both of those risks have been somewhat mitigated now as the stock has experienced a healthy pullback and the company finally fell short of its lofty earnings expectations last week. So where should investors buy the stock?
Once we have decided that we want to purchase a particular stock (like Apple), we look for a low-risk entry point to open (or add to) the position. We scan the charts of our top-rated stocks daily looking for strong levels of support (both technical and fundamental). These levels of support form what we call our "Buy Zones," which are points at which long-term dividend investors should feel comfortable starting to build a position in the respective stocks. Based on our analysis, our current "Buy Zone" for Apple is $585.00-$610.00.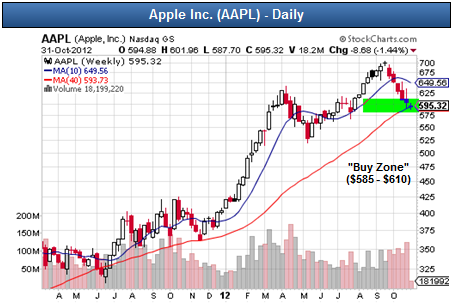 We focus on four key levels of support when determining a "Buy Zone":
Technical - Support from short and long-term trend lines
AAPL is currently hovering around its 40-week moving average of $593.73, and we think the stock will continue to get support around this level. As shown in the chart above, the stock tested this moving average twice in 2011 before bouncing higher.
Volatility - Target correction levels based on historical volatility
AAPL's historical price volatility (1-year) is 27%. Our target pullback for AAPL (from recent highs) is 15%-20%, which equates to a price range of approx. $565.00-$600.00.
Valuation - Support level based on historical valuation multiples
AAPL has traded in a valuation range of 12.0x-34.0x earnings (trailing) over the past 3 years and the stock is currently trading near the low end of that P/E range (13.5x). Apple is also currently trading at a discount to technology bellwethers like Google (NASDAQ:GOOG), Microsoft (NASDAQ:MSFT), and International Business Machines (NYSE:IBM), which have trailing P/E ratios of 21.3x, 15.3x, and 14.5x, respectively. Based on forward 2013E earnings, we think that the stock will get strong institutional support in the 11.0x-12.0x P/E range (which equates to a price range of approx. $550.00-$600.00).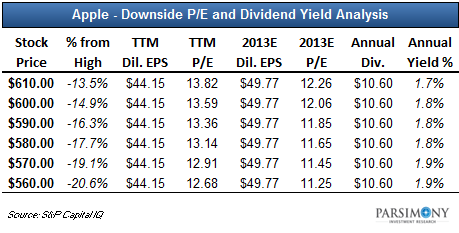 Dividend Yield - Support level based on forward dividend yield
From a yield perspective, AAPL is inching closer to a 2.0% dividend yield. While this isn't exactly the type of yield that will make long-term dividend investors jump out of their chair, the 1.75%-2.00% yield range should provide some decent price support (which equates to a price range of approx. $530.00-$610.00). In addition, the company's annualized payout ratio is less than 25%, so there is plenty of room for improvement here.
Conclusion
We think that Apple is currently trading at a low-risk entry point for investors. That said, the stock could trade a little lower if the general market continues to sell off and we recommend that investors buy the stock in stages. We actually purchased the stock for the "model" DIY Dividend Portfolio around $595 last week and we plan to add to the position on further weakness.
Disclosure: I am long AAPL. I wrote this article myself, and it expresses my own opinions. I am not receiving compensation for it (other than from Seeking Alpha). I have no business relationship with any company whose stock is mentioned in this article.