It was the summer of 2007 when President Bush proclaimed his goal that every American have an electronic medical record [EMR] within 10 years. At that time only an estimated 25% of all practices had implemented such a system. The benefits of these systems are easy to comprehend in our increasingly technology driven lives: quick access to medical history, reducing prescriptive errors by knowing what drugs a patient currently takes, more accurate diagnostics, et cetera. One company that has benefited from the increased demand and visibility for EMR is Quality Systems, Inc. (NASDAQ:QSII) which develops and markets healthcare information systems. QSII has created proprietary electronic medical records software and practice management systems in its NextGen3 software products.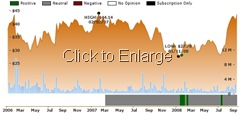 The healthcare IT industry has been booming over the last few years and QSII has been instrumental in this growth. QSII over the last 5 years has seen revenues grow at a compound annual growth rate over 26%. At this rate, its sales are more than doubling every three years! This sort of growth has not slowed significantly as QSII has matured. Given the fact that only 25% of doctor practices had implemented EMR systems in mid 2007, QSII sees a lot of potential left in the market. The EMR market was about $1.8 billion in 2006 and is estimated to be up to $3.2 by 2013. QSII is growing faster than the industry as a whole which should prove to be an advantage over the long run since EMR systems need to be upgraded or replaced usually on a six year cycle.
The company's most recent earnings were announced on August 8th and results showed revenue was up 31% ($55.2 million) and net income rose 40%. Earnings growth was also a strong point as it rose from 29 cents per share to 40 cents per share. Analysts had called for earnings of 37 cents on revenue of $51.9 million and both were easily topped. Furthermore, management reaffirmed the strong results by increasing the dividend by 20%. The current yield of 2.66% is nothing to scoff at, especially for a company which is growing so rapidly. We always like to see a company that is thriving during a difficult market and to have management increase the dividend is a real sign of confidence and strength. QSII can afford to increase its dividend because the company is not riddled with debt, as some growth stocks can be. QSII's current assets are more than double its current liabilities and long term debt is a minuscule $4 million. Perhaps the company could take on more debt in order to continue its aggressive growth, but clearly management is confident in the way things are going now.
Ockham Research had a Undervalued rating for QSII before the quarterly results were announced and the stock has appreciated more than 35% in just over a month. So, we have downgraded QSII to a Fairly Valued which is essentially a Hold rating, but that does not mean we think it is finished growing. We have established a rationally expected price range of $42 to $56 per share for the stock. Even though we currently rate it a Hold, QSII may be attractive to those looking for explosive growth coupled with the safety of an almost 3% dividend yield.