Fairfax Financial Holdings Ltd. (FFH) reported a more than ten-fold gain in its credit default swap [CDS] investments, selling C$3.22-billion in CDS in the third quarter for C$574.5-million in cash after paying just C$53-million. Fairfax is benefiting from wise bets such as one on the demise of American International Group Inc. (NYSE:AIG).
As of September 19, 2008, the company said it had C$12.87-billion in the derivatives that act as insurance in case a company defaults on its bonds. Fairfax said they have a market value of C$684.9-million and an original acquisition cost of C$238.1-million.
Prem Watsa, the company's chairman and chief executive officer said:
Beginning in 2003, we took significant steps, including the purchase of credit default swaps, in an attempt to protect our balance sheet from investment risks.
He added that the early update to its third quarter results was warranted given the unprecedented events in the market recently, particularly given Fairfax's active share buy-back program.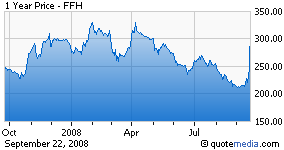 Fairfax has sold C$8.87-billion in CDS since inception with an original cost of C$197-million for gains of C$1.65-billion. Globally, it is estimated that about $62-trillion in CDS currently exist. Fairfax acknowledged that CDS and many of the company's other investments are extremely volatile, so its market value and liquidity may change dramatically in a short period of time.
Shares of the Toronto-based financial services firm surged 20% on Friday as the S&P/TSX composite index rose 7%. The company will release its third quarter results after market close on Thursday, Oct. 30 and hold a conference call the following morning.