Distributable cash flow ("DCF") is a quantitative standard viewed by investors, analysts and the general partners of many master limited partnerships ("MLPs") as an indicator of the MLP's ability to generate cash flow at a level that can sustain or support an increase in quarterly distribution rates. Since DCF is not a Generally Accepted Accounting Principles ("GAAP") measure, its definition is not standardized. In fact, as shown in a prior article, each MLP may define DCF differently.
I use the term sustainable DCF to distinguish my definition from those used by the MLPs. Since "sustainability" is not a clearly defined term, my definition is clearly a subjective one. In that respect, it is not different. But by minimizing deviations from the GAAP term net cash from operating activities, I create a measurement tool that provides better consistency in evaluating an individual MLP's performance. See a prior article for a review of the variety of factors causing reported DCF to differ from sustainable DCF as I calculate it. I then use sustainable DCF as a common yardstick to improve my ability to compare MLPs. Of course, it is by no means a sole yardstick.
To put into perspective the performance of 13 MLPs covered in this article, it makes sense to first look at the performance of the entire MLP universe as well as the S&P 500 Total Return Index. To derive the chart below, I used as a starting point the October 31, 2011 level of the Alerian MLP Index, a composite of the 50 most prominent energy MLPs, calculated on a total return basis ("AMZX"). I also used as a starting point the October 31, 2011 level of the S&P 500 Total Return Index. I then set both starting points to 100, and all subsequent data is presented as a multiple of the October 31, 2011 levels.
From November 1, 2011 to October 26, 2012, the S&P 500 Total Return Index and the registered gains of ~15.2% and 15.1%, respectively: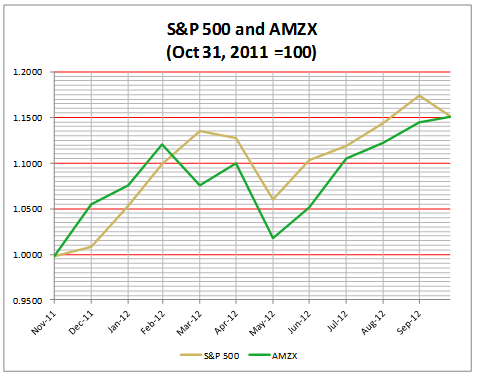 Chart 1: S&P 500 and the Alerian MLP Index (Oct 31 2011 = 100)
So far in 2012 (through 10/26/12), the S&P 500 Total return Index is up 14.3% while the AMZX lags at 9.1%. Table 1 below enables comparison of the total return produced by each of the 13 MLPs I have reviewed to date for the latest 12 months through 10/26/12 to the S&P 500 Total Return Index and the AMZX benchmark (both up ~15%). The 13 MLPs are:
El Paso Pipeline Partners (NYSE:EPB)
Enterprise Products Partners (NYSE:EPD)
Energy Transfer Partners (NYSE:ETP)
Plains All American Pipeline (NYSE:PAA)
Buckeye Partners (NYSE:BPL)
Targa Resources Partners (NYSE:NGLS)
Regency Energy Partners (NYSE:RGP)
Inergy LP (NRGY)
Williams Partners (NYSE:WPZ)
Magellan Midstream Partners (NYSE:MMP)
Kinder Morgan Energy Partners (NYSE:KMP)
Boardwalk Pipeline Partners (NYSE:BWP)
Suburban Propane Partners (NYSE:SPH)
Latest 12-month returns generated by these MLPs are presented below: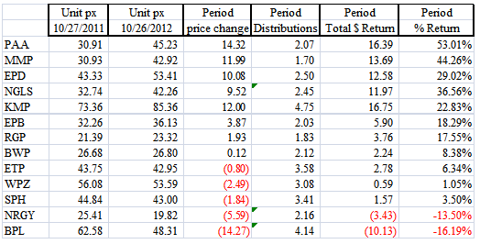 Click to enlarge
Table 1: Comparing Trailing Twelve Months returns of 13 MLPs
Once these MLPs provide their 10-Q reports for the third quarter I will compare them based on additional parameters, including DCF coverage, net income per unit vs. DCF per unit, and ratios of long-term debt to EBITDA.
Disclosure: I am long EPB, EPD, ETP, PAA, SPH, WPZ. I wrote this article myself, and it expresses my own opinions. I am not receiving compensation for it. I have no business relationship with any company whose stock is mentioned in this article.