Several months ago, we profiled General Motors Co. (NYSE:GM), and we continue to be amazed at the undervaluation in its shares. To be clear, the company has a variety of headwinds. These include large losses in Europe, lower profit margins than close competitors, and troublesome legacy pension obligations. In addition, the Federal Government is the largest shareholder of the company, so when government officials decide to dispose of GM, there will by some supply/demand issues, which can pressure the stock price. Market participants are missing the drastic improvements in GM's cost structure, the new and exciting product line that is being rolled out, and the extremely positive cyclical environment over the next couple of years for new car sales. This robust cash flow generation driven by the need to refresh the incredibly aged existing car fleet in the United States should allow the company to fund its pension obligations, and buy back stock from the government at attractive prices.
The average age of existing cars in the United States is about 11 years, up from 9 a decade ago. Each year, an average of 13.2MM units is scrapped. Consumers have been actively engaged in the deleveraging process, and many have held off on buying new cars. While demand has been decent the last two years, there is plenty more upside once confidence in the economy and unemployment really starts to improve. Because GM's breakeven is so much lower than it used to be, incremental sales are going to lead to additional earnings and free cash flow, which can be used for stock buybacks or to reduce liabilities. GM has a thriving business in China, which if it was ever needed, could be monetized through a partial split to highlight the value of that particular enterprise in the largest automobile market in the world. I don't expect that to be needed but it is comforting that the sum of the parts is likely to be worth significantly more than the current enterprise value of the company.
On October 31st, GM reported net income of $1.5 billion, or $0.89 per fully diluted share. Excluding special items, earnings would have been about $0.04 higher, and importantly 4 of the 5 business divisions were profitable. Net revenue was $37.6 billion compared with $36.7 billion a year ago. EBIT was $2.3 billion compared with $2.2 billion one year ago. GM North America (GMNA) reported EBIT-adjusted of $1.8 billion compared with $2.2 billion a year ago. GM Europe (NYSE:GME) reported an EBIT-adjusted of $(0.5) billion compared with $(0.3) billion a year ago. GM International Operations (GMIO) reported EBIT-adjusted of $0.7 billion compared with $0.4 billion a year ago. GM South America (GMSA) reported EBIT-adjusted of $0.1 billion compared with close to breakeven last year. GM Financial's earnings before tax were $0.2 billion, up slightly from last year.
GM significantly increased its cash flow from automotive operating activities to $3.1 billion, up from $1.3 billion YoY. Automotive free cash flow of $1.2 was up from $0.3 billion a year ago, and this is despite the company being on pace to spend $8 billion in CAPEX this year. At the end of the quarter GM has enormous automotive liquidity of $37.5 billion, including automotive cash and marketable securities of $31.6 billion. GM's book value of debt is $5.6 billion, up $500MM from the 2nd quarter due to the consolidation of GM's India operations and foreign exchange effects.
The biggest overhang on GM's stock has been its underfunded pension obligations, which were carried over from GM's unique bankruptcy process where bondholders were subjugated below UAW interests. During the quarter, around 30% of eligible U.S. salaried retirees accepted GM's offer to receive a lump sum payment in lieu of ongoing pension benefits. This, in addition to GM's expectations to close in early November upon a previously announced transaction with Prudential Insurance Company (NYSE:PRU), where Prudential will assume responsibility of pension obligations covering GM's remaining eligible U.S. salaried retirees should eliminate $29 billion of GM's U.S. salaried pension liability. The company expects to make total cash contributions to its U.S. salaried pension plan of approximately $2.6 billion, and in addition, GM will incur a $2.9 billion pre-tax charge in the 4th quarter as a special item. As of the end of this quarter U.S. qualified pensions are underfunded by $13.4 billion, non-U.S. pensions are underfunded by $11.4 billion, and GM's OPEB liability is $7.2 billion. There are no mandatory contributions until 2019, and if interest rates rise during that time, it would be a huge help in meeting those obligations.
GM believes that the 4th quarter of 2012 should run slightly better than last year's 4th quarter. The company updated its European outlook where it believes that GME's EBIT-adjusted from the 2012 calendar year will be in a range of $(1.5) billion to $(1.8) billion, depending on the level of restructuring activity in the 4th quarter. The company believes Europe should slightly improve next year, and sadly it only hopes to break-even by mid-decade. GME is taking out $500 million in fixed costs for 2013 but these benefits are likely to be offset by weakening demand in the region. The biggest question I have about GM is whether or not they should just shut down their entire European operation, or if there is something they can do as far as a merger to get better scale. While it would be a tremendous shame for factories to close and for people to lose jobs in an already battered European economy, it is not practical for a business to operate at elevated loss levels over the course of two decades. This is a recipe for disaster and instead of taking a minority interests like it did earlier in the year, the company clearly needs to take more decisive actions. GM has a sub-10% market share in Europe, and I see very little reason to believe that GME will be able to out-earn its cost of capital over a normal business cycle.
GM has continued to aggressively invest in its business and product lines. By 2016 there are 23 new vehicles coming online. Chevrolet has been a real source of strength for General Motors. In the 3rd quarter the company sold 1.25 million cars, trucks and crossovers worldwide, marking the 8th consecutive quarter of record global sales. GM's Chinese business continues to be a source of strength with sales up 10% year to date to 2.1 million units. GM has modified its design structure so that an executive team engineer leads programs from inception to production. This puts a premium on accountability, as opposed to the group-think, no accountability environment of the old GM. GM is doing everything it can to cut non-core expenses, and impressively in the quarter SG&A expenses were down YOY, despite higher revenues. Market share in North America was down 2.1% to 17.6%, which isn't shocking when you factor in the disruptions to Japanese auto manufacturers supply chains last year.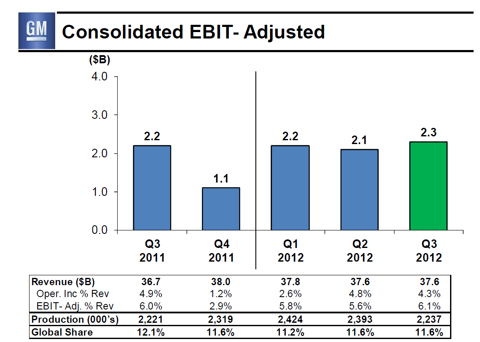 Source GM 3rd Quarter Earnings Presentation
As seen above, GM has produced $7.7 billion of adjusted-EBIT over the last 12 months, despite a miserable European environment. The current market cap is a little over $43 billion despite nearly a 10% increase in the stock price on Wednesday. GM trades below 7 times forward earnings estimates of $4.12, and I believe it is very likely that the company will end up buying back a large block of stock from the Federal Government, which should increase EPS and intrinsic value. Obviously investors should be careful chasing the stock after a large increase like we saw on Wednesday, but through buying on dips I believe GM is one of the more attractive manufacturing plays in the market due to its low valuation. I believe the stock could get to $40 over the next couple of years, without the global economy being fantastic, and the biggest catalysts would be stock buybacks, and improvement with the underfunded pension obligations.
Disclosure: I am long GM. I wrote this article myself, and it expresses my own opinions. I am not receiving compensation for it (other than from Seeking Alpha). I have no business relationship with any company whose stock is mentioned in this article.