Google (NASDAQ:GOOG) and Apple (NASDAQ:AAPL) powered approximately 70% of the Nasdaq 100's gains in the third quarter. However, both stocks were very poor performers in October (See Chart). Yesterday, I detailed some of the concerns that have put Apple under pressure and the recent rare bad press the company has received over the last week or so. That continued poor coverage continued with a negative piece on the company in the business section of the NY Times today.
Even though Google has pulled back some 10% since the start of the fourth quarter, I believe its poor performance will continue in the near term and would not be surprised at all to see it pull back below $600 a share as has Apple. There are a lot of negative headwinds to the stock in the short term.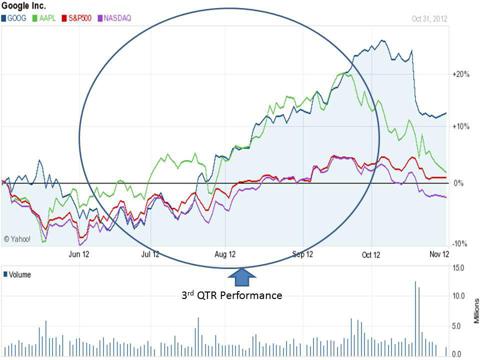 Short term negatives for Google:
A. The company had a very poor third earnings report. Google missed badly on the top and the bottom lines. To add insult to injury the report was submitted during the trading day instead of after the bell as intended due to a glitch. I believe Google needs to have a good earnings report behind it before investor sentiment improves.
B. For all the talk about insider selling and lockups at Facebook (NASDAQ:FB), insiders at Google have sold approximately 2/3's of their shares in the last six months. A good portion of the shares were sold before the third quarter debacle.
C. It also faces the same challenge with monetizing the migration to mobile device where advertisers pay approximately ½ the rate of a desktop search. Facebook could become an increasingly potent competitor in this space as could Apple eventually with its Siri voice recognition technology.
D. It acquisition of Motorola Mobility for $12.5B looks more and more like an albatross. The division continues to lose money, the acquisition has given Asian handset makers a good reason to make smartphones powered by Windows 8 instead of Android and has hurt the company's overall margins judging from its last earnings report.
E. In addition to increasing scrutiny from European regulators, European media now wants Google to pay it for access to their content which would have a significant impact to Google's profitability in Europe. It also may face a $1B tax bill in France which it is currently denying.
F. Consensus earnings estimates for both FY2012 and FY2013 are significantly lower than they were three months ago (See Chart) and continue to come down.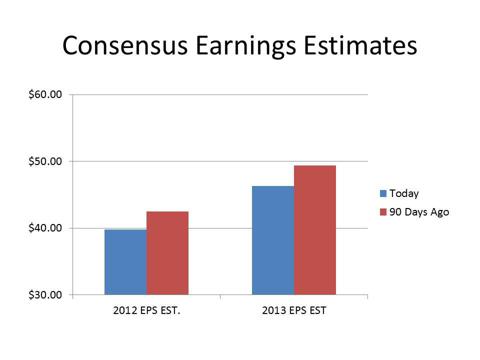 Disclosure: I am long AAPL. I wrote this article myself, and it expresses my own opinions. I am not receiving compensation for it (other than from Seeking Alpha). I have no business relationship with any company whose stock is mentioned in this article.