Last year, self-proclaimed technophobe Warren Buffett announced that Berkshire Hathaway (BRK.B, BRK.A) had taken a position in International Business Machines Corporation (NYSE:IBM). We can understand why if Berkshire was going to begin to allocate assets towards the technology sector, it would begin with IBM. As everyone knows, IBM was the once-great computer company that was revived in the 1990s by Lou Gerstner. While IBM may have lost the PC war, its reorientation toward the Internet and strategic IT Services and Solutions helped the company get its groove back. We don't understand why the SEC and other organizations engaged in Industry Classification include IBM as part of the computer and office equipment industry when it sold off its personal computer business to Lenovo in 2005 and it only generated 15.83% of its YTD 2012 revenue from its Systems and Technology division. IBM generates the lion's share of its revenue from technology services and software and we believe it should be compared against other preeminent technology consulting organizations like Accenture (NYSE:ACN). We compared IBM against Accenture in September and although we concluded that Accenture offered a slightly better opportunity than IBM at the time, IBM stacked up pretty against Accenture. In short, we can see why Buffett tried to keep it a secret last year.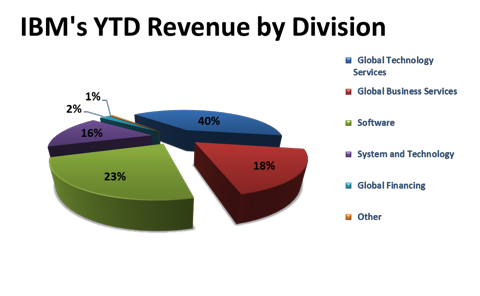 Source: IBM's Q3 2012 report
IBM is a multinational corporation and like all the multi-nation corporations that have reported results, the company has seen headwinds to growth and performance thanks in part to the strong U.S. dollar. A weak dollar helps boost company bottom lines because the strong foreign currency translates into more U.S. dollars received on foreign operations and a strong U.S. dollar results in the opposite effect. IBM's Q3 2012 revenue declined by 5.4% due to the weak macroeconomic environment as well as currency headwinds from the stronger dollar. On a constant currency basis, IBM's revenue only declined by 2%. IBM's currency headwinds to its revenue were partially offset by currency effects on its cost of revenue, which resulted in gross profit only declining by 3.6%. IBM's operating expenses during the quarter were flat excluding the impact of a $447M gain from the sale of its Retail Store Solutions. This gain helped IBM's Q3 2012 pre-tax income increase by almost 1% versus Q3 2011 levels. Because IBM is a dividend and buyback champion, the company's reported EPS increased by 4% due to a 4.5% reduction in the weighted average shares outstanding and this tailwind was partially offset by a 1% increase in its income tax rate.
IBM expects to earn $14.29 EPS for FY 2012 on a GAAP reported Basis and $15.10 EPS on a non-GAAP adjusted basis, which adds back $.81/share of charges for amortization of purchased intangible assets, other acquisition-related charges, and retirement-related charges. For Q4, this will result in a targeted EPS of $5.02 on a GAAP basis and $5.20 on an adjusted basis. This wasn't far off from the $5.27 for Q4 2012 and $15.14 for FY 2012 that analysts were expecting 3 months ago according to FactSet.
The company's cumulative sales growth since 2002 has been less than 30%, which is quite pedestrian. However, the company has been able to grow its EPS (excluding the impact of a $1.755 due to cumulative effect of accounting changes in 2002) from $3.07 in 2002 to $13.90 over the last 12 months. This was due to its ability to holding the line on its cost of revenue (which increased by less than 10% cumulative since 2002) and keeping its operating expenses as a percentage of revenue constant over this time period. Another fact that helped IBM quintuple its EPS during this time period was because it spent over $100B over the last 10 years to repurchase shares and reduced the outstanding share count by nearly 600M shares during this time period.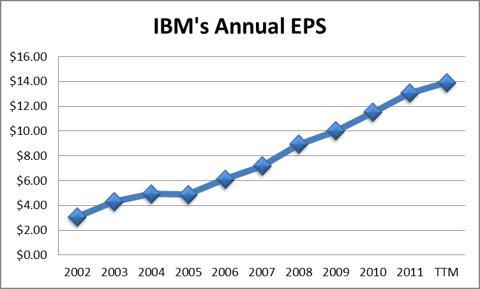 Source: Morningstar Direct
In conclusion, although IBM reported results that were soft we can see that IBM is still a titan in the technology sector. We can see why Berkshire is the largest shareholder of IBM as of Q2 2012 and in addition to Berkshire holding nearly 6% of IBM's shares as of Q2 2012, we were pleased to see Boston area quant shop Geode Capital Management amongst the Top 10 holders of IBM's shares as of Q2 2012. We're not surprised that Buffett wanted to keep Berkshire's purchases of IBM secret, though we are amused that the bulk of BRK's return on IBM came before November 2011, when he was finally forced to disclose his position. We're glad to see that IBM is 8.5% off its highs in the wake of its soft Q3 report because we're not forced to make a decision whether we want to add it to our portfolio right now or not. We can take our time analyzing it and similar firms. We can also see that although IBM isn't in the same position as Apple (NASDAQ:AAPL) with its wildly popular rapidly growing iOS device business, at least it isn't in the same position as Hewlett-Packard (NYSE:HPQ) or DELL with a sagging hardware business and a small presence in low-end outsourcing services.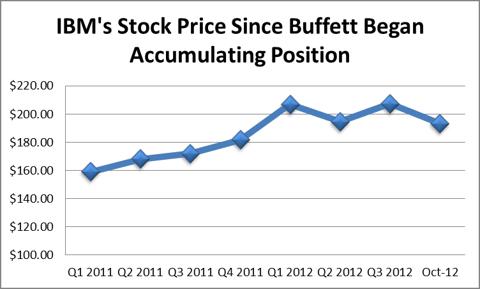 Source: Morningstar Direct
Disclosure: I am long ACN. I wrote this article myself, and it expresses my own opinions. I am not receiving compensation for it (other than from Seeking Alpha). I have no business relationship with any company whose stock is mentioned in this article.
Additional disclosure: This article was written by an analyst at Saibus Research. Saibus Research has not received compensation directly or indirectly for expressing the recommendation in this article. We have no business relationship with any company whose stock is mentioned in this article. Under no circumstances must this report be considered an offer to buy, sell, subscribe for or trade securities or other instruments.