A quiet surge in small retail shops is improving the outlook for real estate investment trusts (REITs) that have exposure to that market. I receive a lot of letters from analysts, and there are a few that I actually take seriously. I was perusing the T. Rowe Price letter to investors in their Real Asset Portfolio, a mutual fund of REITS, energy and metal stocks. One comment in particular caught my eye:
Local strip shopping centers also fared well as occupancy gains were achieved within the "small shop" category, which suggested that the economic recovery was broadening beyond national tenants. This was reflected in small-shop occupancy gains for Regency Centers (REG).
This should have come as no surprise to me as I have noted in my travels that seedy strip malls are being renovated and attracting more upscale tenants. Mom and Pop sandwich shops, insurance agents, beauty spas and specialty shops of all sorts are popping up in neighborhood malls in inner-city locations, as well as in the suburbs. This article looks at a few of the REITS with nice dividend yields that are participating in this market.
In this maturing bull market run, it is becoming more difficult to uncover good value in all sectors, and an argument can be made that many REITS are fully valued. Dividend yields have dropped as the mathematical inverse reaction to stock price run-ups, and analysts target prices continue to creep up as the old targets are surpassed. Nonetheless, for long-term investors seeking steady income distributions, REITS are still one of the investments of choice. The attached chart indicates the relative price appreciation for the three REITS we will discuss in this article, Whitestone REIT (NYSEMKT:WSR), Kite Realty Group Trust (NYSE:KRG) and Regency Centers.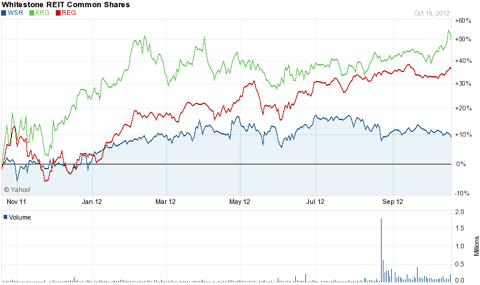 As evident in the chart, Whitestone has lagged its counterparts during the past 12 months, and Kite actually has performed even better than the T. Rowe Prices star REIT, Regency Centers. Maybe we can say that WSR represents a value opportunity, but we should compare the three to see if there are good reasons why Whitestone is not performing as well as its peers.
Perhaps the term "peers" is not completely accurate as REG is a large institutional favorite, with a market cap of $4.5 billion, and funds hold virtually all the stock, per Yahoo Key Statistics. Both WSR and KRG are small players, with market caps of $155MM and $350MM, respectively. Institutions hold virtually all of KRG also, but only about a third of WSR stock is in the hands of funds. On the surface, this appears to represent an opportunity for stock appreciation for WSR, if it becomes discovered by institutions. On the other hand, its micro-cap rating may prevent some institutions from including WSR in their holdings. Here is a comparison of relevant factors for these three:
| | | | |
| --- | --- | --- | --- |
| FACTOR | REG | KRG | WSR |
| Stock Price | $ 48.60 | $ 5.50 | $ 13.50 |
| Analyst Target Price | $ 48.12 | $ 6.32 | $ 15.13 |
| Market Cap | $ 4.44B | $ 344M | $ 155M |
| 2012 Revenue Growth | 2.6% | 3.0% | 30.9% |
| 2013 EPS Growth | 1.6% | 9.3% | 17.9% |
| Price to Book Value | 3.03 | 1.09 | 1.34 |
| Price to 2013 Earnings | 19.60 | 11.60 | 11.56 |
| Dividend Yield | 3.90% | 4.40% | 8.60% |
| Payout % of 2013 EPS | 73% | 51% | 102% |
Regency Centers appears to be fully valued, according to these factors. The stability and diversification of a larger REIT is attractive to funds looking for safe dividends in a low-interest-rate environment. Nonetheless, our value bias prevents us from getting too enthusiastic for REG, as it has already exceeded analyst targets and its growth prospects are mediocre. For a REIT, its dividend is not exceptional.
Kite Realty Group Trust has reasonable valuation characteristics, especially given that it is near its annual high stock price. Analysts consider that it may run another 15% or so. It has superior growth, dividend and payout ratio than REG.
KRG engages in ownership, operation, management, leasing, acquisition, construction, expansion, and development and redevelopment of operating retail properties, retail properties under development, operating commercial properties, parking garage, commercial property under development, parcels of land, shopping, dining, and entertainment properties. In addition to large tenant leases, Kite offers Specialty Leasing, according to is website:
Specialty Leasing is a cost-effective way to sell or market your products in high-traffic and proven locations. A perfect option for first-time retailers, manufacturers, wholesalers or seasoned retailers, Specialty Leasing will enable you to sell the hottest, newest products in an exciting retail environment - "temporary" retailing with "permanent" potential.

Temporary & Seasonal:

Traditional retail uses - furniture, clothing and consignment sales, bookstore, firework stands, holiday tree sales and accessories, nurseries and more

Services - Tax services, shoe repair, alterations

Political campaign offices

Temporary Storage
Kite has strong commitments from large anchor tenants and the small shop boom has lifted the occupancy rate to 93% on their 61 retail properties. Kite also is active in re-development of old shopping centers and converting them to modern and attractive shopping experiences.
The company is offering 10 - 12 million additional shares at $5.20 to raise funds for debt retirement, positioning KEG for acquisitions. This dilutive action is to be expected as the market for these REITS is creating an opportunity to get capital at a time when some retail real estate parcels are available at bargain prices. KRG is debt-heavy with total debt nearly twice its market capital, and we see this action as a positive.
Whitestone REIT blows away the other two in this comparison, with the best growth prospects and dividend, by far. However, one gigantic red flag is the fact that WSR is paying more in distributions than it is earning. It should be noted that if WSR were to cut its divvy in half, it would have the same yield and payout ratio as Kite currently has. When asked about the ability of WSR to continue to pay the high distribution, management stated emphatically that it intends to maintain and grow the monthly payout. They put their money where their mouth is, as insiders have been net buyers lately.
Whitestone engages in the investment and operation of retail, office, and warehouse properties located in densely populated, culturally diverse neighborhoods in the Houston, Dallas, San Antonio, and Phoenix metropolitan areas. As of March 31, 2008, it owned and operated 47 properties. The company has been on an acquisition binge, but debt remains manageable. WSR has proven to be particularly adept at re-developing distressed properties.
WSR enjoys an average occupancy rate of 87% on its properties, which actually focus on the small shop market. Some of these are in a turn-around mode, bring down the average. According to the company, the small tenants pay about 60% more in rent than large tenants. Whitestone has the goal of becoming a $1 Billion company in 5 years, which translates to a very aggressive acquisition strategy.
Conclusion. Each investor should determine what his or her goals are for a REIT. If a stable income stream is the goal, Regency Centers is a candidate. You will sacrifice some capital appreciation potential at the current price, and a rise in interest rates will detract from the appeal of its modest dividend. Fully-owned by institutions, one should consider what happens if some of those abandon the stock. Short-sellers are betting heavy against this one.
Kite Realty Group has been the darling of the three, and it seems to have reasonable valuations still. The dividend is nice, but not exceptional. The company is taking measures to reduce its debt load, and growth prospects are attractive. If you are looking for some capital appreciation from your REIT, KRG may be a good choice.
Finally, Whitestone REIT has the risk-reward profile of a micro-cap growth stock in some ways. It is busy with acquisitions and betting on a naturally speculative market segment, small shops in culturally-diverse neighborhoods. The management is committed to the exceptional yield, so the volatility of the stock price is more palatable with a generous monthly check. The yield is far from safe, but growth may catch up with the payout.
Disclosure: I am long WSR. I wrote this article myself, and it expresses my own opinions. I am not receiving compensation for it (other than from Seeking Alpha). I have no business relationship with any company whose stock is mentioned in this article.