Earnings estimates for Privatebancorp Inc. (PVTP) have advanced over the past 30 days following its impressive third quarter results and the repayment of its Troubled Asset Relief Program (TARP) dues. This major regional bank has delivered positive earnings surprises for the last ten quarters with an average beat of 183.6%.
Shares have surged approximately 42.3% year-to-date. Strong estimate revisions helped PVTB achieve Zacks #1 Rank (Strong Buy) status on October 17.
Solid Third Quarter
On October 10, Privatebancorp reported third quarter earnings per share of 27 cents, topping the Zacks Consensus Estimate by 22.7% and the year-ago earnings by 92.9%. The upsurge was primarily due to the strengthening of the top line, aided by an increase in both net interest income and non-interest income. These positives were partly offset by higher non-interest expenses.
Net interest income climbed 4% year over year to $105.4 million, aided by higher interest income. Non-interest income rose slightly to $27.8 million. However, the net interest margin contracted 14 basis points to 3.35%. The company's non-interest expenses rose 8.9% to $81.7 million over the same period, mainly driven by higher salaries and employee benefits expenses.
Credit metrics continued to improve at Privatebancorp. The provision for loan and covered loan losses was $13.5 million, down 58.6% from the year-ago quarter. Non-performing assets dipped 34.0% year over year to $277.7 million. Moreover, net charge offs declined 45.0% year over year to $23.1 million.
TARP Repayment
On October 24, Privatebancorp became one of the latest banks to repay the bailout money it had taken from the government during the 2008 financial crisis. The company repurchased all preferred stock worth $243.8 million, which were issued to the U.S. Department of the Treasury as part of the company's participation in TARP. Moreover, Privatebancorp paid $2.3 million in accrued and unpaid dividends, out of which $813,000 will be recorded as expenses in the fourth quarter of 2012.
Additionally, a one-time, non-cash after-tax charge of about $2.23 associated with the repurchase will be recorded in the fourth quarter of 2012. This relates to the unaccreted discount recorded at the date of issuance.
Earnings Estimates on the Rise
The Zacks Consensus Estimate for 2012 is up 11.3% to 89 cents in the past 30 days as all 14 estimates were revised higher. The Zacks Consensus Estimate for 2013 advanced 8.0% to $1.21 within the same timeframe as 13 of 14 estimates increased.
The Zacks Consensus Estimate for 2012 reflects year-over-year growth of about 106.2%, while the expected growth rate for 2013 is 36.3%.
Reasonable Valuation
Shares of Privatebancorp currently trade at 18.5x 12-month forward earnings, a 38% premium to the peer group average of 13.4x. Its price to book ratio of 1.1 is at a 10% premium to the industry median of 1.0.
The company has a trailing 12-month ROE of 5.8%, compared with the peer group average of 8.2%. Considering the recent share price fluctuations and consistent growth trends, there is a strong possibility of considerable upside from current levels.
Chart Resonates Growth Potential
Privatebancorp has been continuously outperforming its 200-day moving average over the past six months, showing a steady growth trend. The year-to-date return for the stock came in at 42.3% compared with the S&P 500's return of 12.3%.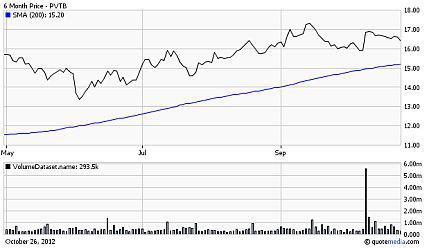 Privatebancorp operates as the holding company for The PrivateBank and Trust Company, which provides various business and personal financial services. The company was founded in 1989 and conducts business through 35 branch locations in Atlanta, Chicago, Cleveland, Denver, Des Moines, Detroit, Kansas City, Milwaukee, Minneapolis and St. Louis metropolitan areas. With a market cap of about $1.2 billion, Privatebancorp competes with Enterprise Financial Services Corp. (NASDAQ:EFSC), among others.
Read the full analyst report on PVTB (email registration required).