It's been quite a ride for Green Mountain Coffee Roasters (NASDAQ:GMCR). The stock has been volatile, but remained in a general downtrend for the past year as the company faces lower investor expectations related to K-cup patent expiration. Since November 2011, the stock has ranged from a high of just over $72 to its recent low near $17. It currently stands at just 1/3 of its 52-week high.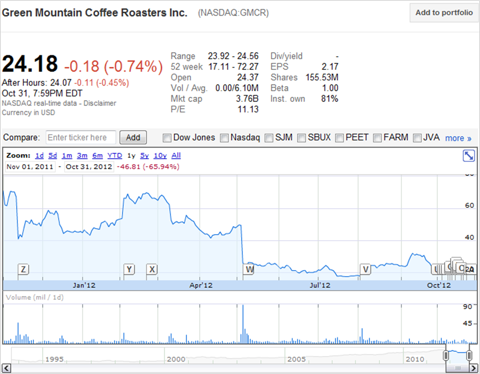 Much of the recent argument against investing in GMCR is based upon the fact that other companies are encroaching on the single serve coffee market. This argument can be viewed in different ways though.
It is true that the patent on the K-cup is expired and competitors are free to make their own branded K-cups without paying a royalty to GMCR. However, GMCR has been producing cups containing coffee branded by other companies for quite some time now, including Starbucks (NASDAQ:SBUX), Caribou Coffee (NASDAQ:CBOU), and Folgers -- part of J.M. Smucker (NYSE:SJM).
While some of these competitors may decide to produce cups on their own, it is also possible that some will retain their agreements with GMCR to continue producing their products. Additionally, GMCR continues to pursue new agreements with other companies such as Dr. Pepper Snapple (NYSE:DPS) as GMCR expands the range of beverages available for their brewing systems.
There were certainly additional concerns over the rapid expansion and growth and how it was likely unsustainable. Everyone is familiar with Einhorn's past analysis of the company. Obviously, no bubble is un-poppable.
The argument for investing in GMCR essentially was based upon the idea that even if the K-cup money declines after patent expiration, the sheer number of K-cups being produced would increase demand for the Keurig brewing systems. While there may be some element of truth in this, it was unrealistic to think that competitors would not create competing brewing systems as well.
Kraft Food Group (KRFT) produced a brewer called the Tassimo, but sales were unimpressive and it seems the company will instead pursue producing Maxwell House branded K-cups. Likewise, Starbucks recently released the Verismo brewer to mixed reviews. On the Starbucks site, the base model Verismo is only recommended by 68% of users who cite concerns about the number of coffee and milk pods required to brew their usual drinks.

Not to be outdone, GMCR followed up the popular Keurig brewer with it's own new brewer, the Vue. Not surprisingly, the Vue is completely incompatible with the K-Cup. How this will actually affect the now-crowded single-serve market remains to be seen, but it almost seems to be intended to create confusion in order to push more people towards the K-cup as the standard.
So what could possibly next? Well how about being able to purchase McDonald's (NYSE:MCD) coffee for your K-cup brewer? In a release this week, McDonald's states they will begin selling bagged coffee in selected Canadian stores, and although there is no plan yet to do the same in the US as Dunkin' Donuts (NASDAQ:DNKN) does, they are not ruling out entering the K-cup fray. I do not really see that one more big name branded K-cup is going to make any appreciable difference in sales, but it does help to further cement the K-cup into place as the single-serve standard.
With this many potential offerings for the Keurig brewer, it makes it difficult for consumers to justify purchasing any other machine at a similar price point. What office manager is going to purchase a Tassimo, Verismo, or Vue when the community Keurig dies if they have cases of unused K-cups sitting in the supply room?
At the end of the day, I am no longer building a long position in GMCR. Since we are playing with house money at this point I will retain my leveraged long position with appropriate stops in place to guard against negative news or sentiment when earnings are released. The drop under $18 was a gift, but we will have to wait and see what happens if GMCR becomes little more than a brewer company.
Love them or hate them, Green Mountain Coffee Roasters will find a way to survive.
Disclosure: I am long GMCR, SBUX, MCD. I wrote this article myself, and it expresses my own opinions. I am not receiving compensation for it (other than from Seeking Alpha). I have no business relationship with any company whose stock is mentioned in this article.