For the better part of four years natural gas prices have been down in the dumps. Many natural gas weighted producers are now faced with balance sheets that have debt levels that were not designed for the level of cash flow that $3 per mcf generates.
I've been thinking about the Haynesville Shale natural gas play recently as I think production from it may be about to roll over (finally) which should provide some support for natural gas prices. However I am just a simple investor and I am quite skeptical of my ability to make directional calls on commodity prices.
To augment my own simple views I decided I'd turn to the foremost expert on natural gas of the shale variety in the country, Chesapeake Energy.
Why Chesapeake (NYSE:CHK)?
Are you kidding? For years now in every Corporate presentation Chesapeake has proudly displayed their track record for hedging natural gas that is the best in the industry: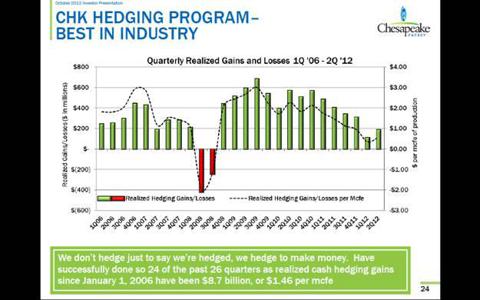 On the slide Chesapeake proudly states "We don't hedge just to say we're hedged, we hedge to make money". That is pretty strong stuff.
While I was doing my research into the Haynesville Shale I decided to go back to 2008 which is when Chesapeake unveiled the Haynesville as a massive new shale play to the world. With the announcement of its Haynesville acreage and Chesapeake shares nearly touching $70 in 2008 the company was really on top of the world.
As I read through the second quarter 2008 conference call that Seeking Alpha keeps on record for investors I was shocked to discover what Chesapeake was suggesting about the future for natural gas prices at the time.
This was August 2008, when a massive flood of natural gas production was about to hit the United States and kill the price of the commodity for multiple years. Chesapeake being at the time by far the most active driller for natural gas in the country would have been more aware of this oncoming flood than anyone.
Given that Chesapeake "doesn't just hedge to say they are hedged, but hedge to make money" you would expect that in the summer of 2008 with the information Chesapeake had at its disposal would have resulted in the company was well protected against the coming collapse in prices.
Here is what Chesapeake CEO Aubrey McClendon said in the conference call linked above when asked about the marginal cost of natural gas and likely future prices in August 2008:
My thought is that the market is bifurcating, that shale plays and tight sand plays are ones that seem to be profitable at probably an $8 NIMEX price but what I think we see and many plays across the country that are what you would call conventional those plays are at an increasingly large cost disadvantage to the shale play

I think if gas prices were to stay below $9 Henry Hub for some period of time I think that the shale plays probably continue to move forward but I think you'll see a lot of rigs drop out of what you would call conventional drilling

We think gas prices will stay in this $9 to $11 range, there'll be times like in July when they're above it, there'll be times when they're below it and of course the weather will matter a lot as well. But we're pretty confident that much below $9 you'd see a drop off in drilling activity particularly among the conventional drilling and then those pretty aggressive 35% to 40% first year declines are going to kick in and rebalance the market.

I saw something the other day where some analysts had come up with production in 2010 was going to be up by something like 8 to 10 BCF a day and gas prices were going to be $6.25. That kind of analysis I think can only come at the dangerous intersection of Excel and PowerPoint, it can't happen in reality.
It is quite shocking how badly Chesapeake, which should have known better than anyone what was going to happen with natural gas production and thus prices got this call wrong. Chesapeake's call was for a natural gas range of $9 to $11 going forward from summer 2008. Reality has been more like $2 to $4.
I think Aubrey should have maybe used a spreadsheet like the analyst he spoke condescendingly of rather than just "gut feel", or whatever method he was using to make his predictions.
With the benefit of hindsight, seeing that natural gas prices were going to weaken significantly shouldn't have been difficult. There was a huge wave of new production coming from the Haynesville, Fayetteville and Barnett shales. I don't understand how Chesapeake could have missed this considering that it was by far the biggest player in this production boom.
What this does for me is remind me of the importance of staying humble at all times when investing. I don't have 1% of the date Chesapeake does from which I can reach conclusions about natural gas prices. If Chesapeake can get a call like this so wrong with their information advantage I had better remain very suspicious of my own ability to make such predictions.
With staying humble in mind I will admit that I do think the worst is now behind investors who are long natural gas or natural gas producers . The amount of drilling required to "HBP" acreage is greatly reduced, the natural gas rig count has plummeted and anyone who can drill for oil instead of natural gas is now doing so.
I don't think we are headed back to $9 per mcf natural gas any time soon, but we should see the price gradually creep up to the $5 to $6 per mcf range. And fair warning, I have used some Excel spreadsheets to try and formulate that opinion.
Disclosure: I have no positions in any stocks mentioned, and no plans to initiate any positions within the next 72 hours. I wrote this article myself, and it expresses my own opinions. I am not receiving compensation for it (other than from Seeking Alpha). I have no business relationship with any company whose stock is mentioned in this article.