We have written about Pfizer (NYSE:PFE) recently, regarding Lipitor's expiration: how much will it impact Pfizer's revenue and earnings? We also analyzed its new drugs in the pipeline that could partially offset the lost revenue from Lipitor sales (Could Tofacitinib Save Pfizer?). Based on the financial projection, we derived a fair value of $28 for PFE stock price (A Post-Lipitor Pfizer: Financial Projection And Stock Valuation). Pfizer's future might hinge on November 21, when the FDA will decide whether tofacitinib (Jak inhibitor) is approved for the treatment of rheumatoid arthritis (RA). Pfizer will present 14 abstracts on tofacitinib's phase 3 data in the upcoming American College of Rheumatology (ACR) 2012 Annual Meeting to be held on November 9 to14. If approved, tofacitinib could become Pfizer's next "Lipitor." Conversely, it would be a huge setback for Pfizer's attempt to restore its revenue growth after Lipitor's expiration. So, be prepared to see volatility swing on PFE stock price in November. In this article, we set to address the following questions: What is the likelihood of tofacitinib approval? If approved, how much revenue will tofacitinib generate for Pfizer? Conversely, what's the impact on Pfizer's bottom line if it is not approved?
Tofacitinib Clinical trial data
We first look into the clinical trial data that Pfizer presented to the FDA Advisory Committee meeting on May 9, 2012 (Tofacitinib for RA-FDA advisory mtg-company slides-050912, Tofacitinib-FDA advisory-report-050912). In this presentation, Pfizer's clinical team presented tofacitinib's long-term safety and efficacy data for the 48 month trials.
Tofacitinib is an inhibitor of JAK kinase, which is a key signaling molecule downstream of several cytokine members, including interferon (IFN) a/b, IL-6, IL7, IL-15, and IL-21. The advantage of tofacitinib is that it is an oral drug, as opposed to injectable biologic agents, such as anti-TNF drugs Humira (NYSE:ABT), Remicade (NYSE:JNJ), Enbrel (NASDAQ:AMGN). In addition, it blocks multiple cytokines simultaneously, thus may have broader and longer duration regarding to patient response.
Based on the clinical data, tofacitinib monotherapy was shown to be superior to methotrexate alone, with significant reductions in structural damage and signs and symptoms of RA, and meeting both primary and secondary endpoints through 24 months. The therapeutic effect was observed as early as two weeks and, in some patients, the efficacy was maintained up to 3 years. We believe that the data strongly support that tofacitinib has positive therapeutic effects on RA patients.
In addition to efficacy, we should also look at the safety or adverse effects of tofacitinib. The most severe adverse effects of tofacitinib include serious infections, including tuberculosis and herpes zoster. These infections are mostly detected in non-US countries. The incidence of infection is about ~3-4% in the tofacitinib group, as compared to 2-3% in the placebo or Humira group (Humira is anti-TNF). The standard deviations are overlapped in both groups, so statistically there is no difference among them.
Malignancy rate is ~0.6% in the tofacitinib group, which is comparable to Humira group (0.56%). Both are slightly higher than the placebo (0%). However, if normalized to published population studies, the low incidence rate is comparable with general populations. Nonetheless, the incidence rates for lymphoma and lung cancer are slightly higher than general population (2% vs. 1%).
The other more serious adverse events are decreased neutrophil and lymphocyte counts, which are somewhat anticipated: Tofacitinib inhibits IL-7, a key cytokine in lymphocyte development. This adverse effect is unique to tofacitinib, as it is not observed in Humira group.
In summary, tofacitinib has comparable efficacy and adverse event profile as the anti-TNF drugs (Humira). The safety concerns are serious infection and malignancies. Unique to tofacitinib is decreased lymphocyte counts (lymphopenia), which require monitoring. Pfizer will most likely submit Risk Evaluation and Mitigation Strategies (REMS) to monitor these adverse events in compliance with FDA regulation. At the conclusion of the FDA Advisory meeting, the FDA advisory committee voted 8-2 in favor tofacitinib for RA.
Impact on Pfizer's revenue and earnings
Next, we weight in on the following questions. What is the probability of tofacitinib receiving FDA approval? What would be its impact on Pfizer's revenues going forward if it does or does not receive approval?
We first run the scenario analysis on FDA approval of tofacitinib for RA in November 2012. Pfizer is among leading pharmaceutical companies that are experienced in manufacturing and marketing small molecule drugs. Pfizer has established strong sales force worldwide to market its products. So, we anticipate that tofacitinib will have strong sales in its debut. We estimate its sales to be $800M in 2013.
Moreover, as the first-in-class JAK inhibitor in RA, tofacitinib has great potential to expand to other autoimmune diseases. In fact, Pfizer has lined up clinical trials for tofacitinib in other autoimmune diseases, including psoriasis, psoriatic arthritis, ulcerative colitis, Crohn's disease, and ankylosing spondylitis (PFE drug pipeline). We therefore anticipate that tofacitinib sales will grow substantially from $800M to $2.2B between 2013 and 2016, as illustrated in Figure 1. The earnings with or without tofacitinib are compared in Figure 2. Under this scenario, PFE's fair value is ~$28.05.
Let's then simulate the scenario in which tofacitinib was rejected by FDA. In this case, Pfizer's revenues and earnings growths are reduced. Under this scenario, the fair value for PFE is ~$27.45.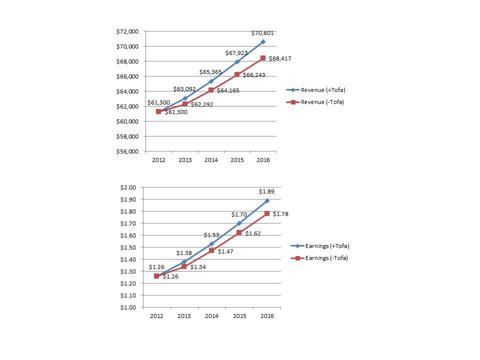 Conclusion:
We currently assign an 80% probability that this drug will receive regulatory approval, and project its sales to be $720M in 2013, eventually reaching over $2B in 2016, assuming it is also approved for other indications (A Post-Lipitor Pfizer: Financial Projection And Stock Valuation). If approved, tofacitinib would be the first new oral disease-modifying antirheumatic drug (or DMARD) for RA in more than 10 years. It is therefore extremely crucial that tofacitinib receives regulatory approval for its first indication in RA, as this drug could bring in billion dollars of revenue for Pfizer over the coming decade. Conversely, its rejection will send a shock wave to PFE stock in the coming weeks.
Disclosure: I am long JNJ. I wrote this article myself, and it expresses my own opinions. I am not receiving compensation for it (other than from Seeking Alpha). I have no business relationship with any company whose stock is mentioned in this article.