Realty Income (NYSE:O) is a high-quality retail REIT that is commonly known as the Monthly Dividend Company®. In today's low income environment, this high-quality REIT, with an above-average dividend yield may be very enticing to the dividend growth investor seeking an above-average, reliable and growing dividend income stream. The following screenshots taken directly from their website summarizes the allure: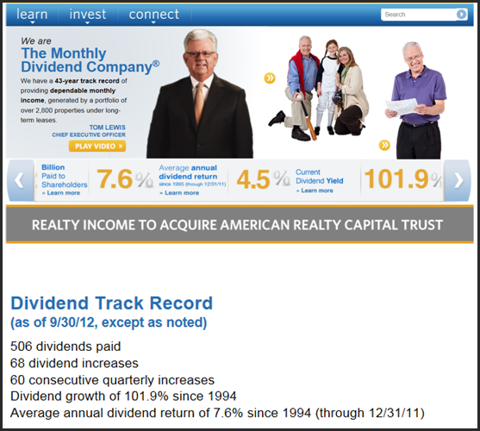 The only question mark that prospective investors should be concerned about is current valuation. As seen from the screenshots above, Realty Income's historical average dividend yield has averaged 7.6% since 1994. Therefore, today's current yield of approximately 4.6% may indicate moderate overvaluation. On the other hand, the recent acquisition of American Realty Capital Trust stands to enhance the capitalization and fair value.
Additional Research
This article is intended to look at Realty Income "essential fundamentals at a glance" through the lens of the F.A.S.T. Graphs™ research tool. Therefore, rather than reinvent the wheel, we direct the readers to an article written by a fellow Seeking Alpha contributor Brad Thomas: Checking 'Under The Hood' Of The Great Repeatable Dividend Machine.
Brad's article provides an in-depth look at this quality REIT and makes a compelling case for long-term investment. Our only caveat is that current valuation, although somewhat extended based on historical norms, is not excessive considering today's low interest rate environment. Therefore, we believe there might be a moderate amount of short-to-intermediate-term risk that should be considered. On the other hand, longer term, we believe that Realty Income offers an attractive income and growth option given today's low interest rate environment and the potential growth from its recent acquisitions.
A Live F.A.S.T. Graphs™ on Realty Income
The F.A.S.T. Graphs™ on Realty Income illustrates that this high-quality retail REIT can be purchased at a valuation that is moderately above its historical fair value. However, given recent acquisitions and today's low interest rate environment, yield-hungry investors may want to give this quality REIT a hard look. Regarding the current valuation risk, we see two mitigating factors: First of all, with competitive yields so low, Realty Income's stock price could hold up long enough to allow operating results (Funds From Operations) to grow enough to support today's value. Second, recent acquisitions could accelerate growth and yield at above-normal rates going forward.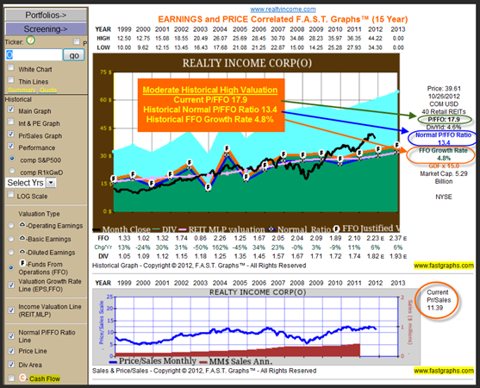 draw.fastgraphs.us/get.php
Moreover, in order to conduct your own research and get a clearer perspective on Realty Income's valuation, click on the picture above that links you to a fully functioning sample F.A.S.T. Graphs™ on Realty Income and research this high quality monthly dividend paying REIT deeper and faster.
(Click on this link or the picture above that will take you to a free, live, and fully functioning FAST Graphs™ on Realty Income.)
Run this "tool to think with" through its paces. Use the tan navigation bar to the left of the graphs and draw multiple graphs ranging from 2 to 20 years of history. Discover how this tool instantly provides a clear picture of the business behind the stock and dynamically re-evaluates valuation and reveals the clear correlation between the company's earnings and price.
Note: This link will be live for 90 days beginning November 1, 2012. For more advanced instructions on how to utilize the live graph, follow this link.
Summary and Conclusions
A fundamental analysis of Realty Income clearly paints a picture of moderate overvaluation. Therefore, we believe there is a short-to-moderate-term risk that the stock price could fall to fair value before Funds From Operations (FFO) increased enough to justify today's valuation. However, even if this were to occur, the long-term buy and hold investor would have two attractive options. First of all, they could continue to hold for the potentially-increasing dividend income and trust that stock price would eventually recover. Or they could simply take advantage of a temporary price drop, and average down their original position.
When all is said and done, Realty Income, even at today's moderately high valuation, represents an attractive long-term above-average yielding opportunity. Consequently, we would argue that the risk of not owning this high-quality retail REIT may exceed the risk of paying a little more than historical norms would suggest. The final decision is left to each prospective investor's own goal, objectives and risk tolerances.
Disclosure: No position at the time of writing.
Disclaimer: The opinions in this document are for informational and educational purposes only and should not be construed as a recommendation to buy or sell the stocks mentioned or to solicit transactions or clients. Past performance of the companies discussed may not continue and the companies may not achieve the earnings growth as predicted. The information in this document is believed to be accurate, but under no circumstances should a person act upon the information contained within. We do not recommend that anyone act upon any investment information without first consulting an investment advisor as to the suitability of such investments for his specific situation.
Disclosure: I have no positions in any stocks mentioned, and no plans to initiate any positions within the next 72 hours. I wrote this article myself, and it expresses my own opinions. I am not receiving compensation for it (other than from Seeking Alpha). I have no business relationship with any company whose stock is mentioned in this article.